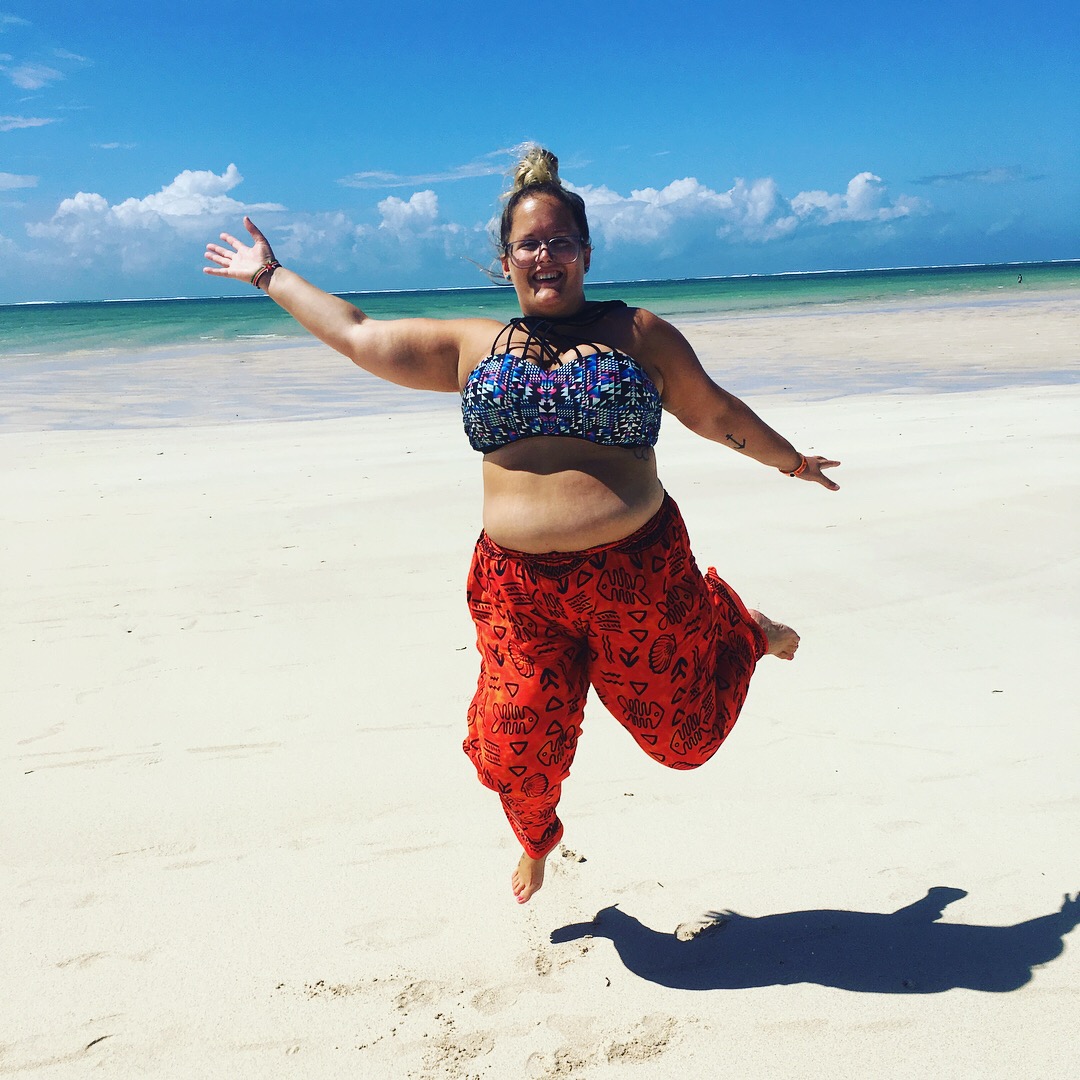 Annika, heads to Kenya for her first ever African Adventure.
There she discovers much more than she ever imagined. Kenya will change her life forever.
Safari Adventure ...


My heart pounded fast. Boom.boom. Boom. A huge grey mass came walking toward us. A herd of elephants, closer and closer they came to our safari van. There would have been about twenty, thirty or even forty elephant families. Big bulls, old grandmas, little baby elephants gathering around. They came so close, I felt I should reach out and touch one!
I was in awe. Hundreds of knowing eyes looked at me as if we were connected by an invisible power, in one special moment of time. I fixed my eyes on a big beauty standing out front. Our eyes locked. I'm mesmerised.
Did she know that elephants are my special animal? Did she know that I'd come on Safari especially to see her? Had they come so close just to greet me?
My trance is broken by the sight of a smaller elephant-bull flapping his ears and raising his front leg. He was swinging his leg to and fro, preparing to charge. He was angry. He was looking directly at me, right into my eyes! He started running toward me. Oh my god! Oh my god! Just sit down!
The driver started the engine and drove away …. fast. Oh! You stupid girl, why didn't you take a photo. That was a special moment in time!
We returned to the Ngutuni lodge late afternoon. I sat back in my chair on the terrace, overlooking the waterhole directly in front. The silence of the bush was magical. As evening came over I watched and listened to the animals. Elephant families gathered together. I could hear them communicating with each other. I felt connected to them. Goosebumps! Was this real or was it a dream?
As we prepared to leave camp, I reflected on my African safari adventure. It had been everything I wanted and more. I'd seen giraffes, zebras, water buffalo and other animals living peacefully in the wild. What was most special to me, was that I'd connected with the elephants.
My first ever African Safari had been an overwhelmingly, serene and beautiful experience. But, the Mombasa ferry crossing was a different story.
The Crossing

I'd already crossed the Mombasa, Likoni river twice already. I knew how it went. Cars drove on to the ferry. They are packed-in so tightly that you can't open your door to get out. At the same time, hundreds of people run on deck. Pushing and shoving. They stand in any empty space they can find.
All eight of us sat in the van waiting. The driver out front, myself and my six safari companions in the back. The heat was suffocating. The windows couldn't be rolled down. They were rectangular windows that could only slide across. We're dying of heat exhaustion here! Just go already! I stared out longingly, begging for the wind to send some relief.
Oh my God! Why are all the people running off the ferry?
One of the guys in our safari group points ahead in a panic and yelled, "Oh f**! The ferry is burning! The ferry is burning!" Up ahead, black smoke clouds billowed out into the sky.
Our driver looked back toward us. His brow puckered, "I'll go and find out what's going on. Wait here please." He leaned into his door. Bang! The door handle hit the car beside. There's no way he could squeeze out of the two-centimetre gap.
He stretched his leg out across to the front passenger side, grabbed the head-rest and heaved himself up over toward the passenger door. He tries to open the door. Bang! The door hits against the next car, but this time there's more like a ten-centimetre gap.
Oh my god! Is he going to get out?
Like a contortionist our skinny driver wriggled out of the van and somehow ended up on the deck. We watched his back disappear into the colourful car maze.
"Oh my god, help!" One of the tourists in the van (I'll call him panic man) hits his hand against the window. He pulls at his hair and started jumping around the van. "We have to get out of here! The ferry is burning! We can't get out!! We will all die here!"
Panic man's wife joined her husband in a state of uncontrollable fear, "Oh! Oh my god! Oh my god! What can we do?"
We tried to find a way to open the door. It was closed shut with the safety lock turned on. Maybe our driver had been keeping us safe on safari, but it wasn't feeling very safe now!
I watched nervousness spread through the van like a deadly contagion. The couples looked at each other. Their eyes darted around the van, one side to the other, up then down. One lady had a very red face, her hands twisted in her lap, I thought she might cry.
Slowly, slowly we noticed other drivers leaving their vehicles. One by one they were leaving ....
the story continues
Want to Read Annika's Full Story?
To Annika, a business woman from Germany, the most important things in life are her looks, career, money and lifestyle.
When she heads to Kenya for a well earned beach-side vacation she discovers a new world of freedom that will change her forever.
Subscribe to One True Travel Story Below and Get Instant Access To Annika's Story FREE
As a valued subscriber, you'll also receive 'Daily Inspired Life e-Magazine featuring short, inspiring stories from people around the globe.