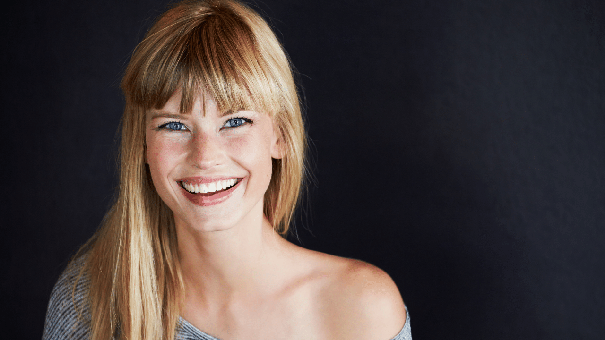 Brianna was an energetic teenager who enjoyed playing sports with her friends. That was until E.D, a terrible tyrant entered her life and took control of her every move.

Brianna shares her story of living with E.D. and what helped her to beat the eating disorder, and learn to listen and love herself again.
I wrote 'I LOVE ME' in permanent marker on my venti hot caramel macchiato cup. I put my pen aside and stared at a photo of myself posted on Facebook seven years ago. I saw a sad girl who was afraid to smile. A girl who who didn't believe or trust in herself. Her best attempt at a smile was lifeless, flat. She trusted E.D. (Eating Disorder) more.
E.D. was a tyrant. He told me what and when to eat or drink and how to think. The eating disorder beat me until I succumbed to his demands to restrict, binge, or purge. I tried to hide, but he was always lurking around the corner to snatch my smile. E.D. made me dependent on him, I craved his orders. I needed the eating disorder like I needed an English toffee coffee, void of calories in the morning. I couldn't function without him.
E.D. robbed me of my real smile.
E.D. showed up after my senior year of high school. Up until then sports had always been part of my life. I played soccer, volleyball, basketball and was on the swim team. I found joy as endorphins pumped through my body. But, once I started my senior year of high school, I stopped playing sports. The numbers on the scale climbed along with my feelings of embarrassment and shame surrounding my body. I'd go to the gym, see the fit bodies and I only felt worse. I was no longer joyful, confident, and smiling.
E.D. controlled my smile as if I was a puppet. He was my marionettist for twenty-one years. But I never gave up being free of his control.
I began weekly therapy sessions that would last twelve years to work through the shame E.D. caused me. I had many different people tell me that my body was perfect just the way it was, and I could do any workout. I heard these words, but I did not believe them. I listened to E.D. I valued his destructive thinking more than my therapists, family, and friends. E.D wanted perfection. As I went through therapy and an intensive outpatient program, slowly I began to listen. I began not just listening but hearing and welcoming words of wisdom to assist me in navigating the obstructions in front of me.
I encountered four pieces of advice that helped me ...
One, take time for yourself. You cannot give to others if you do not take care of yourself.
Two, if someone invites you to do what may seem impossible. Do not automatically say no.
Three, believe in yourself as others do. You can do more than you think.
Four, let go of fear. You do not need it.
I stopped trying to chase perfection and instead embraced the idea that I am perfectly imperfect.
"I stopped trying to chase perfection and instead embraced the idea that I am perfectly imperfect. "
Smiling and Free of E.D. (Eating Disorder)
Six weeks ago, I walked through the sliding glass doors of my gym. I had no shame, no heart palpitations. I made my way to the turf area.
Looking at me were obstacles. TRX ropes, an iron sled with weights that looked too heavy to lift, and barbells that were taller than me. I looked past those intimidating barriers and instead saw a challenge that I would overcome.
I had learned to believe in myself. I had learned to appreciate my flaws and grasp the concept that I am not the fittest at the gym. I let go of perfection and decided to believe that I was amazing just the way I was. I was no longer scared of life that, at one point, seemed like an impossible obstacle. My smile became real.
And now, as I sip my caramel macchiato, and look at the girl in the photo with the lifeless smile. I sit back in my chair, and sense my smile spread across my face. I told myself as the caramel slid down my throat.
I will never lose my real smile again.
---
Brianna Ricotta is a private educator, baker, business owner, and author/poet that strives to inspire her students and readers as others have done for her.
She pulls inspiration from the world that surrounds her.
READ ANOTHER STORY |
Promise of a Peach Blossom
Inspiring story about hope and healing after hurt ...