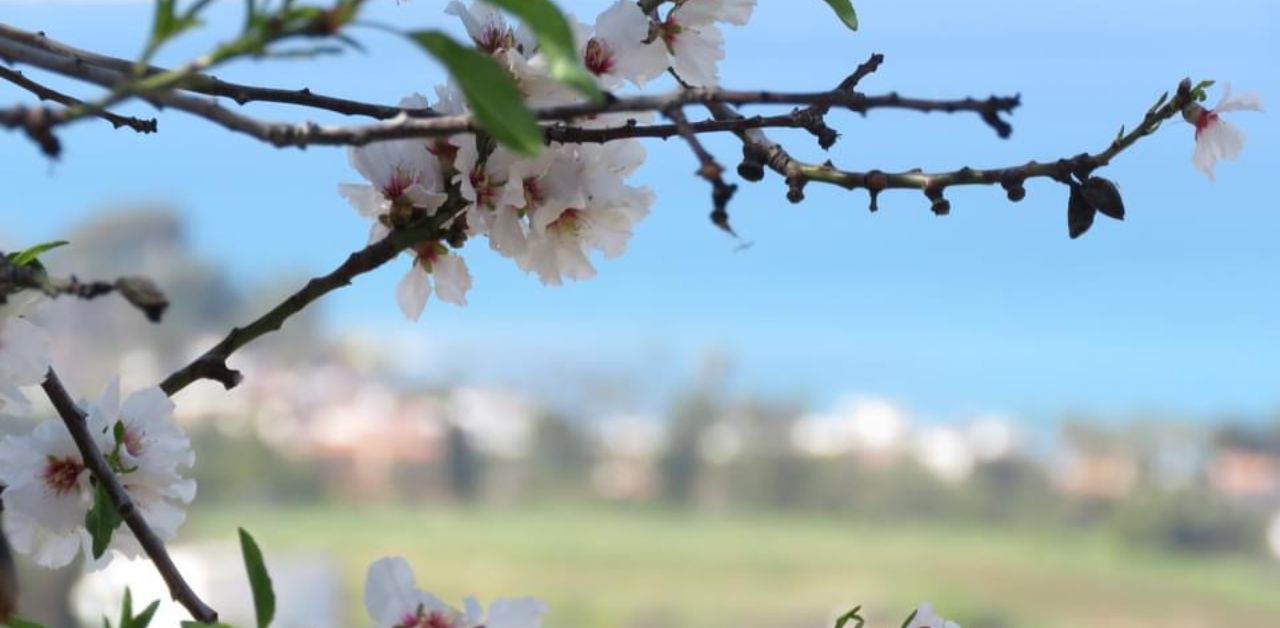 GROWING STRONG TOGETHER
Beside the prettiest cemetery I've ever seen, behind a charming church, on a hill overlooking the sea, there is a little patch of almond trees, the queens of Spring. First to bloom, they herald in a new season.
As Winter winds and rains ease, it's time to let sunshine seep into my bones. So, I take a walk up the hill to observe almond trees blossom in the sunlight. Bees hum wild, filling their golden sacks with pollen. Birds fly overhead, singing songs before settling on branches and then flying off again.
I sniff the blooms. They smell like creamed honey. One day, if all things grow well together, the blossoms will fruit an almond nut.
To be fruitful the almond tree relies on cross pollination from a different, yet compatible variety of tree, complete with overlapping bloom times. Bees emerge from their winter cluster to feed and make pollination successful. Without the variety of trees, and without the bees there would be no almonds. The farmer plants and waters the trees. The trees feed the bees, the bees pollinate, and the tree brings forth sweet almonds for us to enjoy.
They're all growing together. We're all growing together.
In the Spring issue of Daily Inspired Life, you'll read stories submitted from different parts of the world, from people of different age-groups - from 18 years to 83, who are all growing through different phases of their life.
Every single person who has shared their story has navigated difficult life challenges, but they have been successful because they had a great attitude AND
they haven't faced their obstacles alone.
Like the almond tree, we need help and support to be successful in whatever it is we aim to do. We need others to champion us, and we need to champion others too. Because as one, we can grow, but together as many, we grow stronger, bearing beautiful and fruitful lives.
As you read these Spring stories, you'll be uplifted, you'll draw courage, and you'll be inspired to go for your dreams. But also, along the way, remember to uplift and cheer others. Reach out to someone who you know is going through tough times, offer a word of encouragement or share resources to help someone else.
If you know someone who is doing something positive in the world, support them. Show the writers who have shared, that you appreciate their stories, by telling them, and by sharing your own.
Happy Spring blessings. Thank you for being part of Daily Inspired Life.
Let's keep growing strong together.
Karletta Marie.
P.S. If you've already signed up to Daily Inspired Life, then the Spring Issue will already be in your inbox. If you haven't yet joined, and you'd like your copy, then sign up below for instant access.