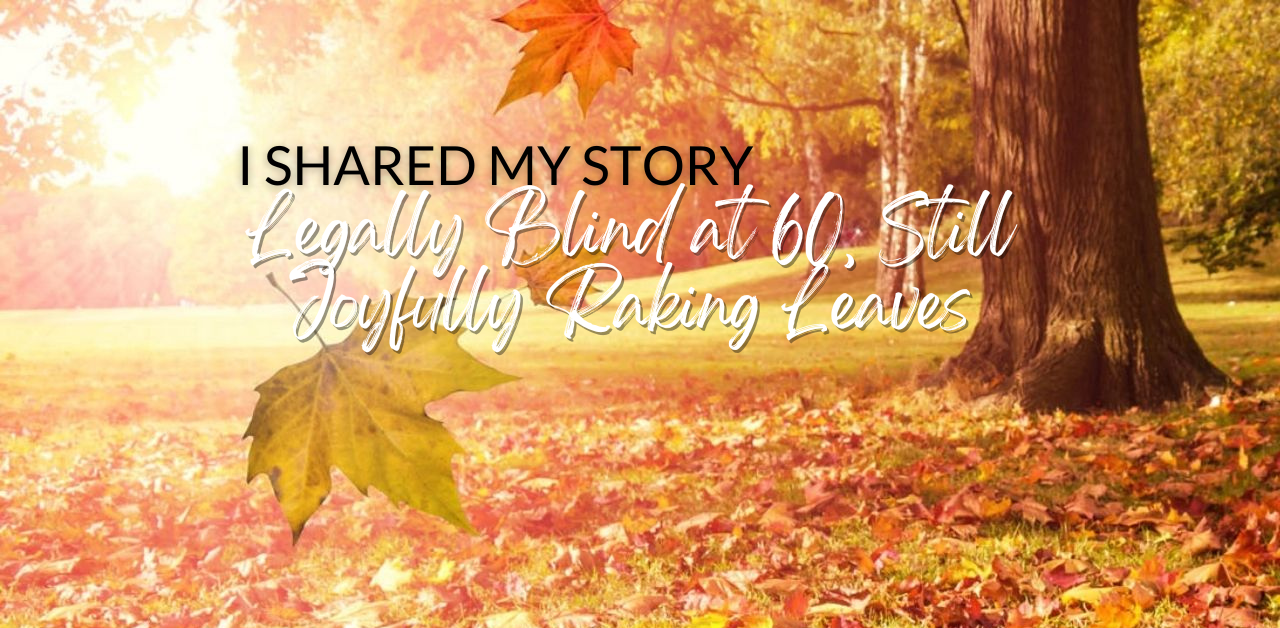 ---
Story Title
Legally Blind at 60, Still Joyfully Raking Leaves | Inspiring Story #90
About the Author
Amy Bovaird is a ghostwriter, the author of two bestselling memoirs, a powerful faith meditations memoir, and two shorter eBooks. She is the recipient of the "Distinguished Medal of Literature" from Ohio Valley University for her first memoir, Mobility Matters.

She is a former ESL instructor, world traveler, and inspirational speaker, who peppers her talks with faith, humor, and culture. She also happens to be legally blind and losing her hearing. But she advocates living your best life, one rich in gratitude. Amy now lives in northwest Pennsylvania in the same house where she grew up.
Read Amy's Memoir
Mobility Matters: Stepping Out in Faith
https://amybovaird.com/books/mobility-matters/
---
How did you feel when you were first invited to share your story?

I was honored and encouraged.

Describe any personal benefits sharing your story has brought you:

The biggest benefit to me was spreading awareness that people can live a positive life with sight loss ... Having your magazine publish my story was another step in changing society's perspective, and expectations, and moving past the stereotypical barriers put on blind individuals. I'm really grateful for the attention to detail, the beautiful presentation, and the platform given to me.
Were you helped in any way by the process to develop your story?

I liked the step-by-step process that incorporated enough time for me (the writer) to craft a strong piece in a bite-sized morsel ... The collaboration made me proud and eager to share my piece in ten different groups. I think it's a lovely magazine full of encouragement, just as the originator of the magazine is.

Did sharing help you understand yourself more deeply? What were your greatest lessons?

I already know how I feel about my life. I guess it did show me that we need to nurture those moments when we feel strong and optimistic, to tap into that feeling when we need encouragement. I think we need to take time to write these slice-of-life moments down to remind us that God has given each of us rich experiences to fall back on. We are blessed.
Did you enjoy the response you received from others in relation to your story? How So?

Yes, that was terrific! It reinforced how important it is to get the message out that blindness is not a life sentence in prison, though many (including those who are blind) may consider it to be so. My desire is to change perceptions, even for those who are blind themselves and feel cheated in life.
Did sharing your story have an impact on others?
I believe it did. Strangers commented on how it made them look at their own situations differently.

Would you recommend others share their story?

Yes, of course. I think the more people that share their stories, the more understanding and empathy is created. We are inherently selfish, often thinking we have more struggles than other people. When we learn about the obstacles others have overcome, it brings our own challenges into perspective. We become cheerleaders for them and join the same team. We are all challenged in life and need to realize the blessings we have within a hardship, and this can be accomplished when we humble ourselves to learn about the challenges of others.
Anything Else You'd Like to Share?
It was a very positive experience! A big blessing!
---
Discover the incredible journey of sharing your own story!
Just like those who've walked this path before, you'll find that sharing your story brings personal growth, connections with a supportive community, and opportunities you never imagined. Whether you're ready to pour your heart out, eager to take a guided workshop, or looking to navigate your own storytelling adventure with our free guide, it all starts right here.
Your story has the power to not only inspire others, you'll unearth profound personal wisdom, and open up meaningful opportunities in your life. Embrace this opportunity today, and let's begin your unique narrative together. Click a button below to begin your journey ...