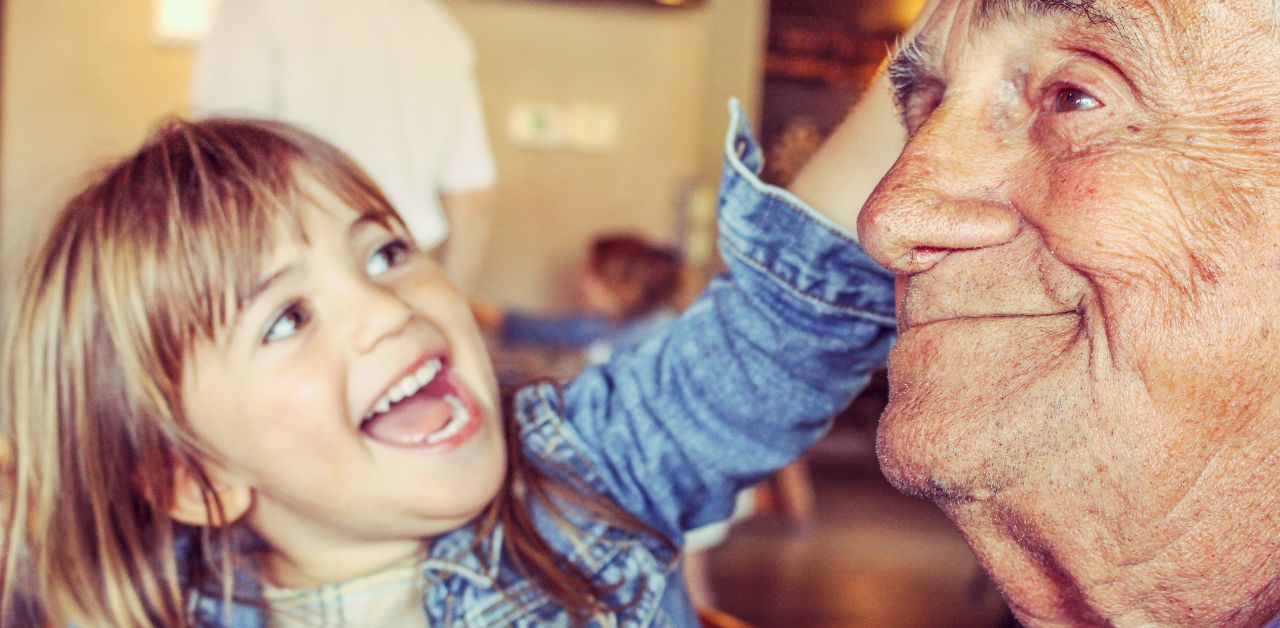 In this tribute story for Grandparents Day, Manndi remembers a special time with Grandpa. As you read her touching story, allow your heart to be stirred as you ponder the joy grandparents bring into our lives.
I am not sure there was ever a morning that Grandpa Wadlow didn't prepare himself a giant bowl of oatmeal. Perhaps when he and my Grandma were traveling or when he worked full-time before retirement gave him an open schedule for the day? But, as soon as I was old enough to pay attention, Grandpa always got up early, walked the quarter-mile gravel lane several times with his beloved black lab, Zion, and then came home to fix himself a steaming hot bowl of oatmeal.
My Mother has often told me of her childhood and how Grandpa strongly felt that oatmeal was in a nutritional category of its very own, possibly taking up a whole square (or rhombus?) of the food pyramid. My Mother, while an oatmeal lover to this day, did not always share his love for the grainy goodness. She would fill her cheeks to near explosion, then run down the street with chipmunk cheeks to spit out the once piping hot, turned gooey and cold substance in her Grandmother's bathroom sink.
I am not sure if her Grandmother scolded her or just pretended not to notice this daily ritual that went on for several years of her childhood. Years later, I did the same thing; only my food nemesis was canned corn. I hated the stuff. I kept it locked in my cheeks for hours after dinner, oftentimes making myself sick, until I finally felt I had no option but to swallow it whole. (It never occurred to me to spit it out!)
This morning, I decided to have a nice steaming hot bowl (rather, mug) of oatmeal. I put far too much water in the cup, making it a soupy mess. But once I added a small spoonful of brown sugar, I gulped it up like a baby bird eating its first worm. It was delicious, nutritious, and, best of all, brought back warm memories of my beloved Grandfather.
It was delicious, nutritious, and, best of all, brought back warm memories of my beloved Grandfather.
I have never been much of a 'breakfast person'. But my Grandparents were. When I stayed with them during hot summer vacation days, there was never a morning where the strong black coffee was not percolating, the oatmeal was not steamy, the fresh garden produce was not lining the entire breakfast bar, and the toast was not buttered with REAL butter. Anything else would be a travesty in the home of Charles and Joann Wadlow.
It is said that breakfast is the most important meal of the day. I am not sure I buy into that. But I believe my Grandpa did. And he was a pretty wise man. He lived a healthy life but definitely knew how to have fun and enjoyed small indulgences fairly frequently. I miss him. I miss his stories and his gregarious laughter. I miss his borderline inappropriate jokes and his booming voice when answering Grandma from deep within his summer garden, outside their farmhouse kitchen. I miss his once curly hair when perms were all the rage in the 80s. He and my Grandma both had perms, and we joked about whose curls were more tightly wound.
Missing Grandpa
I miss how easily he would cry when he got older. Those emotions, once held deep down, bubbled near the surface of an older man who knew his time on earth was drawing to an end. I miss his big, contagious smile, which he shared with every single person he ever met. I miss the stories he told, which often had portions that seemed just a tad over-the-top, but he was so genuine, no one could help but buy into them ... hook, line, and sinker.
I miss the days of being a granddaughter. Both sets of my grandparents are in heaven, and while I know I am fortunate to have the memories, I miss calling up the two humans in the world that would entertain any wild story, forgive any mistake, and grace me with the attention of royalty, no matter what situation I may be facing in life.
Grandparents are a blessing. Just like children. I am thankful my boys have two sets of kind, loving, entertaining, and God-fearing Grandparents with which to make these life-sustaining memories. I hope that someday (in the far-away future), they will do something as insignificant as making a bowl of oatmeal and be transported to a time in their little boy lives where their precious Grandparents speak straight to their hearts. Perhaps not in actual words, but in the language of love, which knows no bounds.
---
About the Author - Manndi Wilkins
Manndi Maphies Wilkins works at the UMKC School of Pharmacy and as a freelance writer in her spare time. Her greatest passion is being a boy mom to her two sons, William (11) and Waylan (9). Her sons never fail to provide daily entertainment, inspiring many of her writings.
She also loves to write about everything from being a single mom and dating after divorce to finding love later in life, the devastation of miscarriage, the loss of a loved one, and starting over. Her pieces are lovingly filled with inspiration, encouragement, and always a touch of humor.