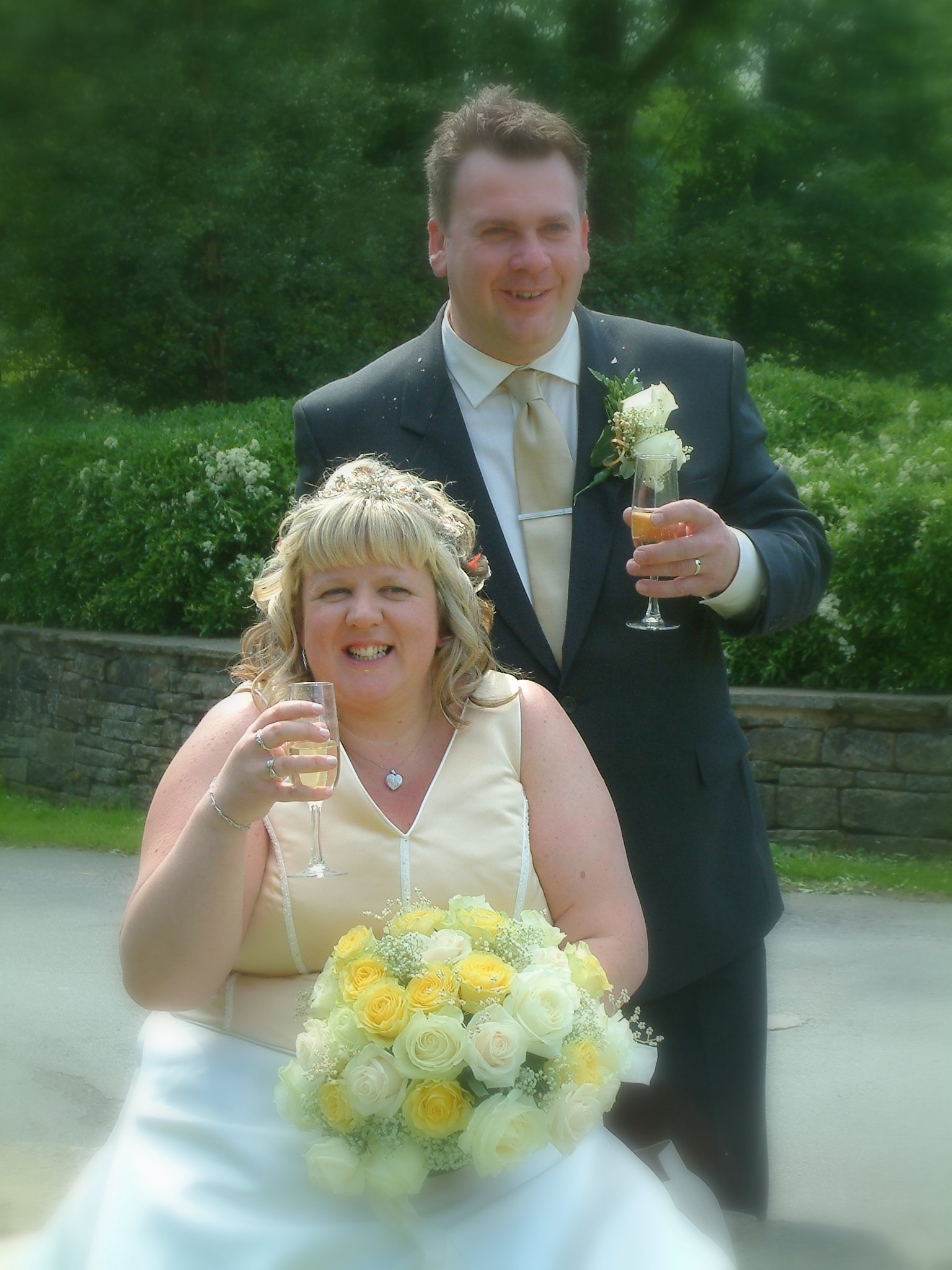 A Short Love Story About Finding Love In The Most Unexpected Places ...
"Holidays for Single People" ... When Helen Googled those words over twelve years ago, she had no idea she would find the love of her life in an airport queue



Can you picture the scene? I was in my mid-30s. I had my own car and my own home. I had been in a few relationships but nothing serious. To be honest, my career and lifestyle came first.
I had a brilliant HR position working for a great company. I often traveled for work, staying overnight in hotels all over the country. After a day of travelling and business meetings, I'd enjoy checking into my room. I'd freshen up and ask myself, "What's it going to be tonight, Helen? Dinner in the restaurant or better still, room service!"
I did enjoy the luxurious feel of staying in hotels. But that was for work. What I needed was a real vacation. I thought about the amazing destinations my friends and family talked about when they travelled overseas. Honestly, I was envious. It seemed everyone else was either married or had families to travel with. They were having fun vacations with their loved ones. But me, I had no one!
I'm a sun-lounger, swim and a drink kinda girl. I could cope with doing that alone as a solo traveler. But what about the evenings? I thought to myself, "What does a single female do on holiday at night, apart from bolt down dinner in the corner of a restaurant?" That didn't sound appealing to me at all.
So, there I was, dreaming of going overseas, but the thought of going alone was just too scary!


Holidays for Single People

One day, I got talking to one of my good friends. I shared my dilemma with her. "Why don't you look at doing a Solos Holiday?" she suggested.
"What! I'm not joining a dating agency!" my reply came quickly. There was no way I was going to sign up for a dating agency vacation.
"It's not like that." My friend explained. "One of the girls at work went on a trip with Solos. She had a great time! They even had a rep stay with the group the whole way. You would be safe and looked after. You should do it, Helen."
I had never heard of Solos before, so of course, I started my research. I Googled "holidays for single people." The Solos website drew me in, stressing they were not a dating agency. They said people were vetted. The safety aspects of the trip were also well covered. Best of all, the holidays themselves looked enticing with a great choice of really nice destinations.
So, where did I want to go? When could I go? Should I go for one week or two? I settled on one week. I chose to go for a week to Tenerife – I picked it because it was at a hotel I knew from a few years back. It was in a decent area, and I thought – hey, if it doesn't work, I'll be safe.
I had the most fabulous week! I did another Solos trip to Corfu the following year and met some brilliant friends. There was Nikkie from the first trip to Tenerife, and I also met two new ladies, Yvonne and Margaret. Again, we had a ball together!
There was no pressure on the holiday. We were a bunch of single people coming together just to have fun. We were free to do our own thing if we wanted to. But everyone tended to mill around the pool and spend time together anyway. At night we would head out to a local bar, staggering back in the early hours! That got me thinking about all the fun I'd missed out on in the past!
So, the following year, I went Solos again … This time to Rhodes, and I thought, Sod it! I'm going for two weeks! I'd kept in touch with Nikkie, Yvonne, and Margaret from the Corfu trip, and yes – we all booked onto the same holiday! This trip was going to be fun!
A Nervous Traveler

One night after work, I was browsing the internet. I wanted to see if there were any notifications from Solos about the upcoming trip to Rhodes.

Blip. Blip. I saw a notification pop-up on the Solos Traveller message board…
"Hi, I'm Andy Brown. I'm going on the Rhodes trip. Is anyone else flying out from Manchester airport? I'm a nervous flyer."
Ah, someone else flying out from Manchester, I thought. I private messaged him, "Hi Andy, I'm Helen. Yes, I'm flying from Manchester."
Andy and I exchanged a few emails. This was his first solo holiday. He had initially tried to book the tour to Crete, which was 2 weeks earlier. But he couldn't get the time off, so he changed his plans to go to Rhodes!
"Helen, I'd really like to sit with you on the plane. What do you think?" Andy messaged me.
Oh My! What if he was a right nerd? Nearly five hours on a plane and then two weeks in Rhodes! Ah … Ummmm … I wasn't sure what to say.
"How about I check-in when I arrive at the airport and then I'll wait for you?" I answered.
"OK. How will I recognize you?"
"Look out for a blonde, wearing jeans, a lilac jacket and a pony tail!"
"I'll wait near the arrival door until about a quarter to five (that was in the morning btw), if I don't see you, I'll join the queue."
Blip! I close down the browser screen. My mind started to run. OK, Helen, you're meeting this guy at the airport now. What do you really know about him? All you know is his name, where he lives, and what he does for a living. And that he is really nervous about getting on the plane! Hope he isn't a complete NERD!
The Airport Check-In Queue

I arrived at Manchester airport. I couldn't resist a glance over to the front door. There WAS a chap waiting. He was looking around left to right. I strode towards the check-in queue and joined it. After about five minutes, he headed toward the same queue where I was waiting to check in. I glanced down toward his luggage label and recognized the Solos tag. Yes, that must be him!
So, here we were in this zigzagged queue, and we were snaking forward towards the check-in counter. I passed this chap, and I said, "You must be Andy?" He winked at me!
He said, "Yes, and you must be Helen." Really? Did he just wink at me?
I checked in first, then waited for him at the security gate. After getting through security and immigration, I "dumped him" so I could shop for a new Radley handbag!! We met up again about twenty minutes later and sat down to have coffee… several coffees.
Aww ,what a lovely chap. So nervous. I thought. I admit I was nervous too. Going on an overseas vacation alone was an adventure, but it was scary too!!
Flying To Rhodes

No, we didn't sit together on the flight. But we did meet up again. waiting to pull our suitcases off the luggage belt. We were put into a taxi by our Solos rep. Andy joined me along with another lady we'd met in the airport.
During the early days of our holiday – there were about twelve of us (out of a large group of twenty-six) who all got on really well. Our days were spent lazing around the pool, swimming, having lunch together, and sinking a few drinks by night, either at the hotel or the local bars.
Andy and I started to have our little moments together. One afternoon, we were lounging on sunbeds, talking and laughing together, when Andy looked up from his sunbed and said, "Are they really playing Last Christmas by Wham??" It was early September! This chap knew how to make me laugh!
On a trip to Simi, Andy instinctively held out his hand to help me as I walked down a big step. "I can trust Andy!" I thought.
When we sat around the pool, I'd be sat with Andy… when we all went for lunch… I'd be sat with Andy… and when we all went to the bars at night – yes, I was sat with Andy. I'm sure we were both maneuvering things that way! This is going well! I thought.
I felt his arm gently wrap around my shoulder, strong and firm. He moved in close, planted his lips against mine. It was our first kiss!
Falling in Love

Five days into our trip, all twelve of our gang head into Rhodes town for a meal and some fun in the nightclub. Andy and I stood together at the bar, enjoying a good few drinks, when I felt him lean into me. I lent into him. I felt his arm gently wrap around my shoulder, strong and firm. He moved in close, planted his lips against mine. It was our first kiss! Hey, this is REALLY nice!
The next day Andy asked me on a date, just the two of us. Yes! I really liked this chap! We grabbed a taxi and went off to the beach. We talked, swam, and dozed. Andy read his paper; I read my book. It was just so "easy" and relaxing with him. We talked about our lives, our ups and downs, we shared many laughs, had a lovely lunch, and again went back to our sunbeds, dozed and totally relaxed until evening.
A few more outings together, and we had caused a right stir in the hotel. A romance was blossoming! One morning, Andy got spotted in reception in the same clothes he had gone out in the night before. That added to the pleasure we gave to the hotel staff and other guests!
As the holiday went on – we fell in love - watched by our friends in the group. During the holiday, I sent a text to one of my best friends saying, "OMG, this holiday is life changing!" She jokes now that I went off air, and she was left thinking … what the hell is going on??
Andy and I went shopping together (yes, a man who loves shopping!). We got his mum and dad presents and bought each other lovely keepsakes from Rhodes!
I was so excited. I thought, wow, this is really going to go somewhere. We lived just 50 miles apart! We were both single, with no baggage, and loved every minute of spending time together!
On the coach back to the airport, I was thinking, OH MY GOD, my next holiday will be with Andy! The flight home was a very different experience to the flight going to Rhodes. I was so excited to go home, for us to get on with our lives together! And YES! We did sit together on the plane.
Lovers of Lancashire

Two weeks later, we were strolling along Blackpool beach hand in hand. I took a deep breath, looked into Andy's eyes, and asked, "Andy – do you reckon we're for keeps?" He looked back at me and smiled, "I've no reason to think otherwise." That weekend, I told Andy that I loved him, and a few days later, he told me he loved me too.
Well, let's just say that from then on, we put a groove in the M6. Andy came up to Lancashire every weekend. During the week, I would travel to Nottingham for work and call into Stoke to see Andy.
On the 10th February 2006 – we got engaged!
Six weeks after getting engaged, Andy moved in with me at Lancashire … along with every bit of his life and childhood and his record collection! We swung into action as well with our wedding plans! Having just 16 weeks to plan a wedding and a honeymoon certainly focused our decision-making!
Our Happy Ever After

Nine months after that Rhodes holiday – we were back on holiday together – just the two of us. Our honeymoon - yes, we were married! We were married on 23rd June 2006!
We are always laughing – we have never run out of things to talk about, share, chuckle about. I remember Andy bringing me a drink in a bar in Rhodes and handing over a G&T and saying, "That's a double, so sip it!" Andy still says that to me now! In fact, he said it to me today when we were out for lunch!
I'm happily married. I love that Andy is my best friend, partner, that we share everything. I love that he cares so much for me (and me him). We enjoy life. We've shared and supported each other through rough times, but we came out smiling and together are stronger for what we've experienced (good and bad)… and yes … now I am content!
A Decision That Changed My Life
Now – let me be clear – we didn't go on holiday to find someone … we were both on holiday to have just that – a holiday! It was Andy's first (and last) experience of a Solos holiday!
Making the decision to go on that Solos trip totally changed my life – the strong independent career girl has softened quite a bit since then. I learned not to be so intense about work but to have a full and varied life! I had to adjust to having someone live with me and stop trying to do everything myself!
I will always be thankful for Solos for arranging holidays for single people. They gave me the confidence to board a plane on my own, and they gave Andy the confidence to book his holiday in Rhodes …

Today, I especially thank them for helping me meet my husband, Andy! We're celebrating our Wedding Anniversary! 23rd June!
---
Want another short love story? Try This ...

An Unromantic Story of Love
Jessica Springs
Jessica believes she's fallen in love with her perfect man Alex...
until her whole idea of life and relationship is rocked by an earthquake in Mexico .

Should Jessica trust in her gut
or was this just Tinder all along?