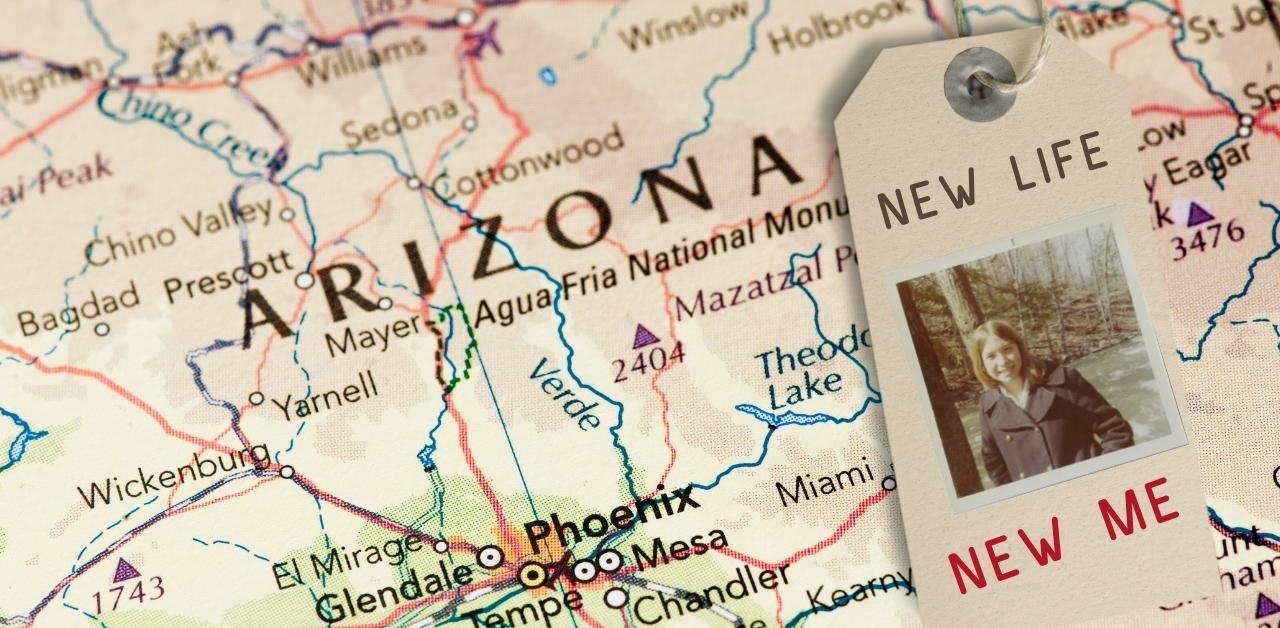 A beautiful (and entertaining) story inspired by Linda Strader's latest book - Uprooted, a New Life in the Arizona Sun -
prequel to her memoir "Summers of Fire"
"I briefly made a conscious effort to do just that (be someone new), but eventually learned to be me, even when I wasn't sure who I was yet. I also kept pushing for what I wanted, even though I wasn't sure about that either!"
***
At the age of seventeen, the worst happened. My parents announced a cross-country move. Anger, sadness, denial … emotions rolled inside me.
I pleaded with my mom, "Let me stay and finish my senior year!" I asked friends to sign my junior yearbook, explaining in tears that I wouldn't be there as a senior.
Once the initial shock faded, I began to accept the fact that whether I liked it or not, we were moving from Syracuse, New York, to the small town of Prescott, Arizona. I didn't know what Prescott had in store for me, but I asked myself: What ties me to Syracuse?
It wasn't like I was popular. The boys I liked never liked me. I didn't even like me. I wanted to be like my few girlfriends. Everything I attempted turned out a failure. One friend excelled in gymnastics. I gave the team a shot, but I wasn't graceful and lacked the bravery to try the hard moves. Another friend sewed her own clothes, taking on the challenges of linings, pleats, fitted bodices … and she looked dynamite in her creations. My simple skirts, vests, and dresses looked okay on the cutting table, but not on me. Another friend was outgoing, flirty, and fun. I wanted to be her, too. What was stopping me? Myself. I couldn't just become someone new, could I? What would everyone think? That I'd lost my mind? Probably.
Then I had a thought: In a new place, I could become a new me. Everyone would see an outgoing, flirty, and fun girl.
"In a new place, I could become a new me. Everyone would see an outgoing, flirty, and fun girl."
I stopped complaining about the upcoming move and focused on changing once in Prescott.
My opportunity to test out the new me actually happened the day we moved into our Prescott rental home. A young man helped us unload, and by the end of the day, he'd asked me out on a date. There it was, laid out on a silver platter: A chance to change. I forced myself to be more open and fun to hang around with. He liked to party with friends, so I partied with them. He wanted to make out every night in his car, so we did. Then that boy broke up with me after dating just two months.
For weeks, I refused to speak to another soul. Eventually, though, I caved. I didn't want to be alone.
Over the next two years, I made a few friends and even found love … or what I thought might be love. I also discovered a number of things about myself:
That I wanted a job, but I didn't want a mind-numbing job. What would that be? I figured I'd know when I found it.
That nature fed my soul.
I discovered that music, important in Syracuse, was even more so in Arizona. I enrolled in a music theory class, took guitar and piano lessons, wrote songs, and even entered a talent contest.
I discovered watercolor painting and loved it.
I jumped with both feet into the world of silversmithing, making silver and turquoise jewelry.
I discovered that spending a day in the kitchen to try out a new recipe was a delicious time well-spent.
Somewhere along the way, something happened. I stopped wanting to be like someone else. I became satisfied with being the real me.
---
About the Book 'Uprooted - a new life in the Arizona sun'
It's 1972, and seventeen-year-old Linda Strader's parents do the unthinkable-they move from Syracuse, New York, to Prescott, Arizona. At first, Linda is furious and doesn't want to move. True, life in Syracuse isn't perfect, but all her friends are there. Then she has a thought: maybe this move won't be so bad. What if she can make herself into someone new?

Expecting a desert, Linda is surprised to find Prescott surrounded by pine-covered mountains, lush canyons with clear, cold creeks, and best of all, several new friends willing to show it off to her. Her new friends also share her love of music and even provide some romance in her life, although she holds out hope for a boy she had liked in Syracuse who joins the Navy.
When her father begins a new job in Tucson, he moves there until the house in Prescott is sold, taking Linda with him so she can job hunt. She learns about a Forest Service job on Mt. Lemmon and jumps at the chance, realizing the one constant in her life is her love for the outdoors and nature.

In this prequel to Summers of Fire, Linda learns, in her quest for independence, she's not made for mediocre employment. That fateful move to Prescott sets her off on a career path that not only changes her life forever, but helps open the world of fighting forest fires to women.