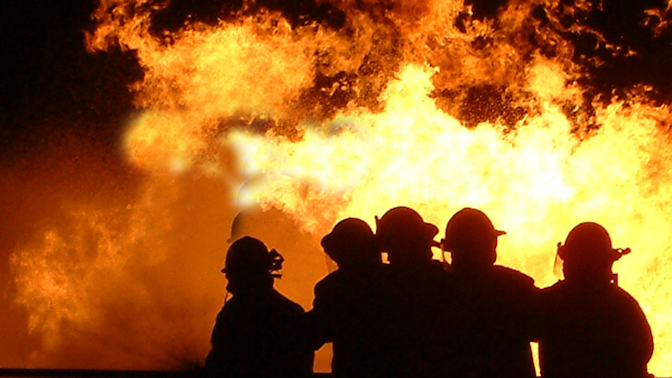 ​ Linda Strader, one of the U.S. Forest Service's first female firefighters in the 70's, shares an inspiring piece about overcoming life's challenges against insurmountable odds.
I left early. A little snow and ice challenged me on this cold and blustery day. I reached the summit, my knees trembling from the precarious exposure. It'd been years since I'd stood on this volcanic pillar, with expansive views in every direction. I shed my gear, huddled out of the wind as best I could, and opened the old Army ammunition box to sign-in. With my frozen fingers grasping the pencil stub, I wrote:
I never thought I'd ever hike again, much less make it to the top. But I'm here!
"I never thought I'd ever hike again, much less make it to the top"
Ecstatic, I jumped up and screamed, "Woo-hoo!" flailing my arms. Seconds later another hiker joined me. Embarrassed, I wondered if he'd heard me. We exchanged greetings, hollering over the howling wind. He seemed friendly, so I yelled out the significance of my being there. He yelled back, "Congratulations!" Yes, indeed. I deserved congratulations.
Doors were now wide open. I can hike anywhere I want! I revisited every trail in the Santa Rita Mountains. Hiking connected me to my twenty-year-old self—the strong woman who used to be a firefighter.
My favorite trail to Florida Saddle, a tough, steep, rocky trek, didn't offer views as grand as the trails to Mt. Wrightson, but here, Douglas firs reached their full potential, some so big it would take three people to wrap their arms around them. I greeted a familiar one, wrapping my arms around its ample girth. Thanks for waiting.
At the saddle, surrounded by these peaceful, majestic trees, I couldn't help but think about my summers of fire in these very mountains. Despite everything that happened to me: discrimination, knee injuries, painful surgery and even more painful recovery—I had no regrets. I'd discovered that when you love what you do, it's not called work.
"I'd discovered that when you love what you do, it's not called work"
Someone asked me not too long ago if I missed firefighting. I'm not sure why I'd said "no," because as soon as they walked away, I thought, of course I do.
My time as a firefighter will always be an important part of me. I still feel nostalgia for the camaraderie, the excitement, the glamour, the hard work—all of it.
I love to tell fire stories to anyone who will listen.
On the news, I hear that another wildfire rages out of control—over a hundred thousand acres. Fires get so much bigger now. Glued to the screen, I can't look away. I hear that voice, feel that twinge, that says—
I want to go ...
---
This piece is a short extract from Linda Strader's memoir "Summers of Fire"
Linda Strader is one of the first women hired on a fire crew with the U.S. Forest Service. A naïve twenty-year-old in the mid-1970s, she discovers fighting wildfires is challenging—but in a man's world, they became only one of the challenges she would face.​
Summers of Fire is an Arizona to Alaska adventure story that honestly recounts the seven years Strader ventures into the heart of fires that scorch the land, vibrant friendships that fire the soul, and deep love that ends in devastating heartbreak.
Buy the book - "Summers of Fire: A Memoir of Adventure Love & Courage:
Linda on the job fighting the Hog-Fong Fire 1977