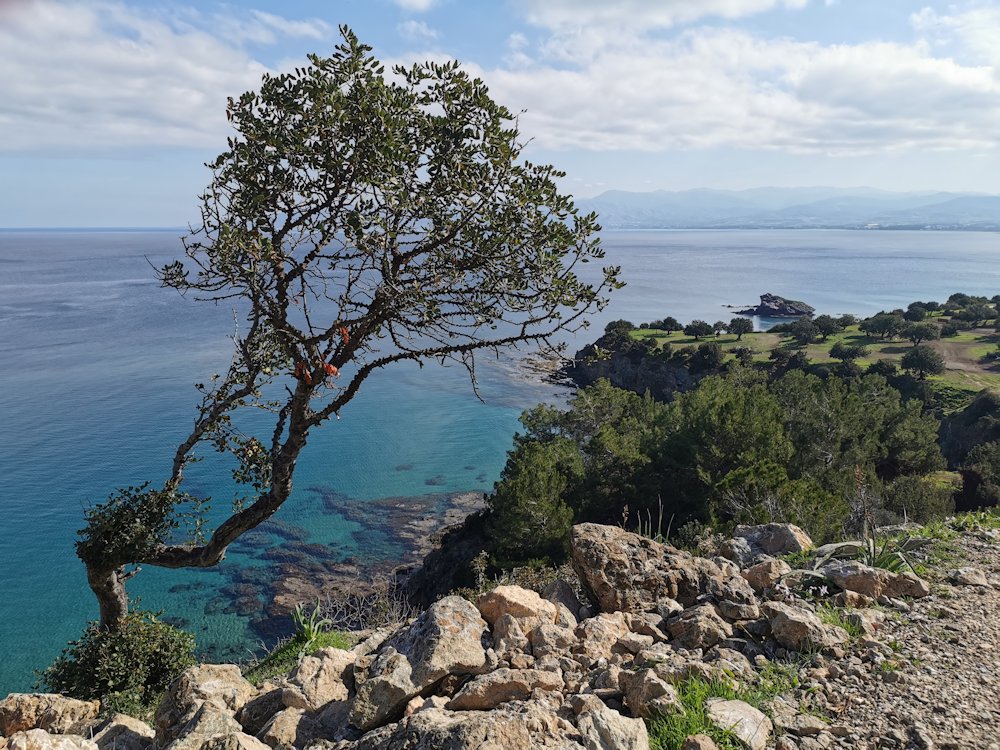 Turquoise waters sparkled so bright it's as if the stars had fallen into the sea overnight. Had Winter heard our tired cries, sick of Covid life? Had she stepped aside to make space for Spring to transcend time, arriving more than a month early? I sat on the cliff edge breathing in the moment. John stood nearby, his drone humming overhead. Frame by frame he captured the magic laid out before us.
On the track up ahead I saw a couple walking in our direction. They spoke Cypriot and I figured they must be locals in the area. They wore fitness gear and walked briskly with their heads down, eyes focused on the path.
"Kalimera," I greet them. They smile and nod as they pass. They walk a little further until the woman notices John with the drone. She stops to observe what he's photographing. She calls her partner over. Together they stop and raise their heads to look upon the expanse before them.
This is what they saw ...
Sunlit sequins sparkle over the Med. Rocky mountains in the distance are top covered in green vegetation. Purple and yellow wildflowers spring out from cliff faces. A soft breeze carries a cormorant into view.
The couple gasp at the beauty before them, as if for the first time they see ...
The woman takes out her camera and captures the scene...
"The couple gasp at the beauty before them."
As the couple continue on their way, I thought about our everyday encounters. How many everyday, routine moments become so familiar, that we just stop being present to the pleasure they bring to our life?
A daffodil growing along the path, an urban painting on a wall you pass every day, the purr of a kitten, the taste of strawberry on our tongue, the scent of a sandal wood candle, warm water running on your back …
Don't let the beauty in your ordinary day become so familiar that you just stop experiencing it. Today, as you check off your list, do your errands, take care of your loved ones … fully feel into what you are experiencing.
What is it you notice, as if for the first time?
READ ANOTHER STORY |
Promise of a Peach Blossom
Inspiring story about hope and healing after hurt ...