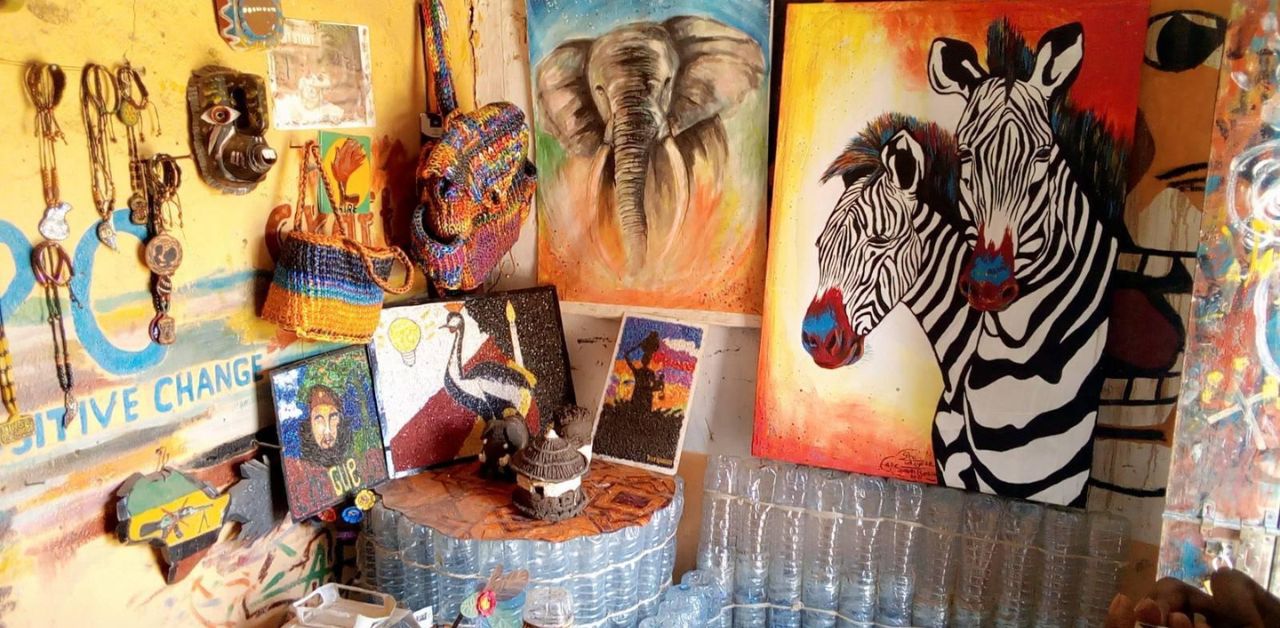 Pat Sabag had a promising career as a professional musician and artist. That was until his dreams were shattered when war broke out in his homeland. Pat endures unspeakable trauma, is forced to flee and begin life as a refugee,
but this is not his defining story ...
That afternoon, like every afternoon, I headed to Nakivale Lake to find a moment of grace in a hopeless existence. I walked past community houses, mud homes, and make-shift markets. A group of barefooted children played with sticks on the road, their oversized clothes soiled in reddish dirt. I wondered about their future. Would they end up like so many other children in the settlement who, without hope, drank alcohol and took drugs? I gave a silent prayer for something better for their lives and mine.
Arriving at the lake, I sat down with my guitar, notebook and pen. This was my only moment of joy in a day without peace or purpose. I stared past still waters, rolling hills, and out into blue skies. That's when my music and lyrics flowed. As I sang to heaven and poured my words onto the page, it was as if my troubles were released from my heart; my trauma and pain transformed into art.
I recalled my past days living in DR Congo, my homeland. Before I was forced to flee, I performed music professionally, wrote songs, and made appearances on TV and radio. I also worked in visual arts, painting, and creating crafts. I wasn't a big famous artist, but I was on the way to becoming one. Now, as a refugee, I found it difficult to adapt to this new life. I needed to find a way to pass the days doing something productive.
As I strummed my guitar, singing and praying, I had an inspiration. I'd return to my multi-artist ways. I'd try my hand at arts and crafts to help pass the time and do something useful in the settlement. Only, I had no money to buy raw materials. I didn't want that to stop me. I had to try. So, I spent days collecting empty water
and soda bottles from around the lake. I crafted those plastic bottles into one of my most stunning creations - a boat – rubbish turned to art – it floats – and is my tribute to preserving Nakivale Lake, which brought me so much peace during my most difficult times.
When officials visited the camp, I received much praise and compliments. For the first time in months, I felt hopeful, confident, and productive again. Then, I remembered the faces of children playing in the dirt. I thought of our youth wasting their lives, drinking alcohol, and taking drugs. I wanted to give them the same hope I had, to help them change their negative way of living. I had the idea to start an arts and handicrafts programme for youths in the Nakivale refugee settlement.
I named the initiative Art for Positive Change
I was motivated to see many youths who understood my vision and started following my way. They learned to channel their energy and feelings into creating art and handicrafts. They took the initiative to collect and recycle plastics, contributing to the environmental protection of our Nakivale Lake and settlement areas.
Seeing the impact on the youth in the camp - how the youths kept their hands busy making the settlement a better place to live, I didn't want to stop there.
Under Art for Positive Change, I started another programme teaching art and music to the younger children. I knew that as children progress into elementary school and beyond, art continues to provide opportunities for brain development, mastery, self-esteem, and creativity. Our first realisation was a song I wrote and recorded with the children. "Not a Story" In this song, we call for children's rights. Then last year, we recorded another, "Our Youth Our Future." The song is about the fight against drug abuse, and I was selected to perform this song as a representative for refugees at the Rotary Africa peace concert in Kampala.
I am humbled to see how Art for Positive Change is transforming the lives of refugee youths and children. They come from DR Congo, Somalia, Ethiopia, Sudan, Eritrea, Burundi, and Rwanda. And though they come from many different places, they all have one thing in common - every single child has passed through unspeakable trauma and loss. But here, in our classroom, they come together and create their own artistic culture of peace. We see them laugh for the first time, excited about what they have created.
We help them transform their trauma into art.
My vision of creating a big art and culture centre for refugees in Uganda grows. Still, we face many challenges. Everyday more and more children sign up. Right now, we do all our activities in one classroom with limited equipment. The room is like a workshop, art classroom, and art gallery. With so many children, this situation doesn't benefit us. We need another two classrooms, raw materials, and tools to teach them the crafts. We also need musical instruments to facilitate our music sessions.
I am trying my best to grow the programme with what we have. I have faith that as long as we keep trying, good-hearted people will be inspired to support us in this journey of using art and music to create positive change – not just in our refugee settlement but the whole world over.
No longer feeling hopeless, I share these lyrics from my latest song with you …

I remember when my daddy told me in this crazy world you must be careful
If you want to know the person who will come change your life, look at the mirror
Even if many troubles you have got in life you are the only hero
Think positive and try not to fail, but never ever fail without you try.

---
Meet Issa Patrick (Pat Sabag)
Hi, my name is Issa Patrick. Pat Sabag is my stage name. I'm a 22 year- old multi-artist from DR Congo, now living in Uganda. I'm the Founder and Executive Director at Art For Positive Change Centre, Nakivale Settlement, Uganda.
Art for Positive Change is a registered organization with a big vision to transform the lives of marginalised children within the Nakivale settlement. In addition to teaching children music, arts, and crafts, the children learn to protect the environment by using recycled plastic in their creative art and craft making.
Please support our mission by assisting us to build a much-needed classroom and to gain access to the necessary tools, materials, and musical instruments to continue creating art and music.
Ph: +256782021923
+256758684948
Gmail: [email protected]
Facebook: Art for Positive Change Center