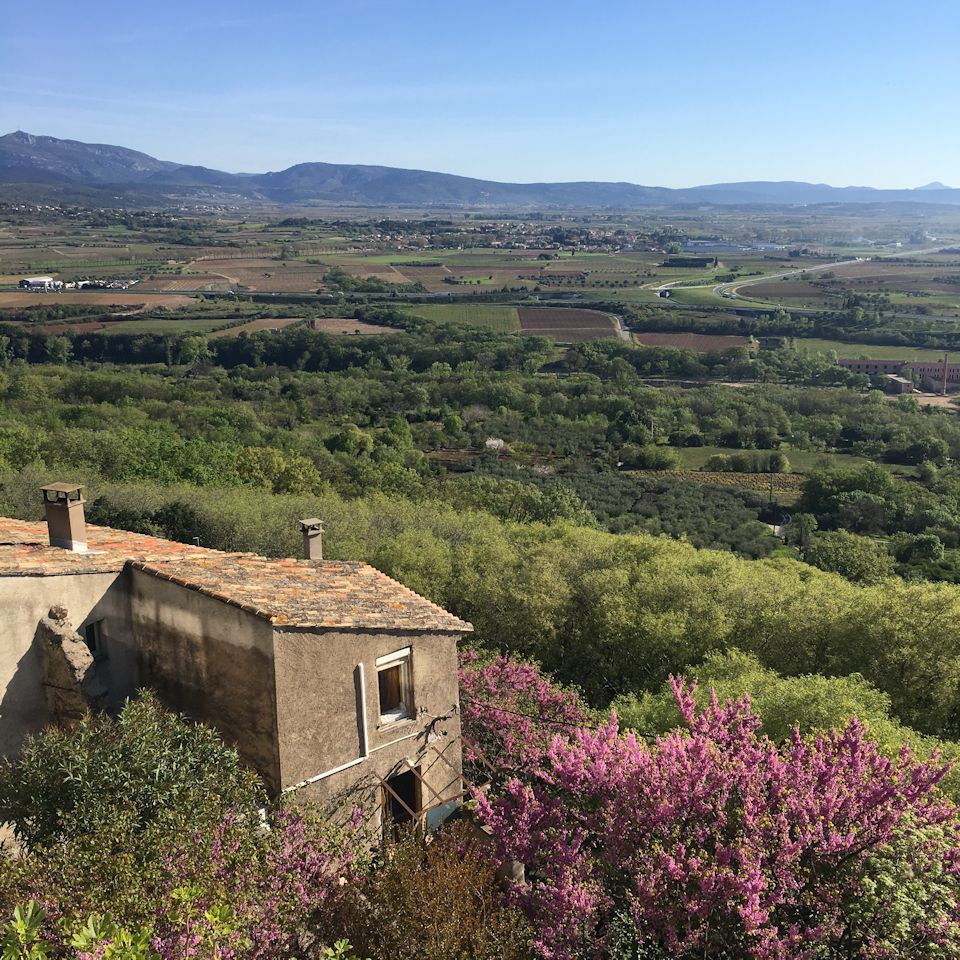 Medieval Village, Lacoste, France
​
"I stop still, shhh, to listen … a man sings in the distance; a voice of love forlorn, beckoning me to follow the ghosts of lost lovers from long ago …"
The buzzing of a bee passing by, butterflies dancing over purple wisteria. Dormant grapevines wake, sprouting new leaves. Sweet fragrance wafting up the hillside, church bells ringing on the hour. Wednesday markets with colourful produce and freshly baked bread. A smile; the only language I understand.
This is life in Lacoste, a gift to be unwrapped one moment at a time.
I'll never forget the first day I walked into the medieval village of Lacoste, Southern France. We'd left the city nights and lights of Paris to travel six hours down Highway A71 in our red rented Renault. I'd already fallen for France and I fell further as her bright and busy ways petered out to the rocky roads of French countryside, until we arrive at Lacoste. I step out of the car, and stand before the great medieval church, with its imposing walls, green gothic door and weathered window boards. I look up to the tower … bing! bong! bing! bong! bing! bong! bing! bong! bing! bong! Bells ring out, as if welcoming us as guests.
We wander across the village square, to where five shallow stairs lead us down to an old stone arch. I step through, entering the gateway to my own French fairy-tale.
Turning down a narrow pathway, I sway atop uneven cobblestones, each one made smooth; worn at the edges by thousands of footsteps, passing over a thousand years. I see the street face a contradiction; old and grey, decrepit, cracked and peeling, yet adorned vibrantly, youthful, with lively pink flowers springing from pots, brightly painted doors and luscious green vines covering the wrinkles of her walls.
I continue to walk slow, lightly brushing my palm over this ancient stone, tenderly touching the crumbling mortar with my fingertips. What kind of a place was this, I ponder, longing to connect this present to its past. I turn another corner, walk under another archway and into a dark, dimly lit lane. I stop still, shhhshhh, listen … a man sings in the distance; a voice of love forlorn, beckoning me to follow the ghosts of lost lovers from long ago …
"While the nightingale sings,
both night and day,
I am with my beautiful
beneath the flowers,
until our sentry from the tower
cries: "Lovers, get up!
for I clearly see the sunrise and the day" *
The song stops. A Knight on his horse, sword in sheaf, appears in the lane-way. I feel the rush of air as he gallops past, turning the corner, gone. I stand still and breathe. All I hear is the clop of hooves, farther and farther he rides, he's left his sweet maiden at her door to cry.
Knock! Knock! "This is the place", John says. The arched framed door creeks open and we are greeted by Ann, our charming French host for the evening.
Ann's place was an authentic, French, country-style villa sitting hill-top overlooking surrounding vineyards. The villa was renovated, had all the modern comforts, along with the rustic charms of a pot-belly stove and timber beamed roof. Two balconies provided us with magnificent views that inspired my opening words … one balcony upstairs off the sitting room, where we could work online, the other from the kitchen where we would watch the sunrise each morning.
Staying in Lacoste was one of the most unique and enriching travel experiences I've encountered, and the total accommodation cost for this leg of our journey was $0. How can you get accommodation for zero cost? Here's how …
We are members of an ever-growing group of smart and thrifty travellers - Trusted Housesitters. A search for accommodation in South of France matched us up with the perfect place for a French country stay. The villa came complete with a beautiful cat Rusty, who was our treasured companion throughout our time here.
I was completely spellbound by the picture-book, fairy-tale, landscape of Lacoste and its surrounds. This enchanting medieval village utterly captured my imagination, and allowed my mind to wander in the story-books of my child-hood.
I'd not only recommend a stay in the charming French country-side, but I recommend you begin designing your own freedom life fairy-tale. Traveling is more affordable than you imagined. Check out what free accommodation is available in your dream destination here Trusted Housesitters. Use this link and get 20% off membership to Trusted Housesitters.
* Poem by Anonymous Occitan troubadour
Do you have your own travel fairy-tale story to share? We'd love to hear from you. Please share your story with us in the comments below.