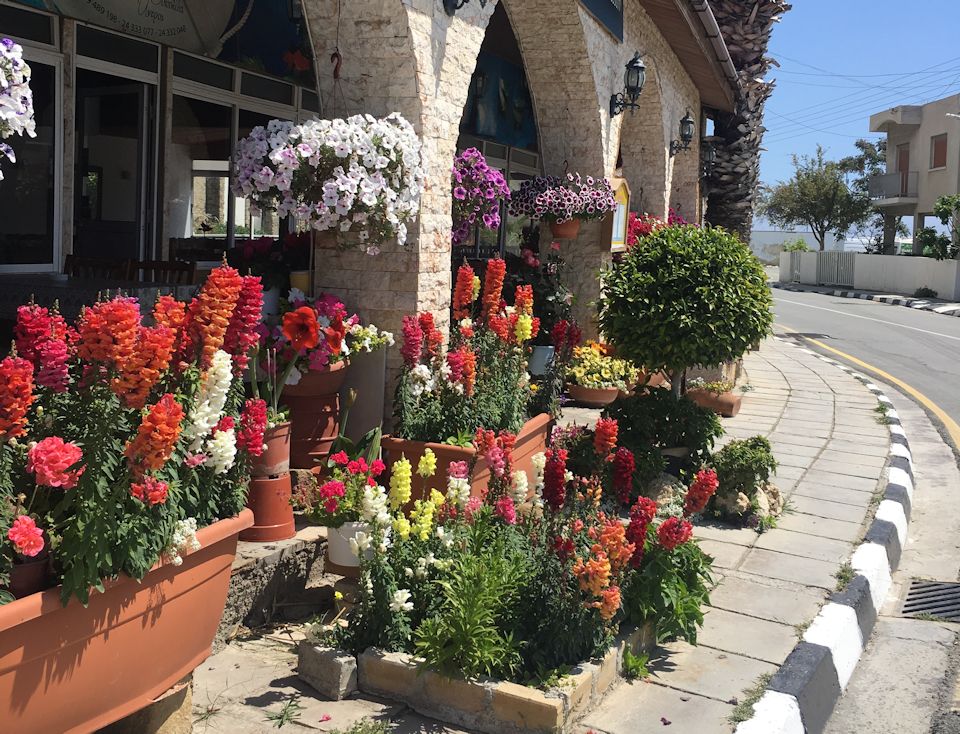 Join a delightful journey in Cyprus, where a simple 'thank you' sparks a cross-cultural exchange with a spirited local. Discover how one traveler's experience highlights the power of gratitude and the joy of embracing new perspectives, inspiring us to foster meaningful connections wherever we go
"ευχαριστώ! Thank you!" I say proudly in my very best Greek accent.
Our waiter, Νίκος, looks down at me, amused, smiling, as he places a mountain of grilled calamari in the center of our table.

I am travelling around Cyprus with my husband John for the very first time and this is the first restaurant we've ever visited in this Mediterranean cross Middle-eastern country. So far, I'm impressed with the friendly Cypriot locals and the scenic landscapes that appear around every corner we turn. I'm especially taken by the crystal blue seas that adorn the Cyprus mountainous landscape like a turquoise silk dress hugging the curves of a bold, buxom woman.


We choose to stop and take a meal at a beach-front restaurant located at Governor's Beach. I'm salivating at the thought of trying out the famed Cypriot Fish Meze – with a beach-view! We sit back enjoying the breeze and beach-view just a few meters from our table. This is what I call life!
Slowly our table starts to fill with a colourful collage of fresh salads and seafood dishes. Each time Νίκος, serves our table I look up and say "ευχαριστώ" (thank you).
"Why you English always say thank you?" Νίκος asks. "Too much thank you, thank you, please and thank you", he takes a deep breath, rolls his eyes to the back of his head and holds both hands out, palms heavenward, as if pleading for an explanation.
I smile, wanting to make a connection and share a genuine cultural exchange, "We think it's good manners to acknowledge the work you do. It's a way to show appreciation".
"But it's my job!!! Why you keep say thank you, thank you, all the time? Not necessary! Agh you English, I dun understand?" He shrugs his shoulders and throws his hands to the air.
Laughing, I reply ... "Well, it's my first day in Cyprus and I'm certainly understanding a lot more about my Cypriot father-in-law "
I can see in my own life how travel has been the bridge that closes cultural gaps - ultimately leading to peace, empathy and greater understanding ...
Obviously, laughing was a clear indication that I wasn't taking this matter seriously enough! Assuming the need to make me aware of my over-polite 'deficiency', Νίκος, holds up his hand, forefinger to thumb and waves in a "tweaking" gesture right in my face. He looks me sternly in the eye, and he says ...
"Agh, don't worry, here in Cyprus, we will fix a few things with you!"
John and I look at each other and burst out laughing!

Something as simple as when and where to say "thank you" can be an opportunity to connect and learn more about others who have a different background, religious, cultural and societal norms .

And that's what I love so much about traveling to different places on our planet. Travel teaches us about each other. Travel helps us to connect and listen to the stories of others who are different to ourselves.

I can see in my own life how travel has been a bridge that closes cultural gaps - ultimately leading to peace, empathy and greater understanding of the people who live together on our wonderful planet Earth.
---
READ ANOTHER STORY |
Woman of Iron & Lace, Power & Grace: Soula, a woman who can carry a gun in one hand, while accepting a delicate rose in the other. Soula was one of the first women sworn in as ...