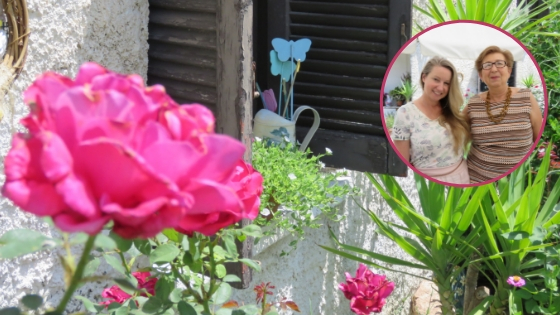 A story about Soula ... a woman who can carry a gun in one hand,
while holding a rose in the other.
The prisoner sat across from Soula. He reached out toward her. He looked Soula in the eye and said, "Ms Soula, I'd like to give you a gift."
What kind of gift would a prisoner serving life for murder give to Soula, a high-profile law enforcement officer?
The prisoner held out a wooden cross about the size of his forearm. He presented his gift to Soula. She ran her hand over the timber, feeling the detail of intricate design. Each incision delicately carved by the hands of a killer.
I ask Soula, "Why would a murderer, serving life-imprisonment, want to give you, a policewoman, a gift like this? Had he turned his life around? Was it a symbol of repentance, a gift offering for his sins perhaps?"
Soula looks at me with her kind, wise eyes. "I don't know, Karletta. But we are not enemies. This prisoner was never an enemy of mine or any other police officer - before or after his conviction. The job of a police officer is to find the truth, record it, and present it before justice. And let's not call him a killer or a murderer, if you don't mind. I'd rather see him as a fellow human being who was sentenced to life imprisonment for murder. Is that OK? I'd prefer that."
Let's not call him a killer or a murderer, if you don't mind. I'd rather see him as a fellow human being ...
Soula returns the cross to its place among an eclectic collection of ornaments and her handcrafted creations. I notice a patchwork blanket decorated in soft greens and pinks, and there are decoupage candles, ornamental bottles, and painted stones. Many of Soula's creations are sold to raise money for charity.
I look out the window at Soula's cottage garden. The sun is shining, birds are singing, and poppies and red roses are blooming.
I see handmade mosaics, pink flamingos, and hand-painted stones.
As you walk through her garden, you get a sense of the love and care Soula takes to fill her environment with light and beauty.
Soula is a true woman of iron and lace. She's full of power and grace. A woman whose presence is strong and commanding, a symbol of strength, layered and trimmed in pure femininity. She is a woman who can carry a gun in one hand while accepting a delicate rose in the other. I have never, in my life, met a woman like Soula.
Soula was one of the first policewomen to be sworn in as an officer in Cyprus back in the 1960s. In a male-dominated culture and profession, that achievement alone would take strength I could only imagine. Soula conquered the challenges she faced as a female officer and rapidly rose in rank.
Soula has worked with Europol and Interpol and travelled extensively for the United Nations. As we walk into the breakfast room, I notice an impressive line-up of certificates and awards. "Wow! Look at those!"

"I didn't want to display them. I had them put away," Soula says to me. "But my housekeeper found them and said to me, 'Soula, I'm putting these on display. If you won't, I will!'"
And so she should! Soula is an example and inspiration to other women. Feminine strength. I hope that one day, she will share more of her story. And if you'd like that, please comment below and let me know what you'd like to ask her. I'm sure she has many tales to tell.
READ ANOTHER STORY | Found in a trash-can in the backstreets of South Korea, then adopted out to an American family where she faced abuse ...
to becoming an international empowerment coach and motivational speaker; Sasha takes you on a powerful journey of reframing her adoption story.