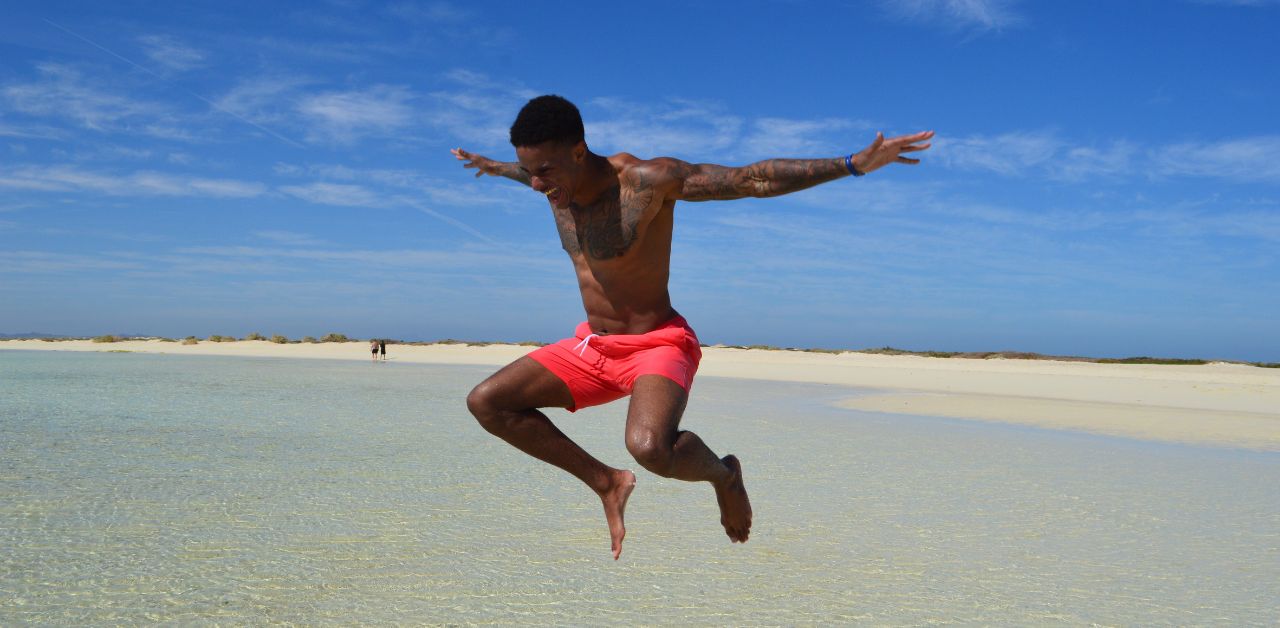 Kain Roomes dreamed of making his first million. By the time he was 25, he was in debt, dead broke, with 50,000 followers and a gifted Rolex on his wrist. He felt extremely unhappy with his life direction. Kain knew something had to change. This is his story.
I've always wanted to be a millionaire. That's not because I grew up super wealthy. Nor did I grow up on struggle-street. There was always food on our table. My parents afforded me theatre classes. I played football - got the boots, ball, uniform, and everything else I needed to succeed. There were family holidays to Jamaica where my dad and I ran on white sandy beaches and wrestled under palm trees while mum looked on laughing.
I wanted more of that and believed being a millionaire would give it to me–more fun, more choices, and more freedom in life.
My dad taught me the value of sacrifice and hard work. He worked in his own business and would often say, "Mother have, father have, happy the child who has their own." He taught me to appreciate what I earned. Like when I asked for new football trainers. Dad didn't just hand them over. He'd say, "Son, if you score 3 goals today, then you can have the new trainers."
I carried these lessons with me as I pursued my dream of becoming a millionaire.
I carried these lessons with me as I pursued my dream of becoming a millionaire..
I played professional and semi-professional football, honing my skills to the point I was invited to play overseas. At 21, an injury forced me to leave my football career. Still, I pursued my dream. I began modelling for the fitness industry and built an Instagram following. At 22, I was gifted a Rolex. Now, I felt like a millionaire.
By the time I was 25, I had 50,000 followers and a Rolex on my wrist. I was also in debt, dead broke, and felt deeply unhappy.
I looked down at the blue face of my Rolex Submariner. I touched the stainless steel and gold wristband. It was like a piece of art - the blue and gold colours looked great against the tone of my skin. But inwardly, that same feeling didn't match up. The inclination I once had for material items just wasn't there anymore.
I thought about all the time and effort I'd spent growing my Insta following and what I'd received in return. Instagram may have worked for some—but for me personally, it was a distraction. I felt an overwhelming urge to post something. It was like I was possessed—this app had control over me. It felt like an empty sham, a noisy world designed to be addictive. The likes, the comments, and the followers made me feel as though I'd "arrived", but I didn't have any freedom, peace, or calmness within. Nor was I anywhere near making my first million.
"Kain," I asked myself, "What are you doing? Something has to change. It's time to get serious and focus on real growth and building real wealth."
At that moment, I decided to sell my prized Rolex. I'd transform this material symbol of wealth into real wealth that would bring me the freedom, peace, and calm I longed for.
I used the funds to pay off my debts, study a wealth mindset, and start investing. To find calm, I took walks and bike rides through the woods, where the fresh air cleared my lungs and mind. The biggest move I made was to come off Instagram totally. My mother was shocked. "Kain, why would you come off Instagram, you have 50,000 followers!?" She just couldn't fathom how I could leave that behind.
My reply was, "My spirit told me to—I need peace and time to focus on my true growth."
Along with quitting Insta, I distanced myself from negativity and all that no longer served me. I stopped spending money on non-essentials. I continued to invest carefully, surrounding myself with those on the same mission. For four years, I monomaniacally focused on investing and recreating myself. Then it happened.
I turned 29, and my investments paid off. I'd made my first million. The success wasn't just about the money. Money is simply a tool. I experienced how sacrifice and hard work provides for real inner growth too. I'm in a peaceful place now.
One of my favourite quotes of all time is, "Great achievement is usually born of great sacrifice, and is never the result of selfishness." - Napoleon Hill, Think and Grow Rich.
Some people won't understand your sacrifices. But when we do make changes, we can see our lives transform. We can have freedom, happiness, a sense of fulfilment, and the ability to help others—but what's more significant, we have the calm and tranquility of those who lead serene, joyous lives …
With or without a Rolex.
---
Hi, I'm Kain Roomes. I am an investor, entrepreneur, and philanthropist born in London. When my mother was pregnant with me, she contracted German measles. The doctor advised my parents that they should consider having an abortion because there was a high chance I would be born blind and without any limbs.
But through fervent prayer and faith in God, I was born a healthy baby and I live on to tell my story. My story has been featured in The Sun - UK and other international news outlets.
Connect with me here on LinkedIn:
https://www.linkedin.com/in/kainroomes