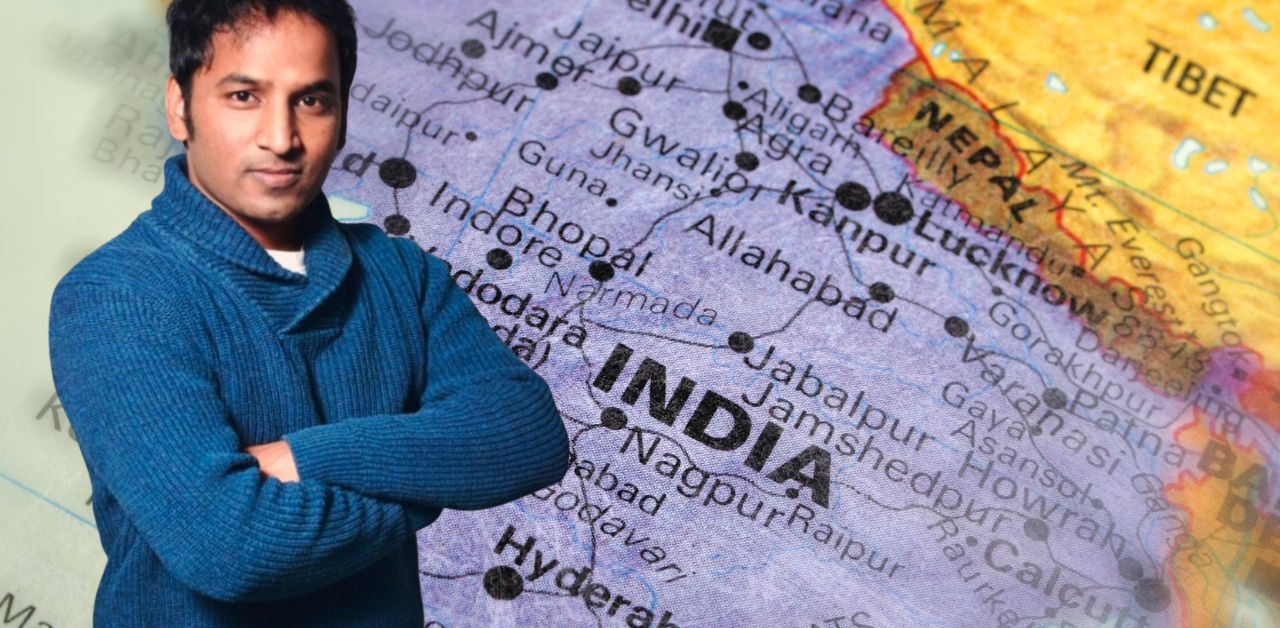 Imran grew up in a slum colony. At eight years old, he was sent to work stone cutting and polishing. Life was hard and seemed hopeless at times, but Imran had an impossible dream. One day, he would go to University …
I grew up in a slum colony. Our house had a tin roof, which covered half of one room. No furniture. We spread blankets on the floor and slept at night, the whole family in one row: mother, father, sister, brother and me. When it rained, we huddled by the walls. Luckily, rain is not so frequent in Rajasthan.
When I turned eight, I went to work stone polishing. A full shift every day after school. I cut and polished semi-precious stones for rings and necklaces. My fingers hurt and sometimes bled. My boss often beat me. I hated the idea of polishing stones in dirty clothes forever. I dreamed of getting a University education and becoming a doctor someday. The other children laughed at my dream because we were too poor to pay University fees.
After completing secondary school, I went to work in a small hotel. There I realized most of the rich people wearing sunglasses and long coats spoke English. I wanted to be like them. I wanted a good life. I wanted to wear trendy jeans, fancy sunglasses and a long coat.
I thought, "If I speak English I can be like them."
Every guest who came to the hotel was a potential tutor. I asked them about words and phrases I picked up from English newspapers left behind. One day, a foreign lady, Delores, came to the hotel. She asked me about getting around the city. We spent a good hour trying to figure out the way to the Hawa Mahal.
Madam Delores asked, "Do you learn English at school?"
"I finished school. I learn English by myself," I answered.
Madam was impressed and offered her help, tutoring me online. From then on, we spent 1 to 2 hours daily chatting. After six months, my English greatly improved. I told Madam I planned to leave the hotel job to do a mechanics course. How she responded changed my life forever:
Madam: Why a car mechanic?
Me: It's the only free course, and I have to do something with my life.
Madam: Have you thought about a University course?
Me: Do you know how much is 5 lakh? It takes years. I cannot even think about it.
Madam: Still, let's say you had the money. What would you do?
Me: I had different dreams when I was a child. I wanted to go to University and become a doctor, but we didn't have the money. But still, I am trying to do something. That's why I am learning English.
Madam: What if I give you the University fee?
I was confused by her offer. When I asked why she wanted to support me, she smiled, "Some people smoke and drink to make themselves happy. I want to invest in your education to make myself happy."
Thinking this would be my only chance to go to University, I accepted her offer.
... she smiled, "Some people smoke and drink to make themselves happy. I want to invest in your education to make myself happy."
Staying Motivated at University
Each morning I rose at 6 am to attend University. Afterwards, I headed to work. I stole minutes between suitcases to complete assignments. My shift ended at midnight. There were no weekends in hotel work. Not a single day off for those who are uneducated. My only free time was Sunday mornings.
Though it was difficult, I was motivated by my reason why: I wanted to get out of the colony at any price. I had my aim: to be successful, to do something different. And after years of late nights and early mornings, I succeeded in graduating. Since then, I have completed my MBA and am now a PhD scholar in Malaysia. What a difference to stone polishing.
My life, my way of thinking, and my opportunities are so different now, all thanks to Madam and the education I received. I thought about the millions of Indian kids like me, who have potential, but no opportunity to study. If I could change my life, with the right help, they could change their lives too.
So, with Madam's support, I started a non-profit EdTech company, Litvill Lessons. Litvill's mission is to raise excellent learners and thinkers by teaching English with incorporated thinking skills. Latvill is the vehicle I'm using to replicate my story.
With Madam's mentorship, I not only achieved my dream, I realized that big cars, sunglasses and long coats are meaningless. What makes you really happy is to do something good for others, like Madam did for me.
---
My name is Imran Rautan. Currently, I am running my non-profit EdTech company, Latvill Lessons, in India while also doing my PhD in Malaysia.
READ ANOTHER STORY | Found in a trash-can in the backstreets of South Korea, then adopted out to an American family where she faced abuse ...
to becoming an international empowerment coach and motivational speaker; Sasha takes you on a powerful journey of reframing her adoption story.