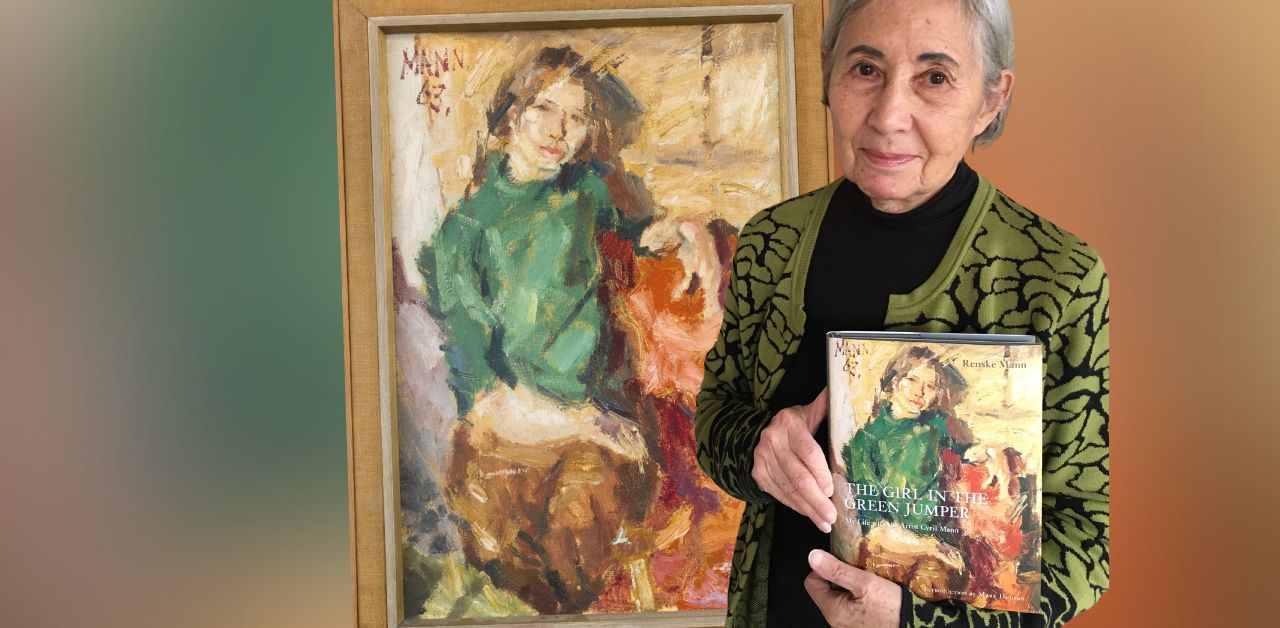 Renske Mann, debut author, aged 83, shares her inspiring story, proving you're never too old to pursue new dreams ...
I still find it hard to believe that I'm a writer. My memoir, 'THE GIRL IN THE GREEN JUMPER – my life with the artist Cyril Mann', published last year, was like throwing pebbles in a pond, causing ripples far and wide. Here's what happened …
I had an accident, entirely my fault. I climbed up a 6ft ladder to dust the top of a wardrobe and crashed down, breaking my heelbone. After four days in the hospital, surgeons refused to operate and sent me home in a wheelchair.
Bored and housebound, I looked up at a portrait my husband had painted of me sixty years ago when I was a beautiful young girl, aged 23. I started scribbling about our rollercoaster marriage. He was 28 years my senior, a bipolar struggling artist, Cyril Mann (1911-1980). I fell head over heels for this charismatic man when I saw his paintings.
Within days of the first meeting, I promised to help Cyril realise his artistic potential. He reminded me of Van Gogh, supported by his younger brother, Theo. Vincent could never have become a celebrated, ground-breaking painter without him.
Cyril's poverty had held him back. With little art knowledge, I offered to be his muse, model and chief money earner. Que sera, sera, he said and accepted. I moved into his scruffy bachelor flat in a grim social housing block overflowing with unsold paintings. Cyril resigned from his lifeline two months later: his part-time teaching job.
I could always go temping as a shorthand typist if we ran short, I boasted. From then on, we would dedicate our life to his art. There was no safety net. Cyril had made himself deliberately unemployed, aged 50. My Dutch parents were outraged. "You're living on a volcano," my mother warned.
... My Dutch parents were outraged. "You're living on a volcano," my mother warned.
My book recounts our two decades of turbulent, exciting, but often tragic marriage, set against the 1960s and '70s London. It was no one-way street: Cyril 'shaped and educated me'. Against his own interest, we had a baby in 1968, when he was 57. He helped raise our daughter, allowing me to pursue a successful business career.

Friends warned me that I wouldn't find a literary agent. I did! I ignored the nay-sayers. My agent found two independent publishers: one American, the other on my doorstep. Pimpernel Press Ltd in London supported me all the way and produced a fine hard-back with forty beautiful colour reproductions of Cyril's paintings. "I hope you're as proud of your beautiful book as we are," one of the directors wrote to me.

Pimpernel distributes through UK bookshops and the internet worldwide. Their PR arranged for me to speak at the prestigious Oxford Literary Festival before we launched in two leading London book shops.

The first was Hatchard's, the Queen's (now King's) bookshop in London's Piccadilly. As an unknown octogenarian, I feared a low turnout as they charged for seats. It turned out to be standing-room only. In April 2022, my book became the top seller in Hatchard's Art/Photography/Fashion Dept.

The second launch at Daunt Books in London's Holland Park also brought record book sales. Good reviews followed. Mark Glanville, book critic of the Jewish Chronicle, nominated my book as "one of the best non-fiction books of 2022" on their Christmas list.
You're Never Too Old
It didn't go all my way last year: in June, I was diagnosed with high-grade breast cancer in both breasts. It was fate telling me: "Don't get too cocky, Renske Mann!" I recovered from my bilateral mastectomy in September. Now I'm working with a young British playwright, Tim Norman, who's adapting 'The Girl in the Green Jumper' for the stage. Watch this space!
I'm old but want to live for the future, rough with smooth, determined to carry on whatever happens.


"I'm old, but want to live for the future, taking rough with smooth, determined to carry on whatever happens."
If you can't find a publisher, there are lots of self-publishing routes open to you. Keep your spirits up, keep writing and carry on.
You're never too old. My book proves it.
---
READ ANOTHER STORY | Found in a trash-can in the backstreets of South Korea, then adopted out to an American family where she faced abuse ...
to becoming an international empowerment coach and motivational speaker; Sasha takes you on a powerful journey of reframing her adoption story.