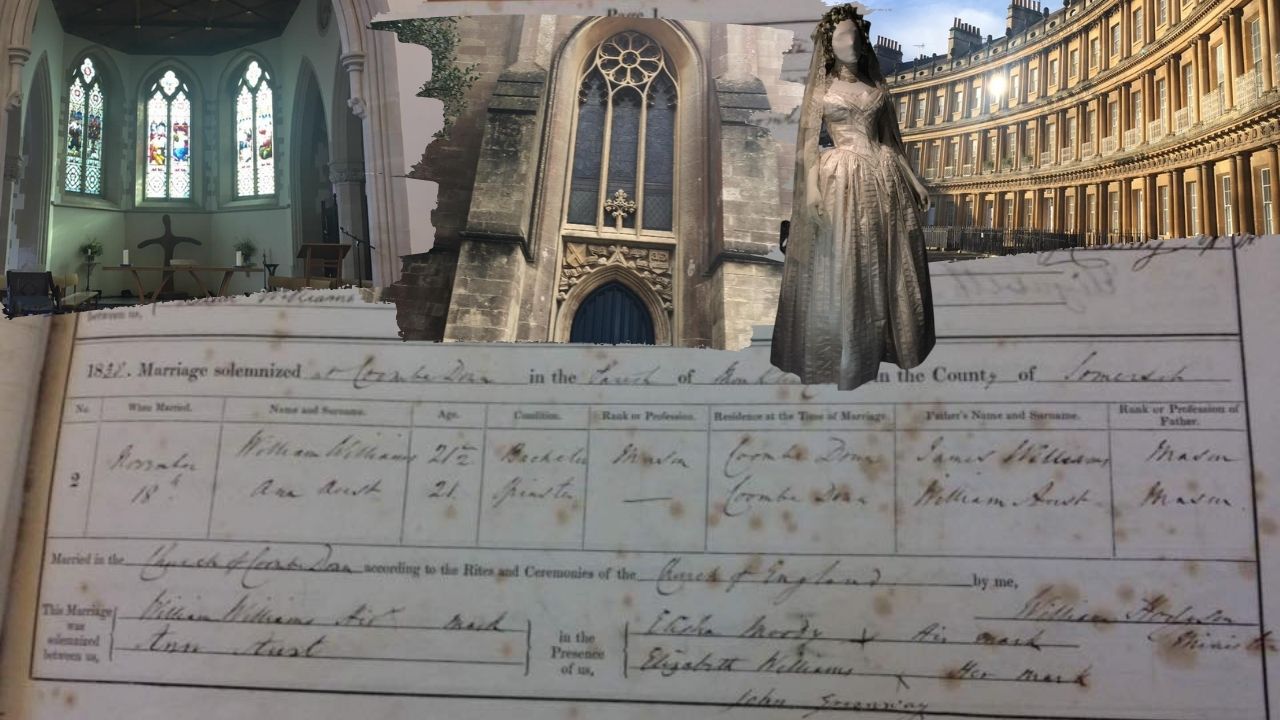 These church doors transport me to another world, long long ago ...
It was in this very church that my great great great grandparents, Ann Aust and William Williams married. Their union way back in 1838 eventually resulted in my birth. As I look at the register I see they couldn't write - signing their names with only 'X'. They were uneducated masons working in the quarries of Bath; part of the poor masses working for the rich socialite class.
I reflected upon the miracle of my life. I wondered how Nanna Ann and Pop William would feel if they knew, that their great-great-granddaughter could not only read and write, but she had the means to travel over 10,000 miles across oceans to visit the beautiful city they helped build. I felt their presence and a surreal awareness of the preciousness of my life. Had they not married in that church, on that day, it's likely I wouldn't have stood there, in that same place, that day. I imagined everything that had taken place to bring me there. Their story was magnificently threaded into my own. I felt a deep sense of gratitude for them and my life.
Sometimes it can be difficult to look into our past. And there are times when we must leave the past in the past and let go. But we can also draw power from the stories of our past. Imagine your ancestors, go back as far as you can and consider what they endured to bring you here today... Famine, wars, plagues, slavery, disasters, abuse, poverty, sickness, shipwrecks, racism, injustice, abandonment, hardship or more?
No matter where you are standing today, no matter if you haven't yet achieved everything you hoped, no matter what struggle you're facing right now; the strength of your ancestors carried you here. Draw strength and hope knowing how amazing you are for being born and standing where you are today. Draw inspiration from their journey and never give up on your own.