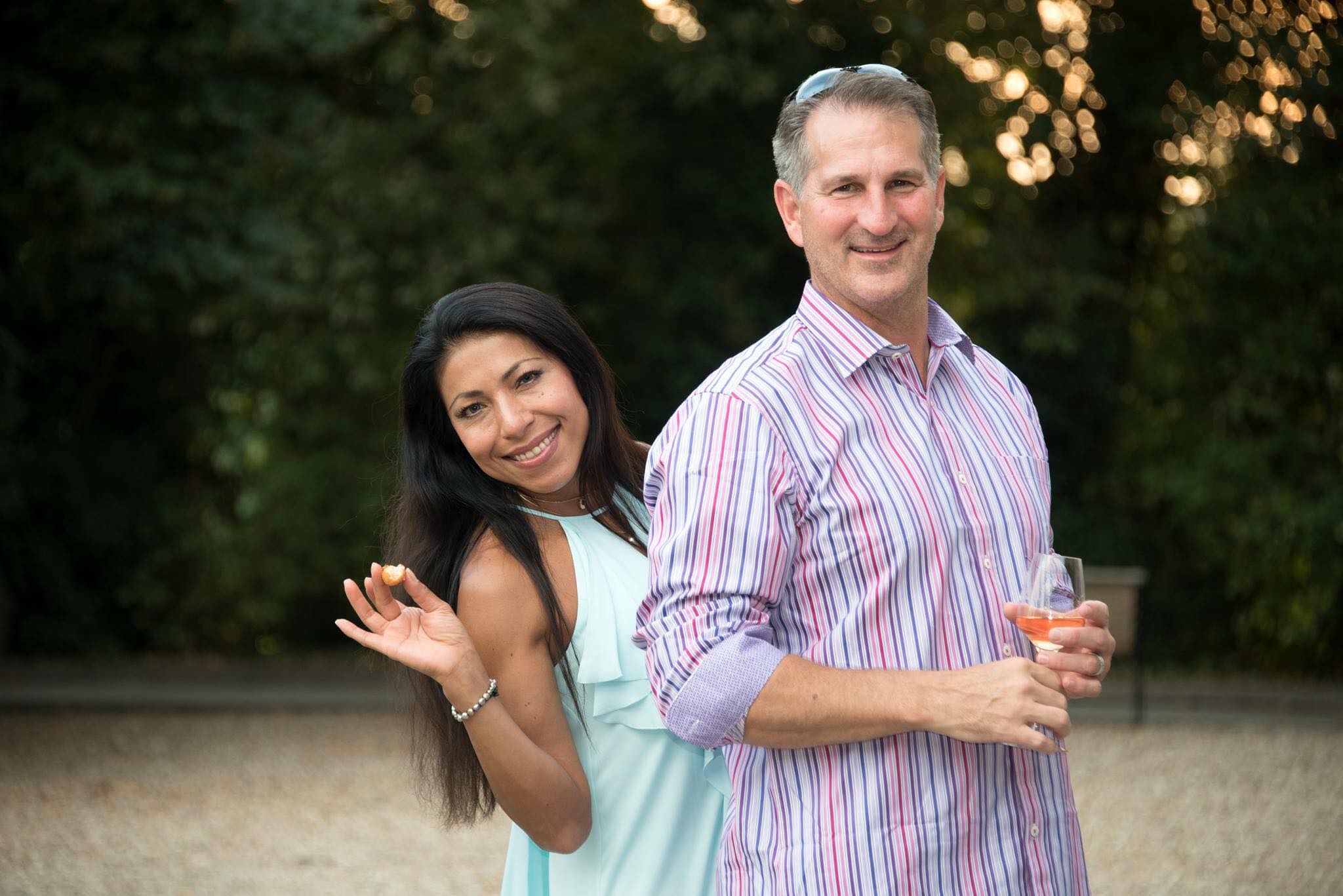 Monica - Travelling the Tunnel of Life
Living on the streets of Ecuador with only garbage bags for luggage - Monica shares her inspiring story of how hope coupled with hard work, led her from homelessness to living her dream in Tuscany.
I've been told I could never afford an education. I've been told great jobs are for the few. I've been told travelling the world and finding the man of your dreams is for Hollywood. I've even been told 51-year-olds shouldn't wear bikinis. Guess what? They are all wrong!

My name is Monica Hunold, I'm 51, I live in Tuscany, AND I wear a bikini! I am sharing my story in the hope that if you or your children ever dream of achieving something wonderful, it's all possible. When life and the people closest to you tell you to believe otherwise, know that those opinions usually belong to people who have never even tried. If your life seems filled with misery, failures, losses, and obstacles, know that there is a light at the end of every tunnel.

You must arm yourself with tenacity, endurance, and sacrifice. These elements will act as the very flashlight you need when making your way through the darkest moments of your tunnel. That's right, your tunnel.
Born in Ecuador, Dreamed of Travelling The World


I was born in Ecuador to a politician father and a mother who married very young and dedicated her life to caring for her husband and her two children. As a politician, my dad travelled the world, and upon returning from every trip, he brought souvenirs and pictures from cultures far away. He loved telling us about unique experiences that were strange to us. We loved it.

I thought that if I could only see through my father's eyes, I could travel and experience all of those magnificent things. I developed an undying belief that there are beautiful places in the world and someday I belonged there. I was five when my father left us.

Life Takes a Dark & Dramatic Turn


Life has its surprises and sometimes a mean sense of humour; life as we knew it changed dramatically and instantly. My father, the politician, had to flee the country to the USA as a political revolution broke out in Ecuador.
My older brother and I were left in the care of a young and inexperienced mother to fend for ourselves. The comforts of a middle-class life were over. Dad was soon incommunicado with us and slowly, but surely, what once was a life of comfort and security, became a nightmare.

Money was limited. Our house was gone. Many of our friends disappeared as quickly as our social status. My oldest brother at the age of 16, the man of the family, decided to migrate to Venezuela in hopes of a better life for himself. Then life, at its lowest point, reached the bottom; my mother met a man that not only took the little bit of money remaining but left us homeless, literally on the streets and my mom expecting my baby sister.

As my mother tried to reconcile with the father of my baby sister, I was left for two days with an uncle and his wife. Sitting alone on a beach with feelings of hopelessness, abandonment, and rage at the age of ten is still raw in my memory today. The Pacific ocean in its beauty was haunting, swallowing up all my dreams and aspirations to travel as my father did. In the background, the song "If You Leave Me Now", by Chicago, was apropos. If I were an adult, it would have been almost laughable.


Garbage Bags, Our Only Pieces of Luggage


Armed with garbage bags as our only pieces of luggage, we found ourselves staying with family and friends until I was thirteen years old. I swore to my mother and sister that I was taking over family responsibilities.
At the tender age of thirteen, I began working for a living to support us and began making decisions for the three of us. I was determined to get out of our dark hole. It wasn't someone else's tunnel, it was my tunnel and I owned it! Someday, it would be my bitch!
The Fifteen Year-Old,
Self-Appointed Tour Guide
At fifteen, I became a self-appointed tour guide for my uncle, who owned a travel agency in Ecuador that managed tour buses to Colombia and Peru.
Since I've always loved history, it was a fun way for me to work during the non-school season, travel for free, and earn money. The experience taught me that I could make a living doing anything.
I also graduated from a beauty academy, as I knew I needed to make money to finance further education for me and a better life for my mom and sister.
And that I did.
At seventeen, I found work cutting hair and doing manicures and pedicures at a 5-star salon located in a commercial district. Next to the salon was a gorgeous "first in the city" 5-star hotel that was still under construction. Little did I know at the time, that a connection was forming a lifetime of opportunity for me. Somewhere in there middle of all that, I managed a college degree.

Seizing a Life-Changing Opportunity
I finagled my way to meet the hotel GM by offering her the best haircuts at good prices. As I became her permanent stylist, she got to know me and the work ethic I had. I now had a new goal! I saw all the beautiful people, in beautiful clothing working in air conditioning.

I wanted to work at that hotel. I wanted to be near people that travelled and lived around the world. I wanted to hear their stories. I wanted to someday do the same; to travel the world and stay at a beautiful hotel and tell people my story.
It wasn't going to be as easy as I thought. When the hotel opened, I was certain I could work the front desk (what young lady doesn't love uniforms and high heels?).

The GM looked at me up and down and said, "You're smart and pretty but you need to work in all the departments before earning your spot at the front desk." I thought to myself, 'Wait, I have always worked hard for things! Nothing has ever been handed to me!'
And so, another valuable lesson learned. I began a love affair with hospitality. I started literally scrubbing toilets as a housekeeper. I've worked every job asked of me with no questions. From hospitality to sales to operations to maintenance to human resources, I let nothing get in my way. For 30 solid years, I proved my value and worked my way up in this business.


My Move To The United States of America
I lost my father "literally" when he left us in April of 1972. He was allowed to return to Ecuador when I was 19 and I had so many things I wanted to say to him, both good and bad, but he had come back to amend mistakes.
It was here that I taught myself to listen; that there is always more to the story. He had just been given 3 months to live before dying of cancer. My fondest times with him were during his final hours. When I came to the USA to care for him, I couldn't fathom that my American dream would come true at such a price.


Meeting Kent, My Travelling Partner
I also couldn't imagine that the death of my father, which led to me living in the USA would eventually lead me to meet Kent. Kent and I met in Dallas, TX.
Can you imagine a boy from the farms of Iowa and a girl from the big city of Guayaquil, Ecuador, having the same values? Together we have travelled to some amazing places; from Cairo to Bora Bora to France to Italy to name a few. He's my travelling partner in crime.
Both of us have had different paths, but we have both worked equally hard our entire lives to get to where we are today. Kent's family and I are a lot alike.


Falling In Love With Tuscany
Kent and I have always dreamt of retiring somewhere beautiful. Our travels brought us to Europe several times and we fell in love with the countryside of Tuscany. In September of 2017, after selling our home, furniture, and gifting a lot of our possessions, we purchased a Villa in Brucciano, Province of Lucca.

Leaving close friends and family behind wasn't easy. But if you want something so bad, there is always a way. We hope our sacrifice (as we call it) will pay off with friends and family visiting Italy for the rest of their lives.

Now our Villa is a B&B. We call it "Papa's View" named for my father-in-law. We live in it and love serving our guests.
So, for those that come from less than perfect circumstances. The ones that have been told they can't get an education, that they just have to accept what life throws at them. I hope I have inspired you today.
Yes, there were dark times as I was travelling through my tunnel, but when I look back at that long, dark tunnel, it only gets a head nod and a nasty stare as a stark reminder that I'm never going back there again.
Now, I look out my window, and I see the view … no more tunnel just rolling green hills and the vineyards of Tuscany.
---
"Papa's View" Tuscan Villa ...