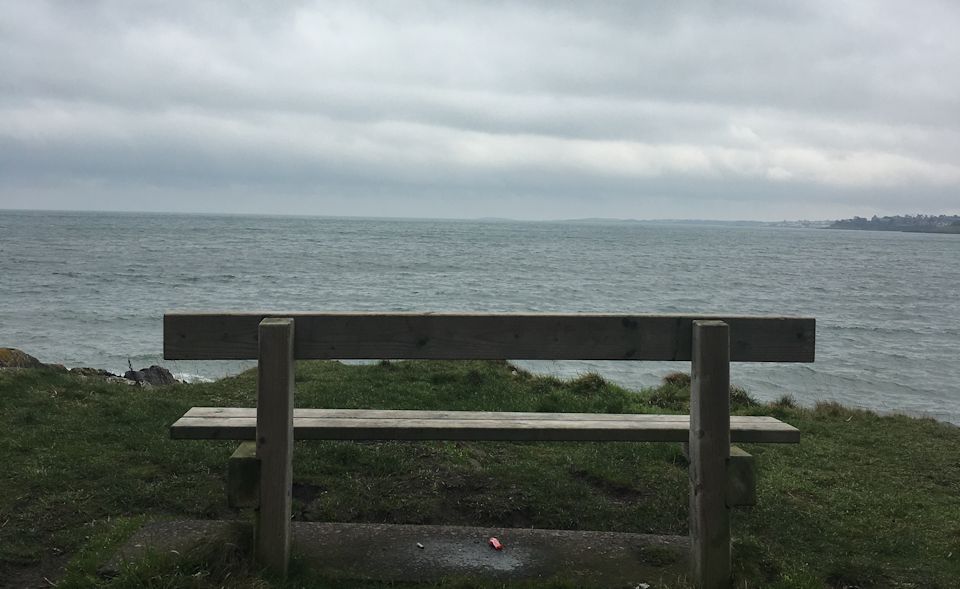 Life is a Gift to be Unwrapped One Moment at a Time. A trip to Northern Ireland inspires a traveller to reflect on her precious gift of life.
As my travel days in Northern Ireland come to an end, I take my last walk on the water's edge of Helen's Bay and listen for whispers hidden in her seas. I seek a place of solace, a quiet moment of reflection, a "DnM" with God.
Three days of strategic planning with Bernadette and her team was fun, but I'll admit, I'd been so wrapped up in new projects, long lists of actions, content plans, cash flow forecasts, and virtual team solutions that I hadn't taken my usual time out for contemplation and reflection. I was missing my daily inspired time.
Part of living a daily inspired life is taking time out daily to reflect on life's important questions and then being open to the guidance that comes from deep within. Questions like "In this moment, what am I doing? What am I feeling? Why am I doing this? What's it all for? Do I want to continue doing this?"
This reflection time is my time to get lost in the power of nature, to feel God's grace; it's the time when the Spirit shows me how to dig deep, allowing my mind to draw upon wisdom that my soul already knows. Call it my very own daily coaching session with God.
... the Spirit shows me how to dig deep, allowing my mind to draw upon wisdom that my soul already knows.
I continue wandering along the path that runs parallel between the beach and golf course, past overhanging trees and the odd friendly face walking their dog. As I turn into the curve and take the narrower pathway, the trees hang heavy, creating a shadow. I shiver and wrap my arms across my chest to keep myself warm.
I turn another corner and see an open grassy green space leading right to the rock face edge of the water. There sits a lonely bench beckoning me over. I walk across the wet grass toward the empty bench, and I see there is an inscription…
"A peaceful place to rest a while
Dee McCartan 1990-2012
Love and Missed Always"
Waves splash up against the rocks, and the spray shoots up like water trumpets, welcoming me as an honoured guest in this sacred place. I bow my head and sit down, taking my place on Dee's bench overlooking the ocean - it's the perfect spot for my morning contemplation.
I think about Dee, a young Irish man I never knew. What was he like? Did he enjoy his time on this planet while he was here? I think about his family and what they must have suffered upon hearing of his loss. I wondered if they had watched him in the very place I now felt honoured to sit.
As I sat there in Dee's space, I felt privileged to breathe and now experience the beauty of Ireland that this young man could enjoy no longer. As I breathed in the ocean air and glanced out to the waters, I felt a tear or three stream down my cheek. I felt touched by this tender yet powerful reminder, and I was thankful that though Dee had passed at such a young age, his memory continued to speak on his behalf ...
"While we have breath in our lungs, it's our privilege to live. Our life is a gift.
Treasure your life. Don't waste a moment on petty troubles. Don't waste your
time on work you don't enjoy. Live each moment like it's a privilege.

Say sorry. Forgive. Don't let someone's opinion deter you from fully living,
don't let people dictate your beliefs, how you feel or think or act.
Don't let society or the masses tell you how you should live!
Live life with love and truth, full of appreciation for
what you have right now, this very moment."