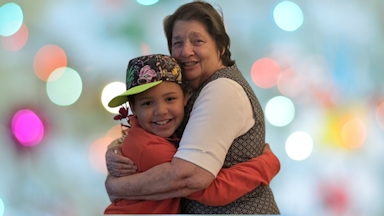 Just before Christmas, 77 yo, Aunt DeeDee got scammed and didn't have enough money to pay her rent. Little did she know about a secret stash of kindness coins about to come her way ...
Every week I save all the change and $1 bills I have in my purse and wallet. Then every Christmas I cash it in for as many $100 bills the saved money gets me. I then wait until God leads me to a family in need. I split the money in half then give half to the family in need and the other half to my nine-year-old who puts it in his savings account to teach him delayed gratification. Then he helps me get gifts or give the money to the family God leads us to.
This week I got a call from my cousin who is 77 years old. She was upset. She had been scammed, and the scammers took all the money out of her checking account. She lives off her SS check, and now didn't have the money to pay her rent and bills.
Now, no one besides my son and I know that I save this money. This morning I took the money and showed my son, Say'Veon, how much I saved this year. I told him what happened to Aunt DeeDee, then asked him If he would be willing to give his half along with my half and donate it to her as our person in need this year.
He said, "Yes, of course", knowing Aunt DeeDee does not have anyone other than us to care about her. This year our total was $400.
We went to visit Aunt DeeDee and my son handed her a Christmas card with the 4x $100 bills. She opened it and said, "Thank you". She then looked again and realized they were $100 bills. Her mouth fell open and she said, "These are not real"?
I said, "Yes they are, with tears running down her face, mouth quivering she said, "Now I can pay my rent."
Her mouth fell open and she said, "These are not real"?
Aunt DeeDee said she felt bad and stupid to be scammed and I told her lots of intelligent people get scammed, that I wished I could give her all the money she needed for this month and explained how I save money and give to a family in need.
She said, "Guess I am family, and I am in need this year." She cried the whole time. She told my son that God will bless him since he gave up his half.
Say'Veon loves God above anyone on earth including me. I told him that's the way it's supposed to be. I am so thankful for his loving heart; this is not the first time he has given money he earned to someone else who needs it more. The money he earned for certain things this summer he gave it all away - $300.
Say'Veon's acts of kindness always blow me away and I feel blessed to have him in my life. I adopted him after his mother, a close friend of mine passed away from cancer before his fifth birthday. Even though Say'Veon has dealt with great loss and trauma at such a young age, his generous spirit and loving heart shines through.
Say'Veon has taught me that children, despite hardship, when nurtured lovingly, have so much capacity to give and show compassion to others. I have also learned the power in my kindness coins. I wish you to start a kindness coin jar too.
~ Jeannette Cumpston
READ ANOTHER STORY |
​Touching story of human kindness. On a bus from Phoenix to LA a woman hands over her last forty dollars. But that wasn't the end of her story...