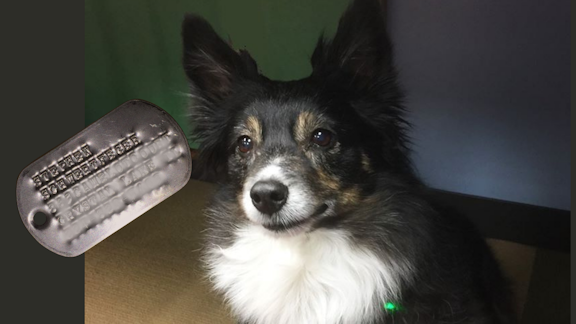 One afternoon Steve receives a phone-call from a boy saying he found a dog tag while hiking. Little did the boy know that this small gesture of kindness would make the big impression it did ...
A 'Hallmark' worthy story
With the bad news that's been broadcast lately, it is very easy to overlook the fact that there are many decent kids out in the world today. I experienced a sterling example of the goodness that is still out there and am moved to share. It was almost like being in a Hallmark movie.
Late this afternoon I received a phone call from a boy who was hiking in a nearby forest. This was the same forest I always walked my therapy dog, May. The boy sounded a little nervous as he explained how he found a dog tag with my name and phone number laying in the grass. Without hesitating he agreed to leave it on one of the picnic tables so I could find it - no expectation at all from him.
I asked the boy if he could wait a few minutes, because I would like to give him a little something as a reward for calling me. He said, "Okay." I drove straight to the picnic area.
When I pulled in, the boy was waiting with his younger brother and cousin. All three kids looked about twelve years or younger. I introduced myself and asked if they were the ones who found a tag. They all acknowledged me and presented a dog tag that May had once worn on her collar. I was emotionally floored as soon as I laid eyes on it.
They started explaining how they found the tag in the grass and called me because of the phone number on it. I sat down at a bench with them and explained how my dog May wore this tag and had lost it in this very same area after being bitten by a snake. All kinds of questions started flying and, in the discussion, I told them how May died. The kids all got up and without question, one-by-one they gave me a hug saying how sorry they were because my dog had died.
They asked me what May was like. I shared more stories about May and how she was a therapy dog for 10 years. In turn, the kids told me about their pets at home. It was a really nice time. These three kids on their own, no parental prompting called a complete stranger because they found a tag that my dog had worn about a year ago. What a great example of doing the right thing.
And oh yes, I did give them a reward even though they did not seem to be expecting it. I decided to contact the local newspaper and tell them about this. I hoped they would write something showcasing the positive thing those kids did for me that day. And they did!
READ ANOTHER STORY |
​Touching story of human kindness. On a bus from Phoenix to LA a woman hands over her last forty dollars. But that wasn't the end of her story...