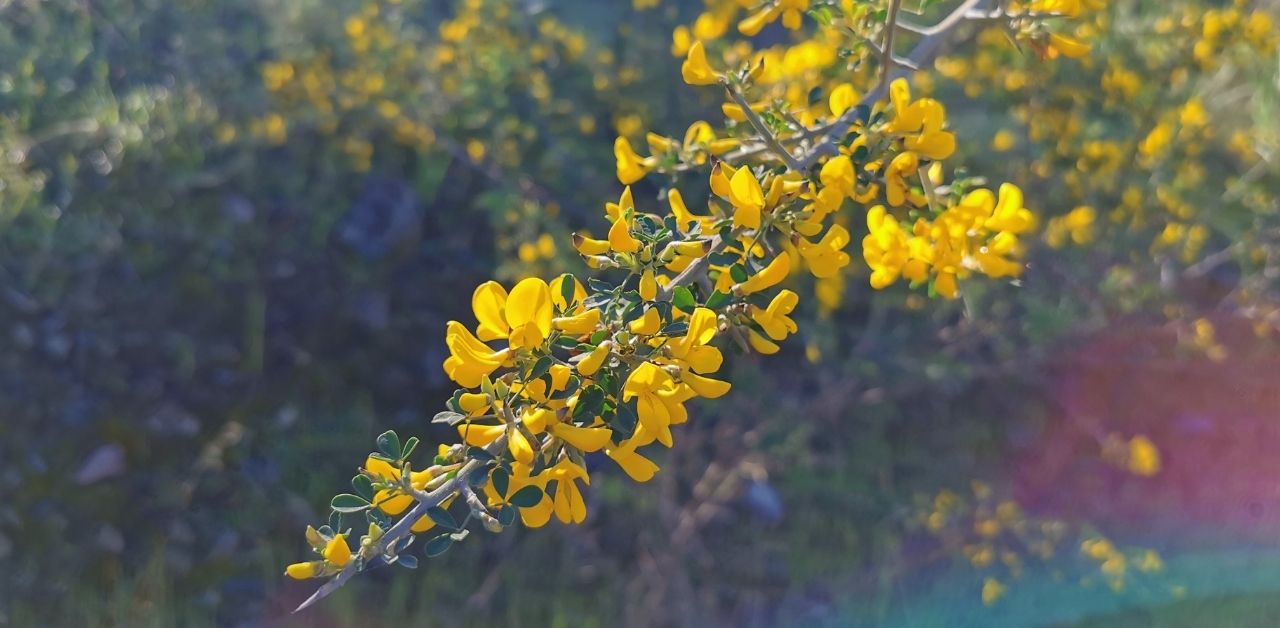 If your season is not now, trust that it's on the way.
Keep hoping, keep expecting...
I've walked this path more than 100 times, winding into mountains, through the orange of autumn, around grey winter skies, under storms, drenched skin, shivers down my spine.
"How long will this grey season last?" I'd ask Thorny Bush as I passed.
For months now, I've walked the first bend of the mountain. Just on the corner, I'd pass Thorny Bush. For months now, she's been covered in grey spikes, dreary, untouchable, almost dead, a look of dread.
Until today, as I pass, perhaps for the 105th time, her prickly thistles have now transformed. She stands proud, aglow in bright yellow petals, shimmering in the sunlight.
Her season has arrived.
Her petals reach out
To the heavens
A flower blossoming
In the sunlight
A reflection of her heart and
all her depth of color
She is a beauty
Opening to the world
There are times when we feel like Thorny Bush. Dull, unremarkable, unnoticed, prickly, lacking the light of life. And there are times when the path we walk is stormy, grey, and troublesome.
Once again, divine nature becomes our tender teacher …
We look to a sunrise; the sun speaks hope. No matter what is going on in life, we trust the sun will rise. We have an unwavering expectation that night becomes light in the morning. Without question.
Look at our planet, look at humanity. How we suffer. We've seen wars, and disasters, and pandemics of the past (and present). Still, we rise, and move forward; with hope and expectation, we shall prosper. The caterpillar turns into a butterfly. Thorns make way for petals.
All in their season.
We all have our seasons, my friend. And if your season is not now, trust that it's on the way. Keep hoping, keep expecting. Hold your course; keep walking forward. Keep taking action. One step-at-a-time. One hundred walks and five.
Your season to shine will rise. It is just around the corner.
---
YOUR SEASON TO SHINE -


NARRATIVE JOURNALING EXERCISE
Take your pen, and write …

My season has risen ...
#1 What does your blossoming life look like? What are your hopes, dreams & wishes? What do you wish to experience?

#2 What do you need to drop or let go of for that to happen? What actions will you have taken? What obstacles will you have grown through?

#3 How have you nurtured yourself during difficult seasons of the past? From where have you drawn strength? (these could be values, skills, people, customs, beliefs, proverbs, stories, songs). How could you draw on those resources again?

Share what you discover about your hope for a new season in the comments below...