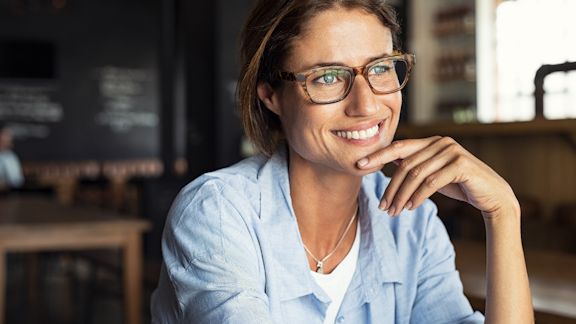 Create a meaningful life aligned with your unique skills, talents, joys, and desires. Explore the Portrait of You exercise, and uncover hidden aspects of your true self that you can incorporate into the story of your daily life.
Ten years ago, a Private Investigator knocked on my front door.
"I'm here to investigate the person who lives here," She announced. Then with hands held behind her back, the woman entered my home and walked slowly down the hallway. Her eyes moved as quick as a butterfly dancing across daisies; first to the Renoir replica hanging on the wall, to the brass handle on the office door, down to the timber floor, covered by a Turkish runner, red.
The investigator didn't stop moving until she came to the glass and chrome cake trolley - a gift from my mother, a gift from her best friend who had passed away many years prior. On the top shelf lay a manuscript firmly secured with a bull-dog clip. They were the memoirs of a ninety-nine-year-old man who'd fought in WW2. His daughter had sought my assistance to help turn his handwritten words into a legacy story for the family.
The investigator moved on to the living room. A damask curtain trimmed in crystal beads hung from a French widow. The crystals spun in the sunlight, mini prisms painting rainbows on the ceiling. "I made it myself." I offered. "I love that cherry red colour in the fabric." The investigator said nothing, only nodded before proceeding to the bookshelf.
She slowly ran her finger along the base of the book spines mouthing the titles of one autobiography after the next. She wiped the dust from her fingers before moving on to the pink retro hutch where I housed family photos, a national geographic globe and various travel trinkets.
Room by room the investigator continued. Making notes in her book along the way. In the end she said, "Yes, right, I have what I want. A full profile on you."
As I scanned the profile, I learned things about my likes, dislikes, style, hidden talents, and skills that I hadn't been conscious of before. That profile was the first step in me creating a life tailored to my unique skills, talents, joys, and desires.
The Private-Eye Game
In case you hadn't guessed, the Private Investigator in this story was actually me.
I was introduced to this self-discovery game, by the late Barbara Sher who termed the exercise The Private-Eye Game. The outcome of this exercise was key in helping me create the unique lifestyle I enjoy today … especially designed for me.
By taking a look at your own life from this 'private investigator' perspective you uncover clues to what your desired life looks like. In the Private Eye Game, you get to play detective in your own life.
Discovering Your Unique Self
Snoop around your home, or the place you spend most of your time. Imagine you've never met the person who lives there. Write down everything you can discover about the person. Look inside cupboards, books-shelves, tv cabinets, decorations, artwork, what's on their electronic devices … everything.
What do you observe about this person?
What's really important to them?
What do they like doing?
What colours do they like?
How would you describe their style?
Is the person an introvert or extrovert or a mix?
What unusual interests do they have?
Do they like listening to pop or classical music?
Do they prefer reading fiction or non-fiction or both?
What stands out about the house – is there a cozy chair in the corner with a throw-over or is the decorating more minimalist?
What do the clothes in the wardrobe say about the person who lives here?
Are there indicators of hidden talents?
A Portrait of You
Look carefully for the not so obvious clues. Really put your PI hat on. Then after you've collected as much information as you can gather, sit down and write a detailed profile of this person. Barbara Sher called this a "portrait of yourself".
When you read back your portrait, are you surprised by anything?
When I first completed this exercise, I discovered that the red suits and high-heels I wore to work didn't really reflect my true style. I much preferred wearing clothes of comfort in pastel colours. I had a curiosity for culture and a love for travel. I also discovered just how much I valued the sharing of people's true stories and that I had a natural interest for drawing these stories out. I used these findings to create a richer life, filled with more meaning aligned to my unique desires.
What have you discovered about yourself? The choices you make in your own personal space will reveal much about your talents, interests, and desires… details that you may not have paid much attention to. By getting a clearer understanding of yourself, you can make conscious changes in life.
Are there ways you can incorporate your interests into how you earn an income?
Are there ways you can incorporate more joy into your day-to-day life?
Do you dress in a way that reflects who you really are?
What could you change to bring more of your authentic self into your daily life?
Are there things you have in your life, or things you do that do not reflect your authentic self? What could you change?
This exercise is about helping you see yourself more clearly, to discover the unique you. Then it's about you being more of you - in everything you do … beyond your own living room.