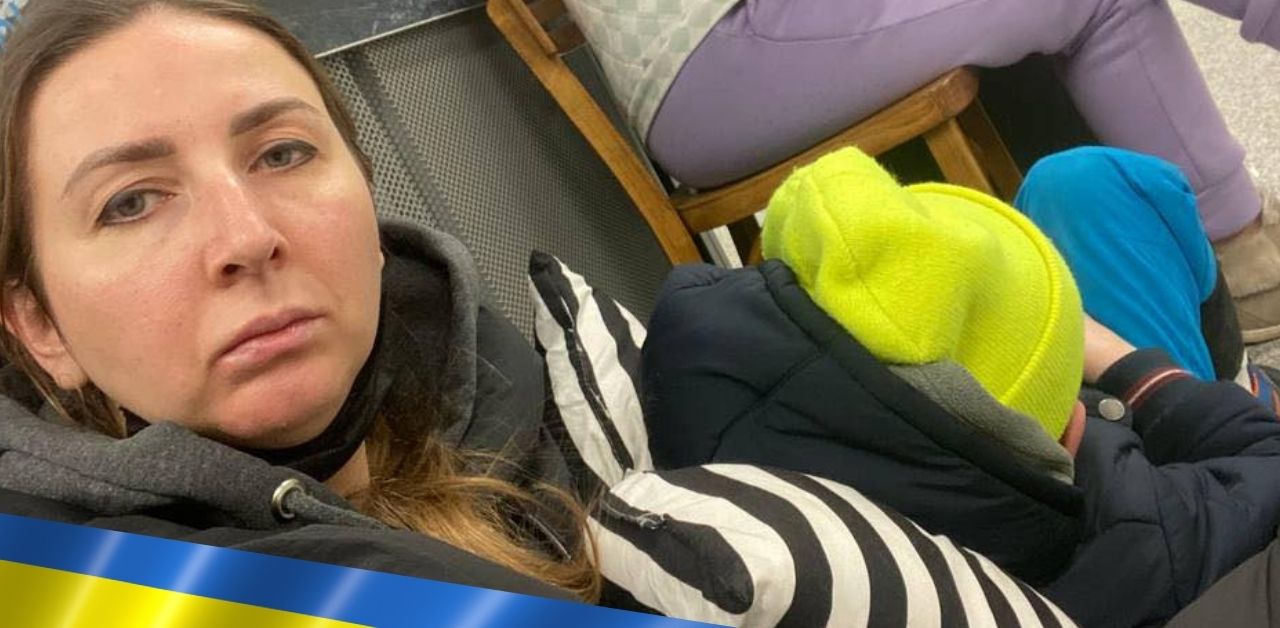 When the first bomb goes off, Aleksandra must act quickly to get her eight-year-old son out of Ukraine, far away from war. Follow her journey as she faces obstacles, overcomes challenges, and encounters real-life earth angels who help her begin a new life with her son.
Five am, 24th February 2022 Kyiv, Ukraine.
Strange noises echoed from below. I roused myself, headed over to the window, and looked down. Security guards scurried across the street. A man called from the footpath, "It's the invasion. The Russians are here."
You never believe war will come to your country. Reports of Russia planning to invade had been circulating for months now. I was sure this was more of the same old propaganda. Until ...
BOOM! A bomb went off outside the city - some kilometers away. The blast rattled me away from the window. Boom! A second bomb went off.
"Oh my God! My son."
My eight-year-old son, Yegor, slept by the window. He suffers from a chronic inflammatory disease of the airways. The condition causes severe attacks of coughing, shortness of breath, and chest tightness. He is highly allergic to dust, animal hair, and many everyday foods like bread, milk, eggs, nuts, sesame, soya, and other things.
BOOM! A third bomb blast. One thousand questions zigzagged across my mind. My mouth ran dry. What if a bomb shatters the window and my son is showered in debris? What if my son has an attack, and I can't get to the emergency in time? What if medicines run out? His food? What happens if the electricity shuts off?
My son woke, came over, and sat on my lap. He wrapped his arms around my neck and looked into my tearful eyes, "Mama the war has started. But Mama, we are together."
Yes, we were together. With hands shaking and heart beating, I called my Mama, who lived a few blocks away. Then my brother and my close friends. "Do not sleep. Wake up and let's decide what to do, where to go, and how to live."
Mama the war has started.
But Mama, we are together.
Run to The Bunker.
Together, Mama, my son, and I made our way to the underground bunker. Sirens screamed through the streets. Bombs continued to blast in the distance. More than two hundred human bodies, plus dogs and cats, huddled underground. Dogs whimpered; some slept silently beside their owners. Wide-eyed cats glared out of cages and cat carriers. The stench of terror ran thick through the air. No sun, no sleep, no fresh air, no hope. Ukrainian soldiers walked the bunker with guns across their breasts. Throughout the night, fights between Russian and Ukrainian soldiers stole our sleep. Images of the enemy at our door, ready to gas us, or take us hostage, plagued my mind.
My son coughed. I had enough food and medicine for him for a few days. Tears streamed down my face. What to do? I needed to get him to a safe place with clear air.
One decision at a time. One step at a time. Each decision brought a milli-moment of relief. I turned to Mama, "I've got to get him out of here. Please, join us if you can, or you can stay here."
Get Him Out of Here.
Mama, my son, and I gathered our things. We would stay together and find a safe way out of Ukraine and into Europe. I searched for a direct train out of Kyiv to Warsaw, Poland. I considered my 69-year-old Mama and the special needs of my son. Train platforms were packed with thousands leaving Ukraine and their pets. No tickets were being issued. You just had to show up, hustle with the crowds, and hope you could get on a train. How could we hustle with the crowds, with my son's condition, plus the bags full of medicines and food for him? We needed a miracle to get out safely.
I wrote to all my friends and colleagues, "Please help me find a contact for the train out of Kyiv. Please, anybody in the railway who could help me because of my son."
Person after person. "Sorry Aleksandra, no. I don't know anyone who can help."
Hope for a Miracle.
Desperate, I flicked through my phone contacts again. I don't know how it was possible. Maybe God helped me? A name jumped out from the screen: 'Svetlana – Stewardess'. Svetlana was a pretty woman who helped me with my son during a train trip more than five years prior. I keyed the number.

"Hello, Svetlana… Can you help me? I'm looking for a contact for a stewardess on any direct train out of Kyiv to Europe who will help me with my son. I don't need help for me, just my boy."

"I'm here. I'm just that stewardess for the train from Kyiv to Warsaw. I'm here for you..." Svetlana remembered us. "You can rely on me. No guarantees you will get on the train. But I can promise you will know the number of the platform early, before the crowds arrive."

I hung up. Out of the hundreds and hundreds of trains leaving Kyiv, it was a miracle she was working the train we needed to be on. She was my earth angel.
Make The Crossing.
Mama, my son, and I prepared to leave our beloved homeland. My friend and her eight-year-old son also decided to accompany us. I packed two costumes for myself and filled the rest of the bag with clothes, food, and medicine for my son. We arrived at the station as Svetlana instructed. It was late. Pitch black, no lights. We waited at the door for Svetlana's signal.
A door slowly opened, and a voice whispered, "Password?"

I gave the special password. The door opened and we went to go. Suddenly, two Ukrainian soldiers, one on each side, stepped forward. "Stop!" The soldiers advised there's no way for us on this train. They were onboarding humanitarian goods.

Svetlana directed us. "Go, go across to the next platform. I will open the back doors for you to get on there."
Our party of five crossed the railway tracks with our bags. It was difficult to see where we were going. Military personnel patrolled the entire station. My palms were sweating, my heart beat.
Board The Train Out of Kyiv, Ukraine.
I lifted my son up to the back of the train. My friend's eight-year-old son went in after. Then I started to enter. A soldier came along, pushed me in the back, and shut the door. My friend stood outside with Mama and our bags. My friend on the outside cried out, "My son. My son. My son is on that train." The military officer said, "You are crazy. Why are you people even here? I have orders to shoot anybody in the vicinity of the humanitarian goods."
Svetlana spoke up with the strong fierceness of a Ukrainian woman protecting the vulnerable. "You have orders to shoot. I have orders from my boss to evacuate children. They are leaving on this train."
After forty torturous minutes, my mum and my friend joined us on the back of the train. My friend sobbed as she reunited with her son. For twenty-three hours, we traveled on that dirty evacuation train from Kyiv to Poland. No toilets. We were given diapers to wear for the trip. I will forever be thankful to our earth angel, Svetlana, for helping us pass the first leg of our journey.
Find a Place to Sleep.
Polish soldiers, men, women, and children welcomed us as we stepped off the train. Tables full of water, juice, hot food, even sweets and toys for the children were laid out before us. I breathed a sigh of relief. A moment of safety. A moment to think.
My son tugged at my elbow, "Mama, I want to eat."
"Sorry, dear. You can't eat that food." It broke my heart to see his disappointed face. But it was too dangerous for him to eat that food.
As other Ukrainians headed off into Polish camps, I sought to find a place for us to sleep. With so many people and animals in one area, my son would surely have an attack. I had my last salary and that's all the money I had. Down a few blocks, I found a hostel, Villa B&B Warszawa.
"Hello. We need to sleep one night here please. Can I pay by card?" I asked.
"Where are you from?" The host, Darek, asked kindly.
"Ukraine."
"Then you won't pay for anything here."
We slept three nights at his hostel. They fed us. They took care of us. They didn't take money.
"Is there anything else we can help you with?" our fatherly host asked.
I had a damaged suitcase.
"Don't worry, I will help you." He took our suitcase. He fixed it. He helped us with transport. That man was like a Godfather to me. I want to tell the world of his kindness.
Breathe. Begin A New Life.
We took a flight from Poland to Cyprus. I heard the sea air would be good for my son's condition. As we touched down, I thought about my homeland and all we had left behind. Fear of dying or a fear of how to live? They were the two paths set before me. To stay in Ukraine and be scared of dying, or leave, and be scared of how we might live a new life in a new country.
Fear of dying or a fear of how to live? They were the two paths set before me.
I'm thankful to be here in Cyprus, safe. We are grateful to the Ukrainian volunteers who helped us find housing. One girl, who has been living here for four years, paid with her own money to help us with visiting a pediatrician. For now, we are in temporary housing. We are five families sharing five rooms. We wait our turn to take a bath. We wait our turn in the kitchen to cook.
We Ukrainians are strong, supporting one another. We understand each other. We know what it feels like to flee your homeland. It wasn't my idea to build a new life so suddenly. But now, I've been thrust into this situation, I'll do my best to build a new life for Mama, me, and especially my son. I would love to return home one day when this war stops. I don't know how long this will go on. I can't think about it. One week, two weeks, one month, two? For now, I can't look back. One decision at a time, we move forward.
I look over to my son, who plays at the end of the bed. He hasn't stopped coughing since the day we set foot in the bunker. I hope the Cyprus climate and sea will help his condition. At least, he is safe. I look at his smile. He is happy. We are together. We shall live.
---
Meet Aleksandra Andreyeva
Aleksandra has 10+ years background in PR, project and people management.
She has a deep understanding of work processes in media editorials, PR agencies, startups, and large international companies. She has implemented worldwide PR campaigns with the involvement of celebrities, world famous sportsmen, and bloggers.
She now resides in Cyprus with her son and Mother.
READ ANOTHER STORY | Found in a trash-can in the backstreets of South Korea, then adopted out to an American family where she faced abuse ...
to becoming an international empowerment coach and motivational speaker; Sasha takes you on a powerful journey of reframing her adoption story.