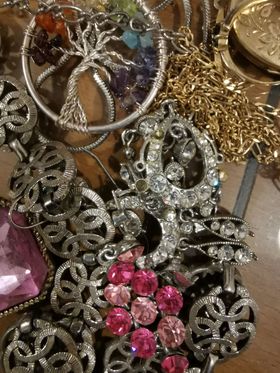 Sometimes, we need a little help to get our stories untangled and sorted out...
I unzipped my suitcase and pulled out a bath bag and my jewelry pouch. This time my little treasures hadn't traveled so well. I'd forgotten to tie the knot on the pouch. I placed the tangled mess on the dresser. Under the light, each piece sparkled, reminding me why they were special enough for me to carry across oceans to the other side of the world …
A retro necklace tells the story of my father's love for my mother, and their love passed on to me. A filigree engraved locket encasing two photographs of special people. A gold bracelet given to me by John, as he confessed his love for the first time. Earrings that make me smile as I remember the antique market in England and how I was bold enough to bargain for them. A ring, handmade by an uncle I never met… a precious gift from a long-lost cousin.
For me, the jewelry isn't about the jewelry itself. Each piece encapsulates a story that has enriched my life.
As humans, we use stories to create meaning out of our life. And just like my tangled treasures, sometimes our thoughts, ideas, memories and imaginings get all tangled up in our mind. This causes us to encounter a pattern of problem stories, leading to stress, frustration, and unhelpful decisions. When we fail to untangle the mess, we lose sight of the sparkling moments, the beauty and meaning of life.
I had some unraveling to do. Piece, by piece I worked through my jewelry, untangling the chains, unraveling the knots. This becomes a powerful metaphor to explain the power of untangling the stories of our lives.
By gently untangling the chains in your mind and heart; one by one, you make sense of your stories, freeing you to rewrite an unhelpful past and create new stories for your future. You get to know yourself deeply in the present and discover what it is you really want from life.
Barbara Barb Geiger, author of Paddle with a Purpose explains it this way, "Telling your story helps you to sort out your thoughts, feelings and emotions. They can be mixed up inside of us. But when you write about it, you put a label on it, you name it, you find out why and that helps you to untangle your mixed up thoughts."
For the past three years, I have used a 21 Day Narrative Journaling Method.
Using the 21 Day Narrative Journaling Method you focus on one key point of change in a 21-day cycle. This point of change is set by no one else but you, and what you uniquely need in your life. The method is based on the idea that you have the wisdom, skills and knowledge within you and your stories to create a life filled with meaning.
You have the power to change your own life and the world around you. Sometimes, you just need a little help to get your stories untangled and sorted out.