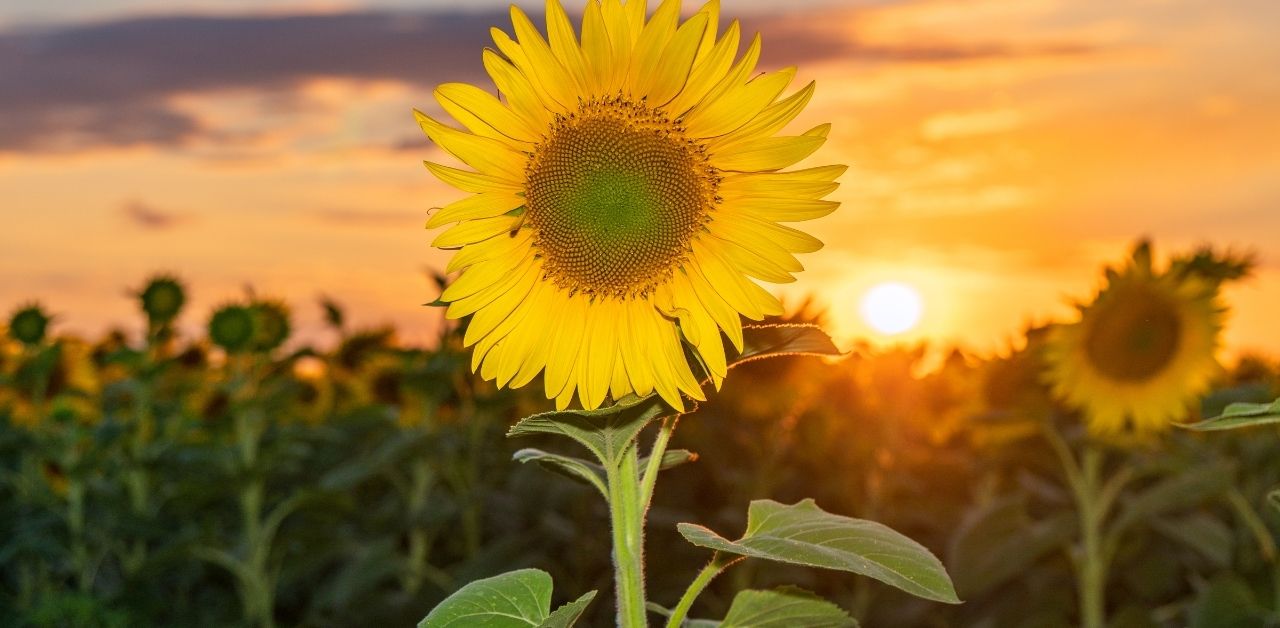 Marjana dreamed of seeing a beautiful field of sunflowers. But when her dream becomes a reality two years later, she receives much more than she anticipated ...
My dream of seeing sunflowers
I love sunflowers, and it's always been a dream of mine to go to a sunflower field. A few years ago, I found out about a field just outside London and decided to make the trip to see it for the first time.
I was really excited, but when I got there, it turned out that I'd missed the high season by a couple of weeks. I was disappointed but decided to try the following year again and catch them in full bloom then.
The next summer, something went wrong. Crows had damaged the crop. I decided there was nothing I could do and felt resigned to waiting another year.
Sometimes the unexpected happens
I was in Bulgaria a couple of months later visiting friends, and we were on the train on our way between cities. It was a beautiful, warm, sunny day in August.
As we traveled on the train, I was sitting by the window. Suddenly, we came across a massive field of sunflowers in full bloom. It was totally gorgeous, and it must have lasted for a couple of minutes! It was amazing and better than anything I'd ever imagined being able to see.
It was definitely much more impressive than the sunflower field I'd wanted to see in London, and I had also just found it by chance. It was also a year early since I'd been resigned to waiting another year.
Be open to new possibilities
I realised that sometimes we resign ourselves to something and think we have limited options when that's just based on our default reactions and assumptions. In the case of the sunflowers, it wasn't a huge deal to me since I was willing to wait another year, and in the end, it was just a stroke of luck that brought me that sooner.
When I thought about it, I realised I'd reacted similarly to things that are more important to me – sometimes thinking of things as a given or unchangeable instead of questioning my initial or automatic reaction or acceptance of something.
I believe that with most things we feel stuck with, when we probe a bit deeper, it opens up the possibility of finding other options and ways to approach things, which we might not have initially thought of. I think simply asking ourselves a question like - What am I accepting as fixed or unchangeable that may be more flexible than I'm assuming? - can open up new possibilities.
We all have moments when we automatically accept things as fixed or unchangeable. The next time you feel stuck with something that you'd love to happen sooner, especially if it's something that's important to you, I encourage you to probe a bit deeper and question if there are other possibilities that you may not have considered – and more flexibility than you originally assumed.
That's a lesson my dream of sunflowers taught me, and I pass this on to you.
---
Hi, I'm Marjana!
I'm a transformational coach, and I work with professionals who have successful careers but feel stuck, unfulfilled, and like they just fell into what they do. They know something is missing and has to change but have no idea where to start.
I help them get clear on what they really want and move past their fear of the unknown, so they can feel confident about their next steps and create a life that feels fulfilling and in flow.
READ ANOTHER STORY | Found in a trash-can in the backstreets of South Korea, then adopted out to an American family where she faced abuse ...
to becoming an international empowerment coach and motivational speaker; Sasha takes you on a powerful journey of reframing her adoption story.