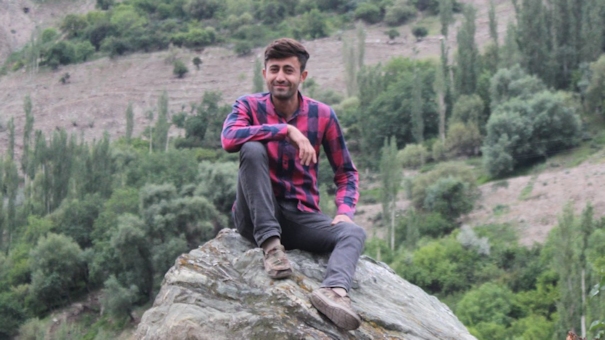 A boy from a poor family in a small village travels to the city to get a job to pay for his education. There a strange man approaches with an offer the boy is both afraid to accept, but can't refuse.

Be inspired by Nawaz's remarkable story as he works through his fears, embraces opportunities and ultimately passes on the gift he was given to others in his village.
I belong to a poor family from a small remote village where we have no college, or university. After completing grade ten, my father came to me with some bad news …

"Son, I'm sorry, I won't be able to pay any more of your educational expenses."
As my parents fourth and youngest son, the family expenses had become too much for his small army wage to handle. Not having money for my education worried me. I lay my head down that night, wondering what my future held. The words of my teacher came to me …

"Nawaz, you must try and find another way for your future. Look at me, I grew up as a poor boy from the village. I struggled, I worked hard, I went to the city. You must find a way and never give up."

I heard Karachi was a city of opportunity for poor people due to lots of small jobs. I decided to move to the city to get a job, so I could save up and pay for my education.
I'd never been to the city before. I'd never left my village. The crowds and the traffic overwhelmed me. I suffered with stress headaches. I cried because I missed my family and my village. I missed spending time with my friends hiking and trekking in the mountains. I missed the pastures and fruits which I plucked from our garden trees in summer. For over a month I couldn't sleep.
On a busy street not far from where I stayed, I found a job in a small restaurant. I waited on tables, cleaned floors, and washed dishes. I slowly saved enough money for my college admission fee. After that, I studied by day. By night and on weekends I worked at the restaurant. I was tired but determined to complete my education.
One day a man came to the restaurant for a cup of tea. He looked at me strangely and started asking me questions. "Where are you from?" "What are you doing here?" "Why are you working here?" "Who are your family?"
One day a man came to the restaurant for a cup of tea. He looked at me strangely and started asking me questions."
My cousin warned me of people who take advantage of poor village folk coming to the city to work. My heart pounded as hard as a hammer on wood. I wanted to run straight out the door. But this stranger was a customer. I politely answered his questions about my situation.

"Mmm, I see." The man nodded. "Complete your work, then come back to me." He said.
I walked away from his table. Really afraid now. What did this man want? Why was he calling me to his table? I told my manager about the man and he assured me.
"Nawaz, I'll stay here. Just finish your work and go and talk to the man. See what he wants."

I slowly walked over and sat down opposite the man. He looked about fifty years old, with wrinkles on his brow. He wore a simple shirt and trousers. It looked like he had expensive shoes, but I couldn't be sure. I placed my hands in my lap under the table. I wanted to hide my sweating palms.
The man spoke first. "I've listened to your situation. I've watched you work hard. And I'd like to pay for all your college fees. You can quit your job and focus on your studies." The man spoke direct and firm. He waited for my answer.
One hundred voices rushed through my head blocking out his offering. "Son, be careful in the city. You don't know who you can trust. Take care." "Nawaz, you're just a village boy, you're so naïve, be careful. Don't be going anywhere alone." "What does this man want from me? This can't be good! What if he wants me to do something illegal?" "Does this stranger want to kidnap me, chop my hand off and have me beg for him for the rest of my life?"
The man smiled. "Look, I genuinely want to help you out of this difficult situation. You told me you're Ismali. I'm Ismali. I practice Zakat and I want to help you. You don't have to do anything. If you're comfortable, I will come next week, and you will accompany me to the college, and I will pay your fees."
The thought of having my college fees paid and being able to focus on my studies was a wonderful prospect for me. An unexpected blessing. I researched Zakat offerings. I enquired more about the man and discovered he was honorable in his offering. So, I agreed.
That man who came in to drink tea supported me two years. No longer a stranger, he became "big brother." And never did he ask for anything in return. Only that I study hard and get good grades – which he checked every month. So, I studied hard, got good grades, and achieved admission in one of the top universities in Pakistan. I applied for a scholarship and won, finishing in the top three applicants.
I faced so many challenges during my educational career. I am grateful for "big brother". He helped a poor village boy turn his life around. Through his kindness, I saw that good exists in the world. Despite all the bad stories you hear, there are kind people who want to help others. And now, I pass on what "big brother" gave to me all those years ago…
I returned to pay it forward to my home village. I work in the United Nation (GLOF Project) here in Northern Pakistan and I have an excellent position, doing a role that I find both fulfilling and enjoyable. I get to use my M.Sc Mathematics degree combined with trekking the mountains I love. It's like a dream come true.
I use a portion of my salary to financially support two students in their education - one boy and one girl – both from my home village. In addition to that, I volunteer tutoring 16 students from the local village.
I'll always remember "big brother" and what he did for me. I remember his happy smile when I told him how his legacy lives on as I support two students. I am proud of that. It makes me happy internally. If you help others, you will be the happiest person in the world. Happiness doesn't come from your bank account. If you have what you need, if you are stable, I believe we should help others.
If each person helped another in this world, then this world would be full of happiness.
---
Meet the Author ...
Nawaz Khan
Nawaz Khan works with the United Nations (GLOF Project) in Northern Pakistan where he combines his Mathematics degree with mountain trekking.

"Trekking refreshes my mind & soul." He says.
Nawaz continues to volunteer his time and financial resources to help other students progress in his home village.

His dream is to register a welfare organization in Pakistan to help students reach their goals.
You can connect with Nawaz here.
READ ANOTHER STORY |
​Touching story of human kindness. On a bus from Phoenix to LA a woman hands over her last forty dollars. But that wasn't the end of her story...