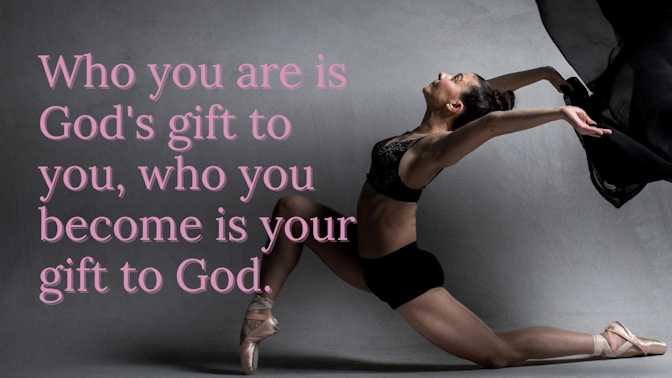 Mary* walked into my office and stood for a moment, looking at the positive books, quotes, and affirmations mounted on the wall behind my computer. Right in the centre was a small blue framed poster I'd purchased as a child for $2 with my pocket money.
"Who you are is God's gift to you, who you become is your gift to God."
There were other posters too,
"If you can believe it, you can achieve it."
"Action cures fear."
Finger to her chin, head kinked to the side, Mary asked, "Doesn't all this make you feel bad about yourself?" Mary was thirty years my senior.
As a twenty-four-year-old with my life ahead of me, I was baffled why she would think that.
By the time I was thirty, I had an understanding of what she may have been feeling at the time.
I'd read every self-development book recommended to me (too many to count). I'd completed the action plans, completed the exercises, changed my routine, and followed the guidance, but still, I looked at my life and thought, "I should be further along than this." According to all the books I'd read, I hadn't yet achieved anything worthwhile and felt no satisfaction in life.
By the time I was thirty-four, I knew what she was feeling. I sat arms folded at my desk; head flopped on my forearms. "I feel like a loser. This isn't the life I wanted. I've worked so hard, I must be a loser." I surrendered to the fact that I'd read all these self-development books. I'd taken action and worked hard, sometimes until 2 am, with little to show for it.
That surrender was a small gate opening up to a new life of grace and freedom. And as you step through that gate, you discover the journey continues for a lifetime. But first, you must step through that gate; the starting point – surrender, then acceptance.
Opening the gate to enter any new path that is different from most isn't an easy journey. But it's a necessary step to take if you want to discover a meaningful life for YOU.
Delving deeper into my own story played a vital part in giving me the courage to open the gate of surrender. And it will help you too. When people ask me, "What's the best self-development book you've ever read?" I answer:
After 26 years of reading non-fiction self-development books and autobiographies, as well as interviewing over 60 people about their life stories and moments, I have come to the conclusion that the most life-changing book you will ever read is your own story ... even if you never publish or share.
Here are just a few of the results I've seen when people share their stories …
They become more understanding and less judgmental of themselves, dramatically improving their confidence and self-esteem.


They receive a deeper understanding and greater empathy toward other people, thus improving their relationships.

They've seen how strong they truly are. By looking at their own life through the lens of an outside camera, they were able to reframe and see the amazing person they are to be standing where they are today.


Their friends and family are able to experience them in a new way. Many received recognition and admiration from friends and family in a way they hadn't before.

People have got to know themselves more intimately and have been able to discover what it is they really want from life (not what they have been taught they should want). Knowing what you want from life, is the first step to getting it.


Unfortunately, at fifty-four years old, Mary hadn't yet opened her gate of grace, so when she looked at the quotes and positive affirmations on my wall, she felt bad about herself and what she considered a lack of achievement in her life.
These days I have no quotes or affirmations on my wall, but I do have them written on my heart. They are my own story and your stories that inspire me and bring deeper meaning to my life.
If you're curious to learn more about how you can use your past, present, and future stories to create a life you love, then click here to discover more.