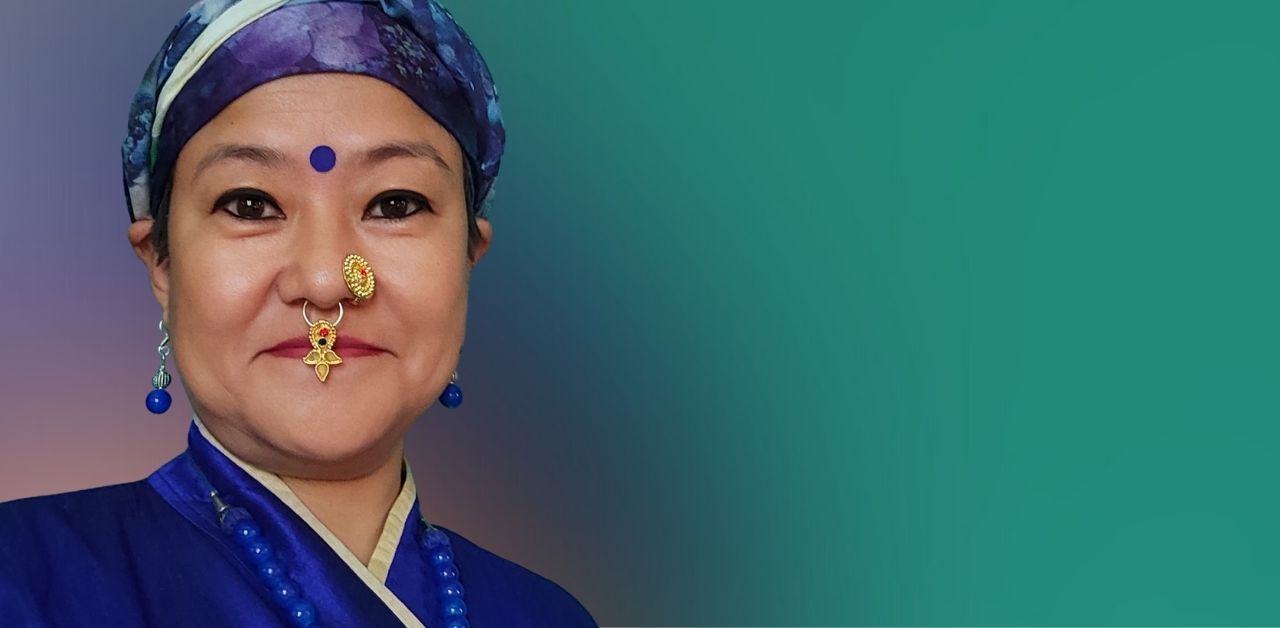 Roshni, a strong Gorkha, Indian woman, is left devastated after a break-up. She can't think, eat or sleep until, one morning, she is called to rise with the sun and run...
Still dark, thick fog clung to the base of Mt Kanchenjunga, the third highest mountain in the world. All I could hear were my footsteps and partridges calling among the bamboo. As I ran, my breath turned to mist, flowing into the translucent silhouette of the Himalayas shadowing me. Tears streamed down my cheeks like an icy river. When the tears stopped stinging, I stopped running.
I am a strong Gorkha, Indian woman. I was born in the charming village of Pedong, West Bengal. I stand as proud as the Himalayas cradling my home village. When I fell in love with a man from a different community, Mother warned me:
"His family won't accept you Roshni."
I didn't believe it until he announced his marriage to another. After eight nights of weeping, wondering, and languishing without sleep, the Spirit of my warrior ancestors, called to me ...

Rise Roshni. Rise with the Sun. Run like the warrior woman you are. Refuse to give this man another precious breath. I got up and ran and ran and ran.
I offered my breath to all that was sacred and beautiful around me. When I came home, I ate for the first time since the break-up. I slept peacefully, dreaming of a new future. I was empowered. Not long after, I moved to Mumbai to complete my Masters in Law.
Embracing the Spirit of Mumbai
Mumbai is a huge, busy, bustling city. I soon forgot about my break-up and fell in love with Mumbai. After two years of working and studying, I completed my Masters. With time left on my hands, I walked through Mumbai. I was open to a new adventure. I walked past a huge billboard …
"Feel the Spirit of Mumbai. Run the Mumbai Marathon."
I remembered my morning runs in Pedong, how my spirit was empowered to embrace new beginnings. Without knowing the distance, I registered to join the half-marathon. I read the registration paper - 21.97 km. Shocked, I asked the lady at the desk:

"Excuse me, Ma'am. I only wanted to do the half marathon."
The lady looked at me confused, "Yes, that's right. 21.97 km."
From that day, I rose every morning and ran five or six kilometres. I was strong, ready for the race. So, I thought ...
Running the Spirit of Mumbai
The day of the marathon arrived. Drums beat loud, and bells rang out. Thousands congregated, chanting, singing, warming up for the race. Hundreds of teams showed up with a cause. They represented businesses, charities, missions, foundations ... They wore blue shirts, red shirts, many colours, with slogans blazoned across the front. Others had signs posted on their backs. Everyone was there with a passion and purpose. I took my place at the starting line—one Gorkha woman, proud to represent my people – a people who have suffered centuries of persecution. One day, I would return with an entire team to represent the Gorkha Indian people.
Bang! The gun went off. I breathed in step, focused, thinking of my mountain runs and remembering how good I felt. Until the 16-kilometre mark. My knee buckled. I screamed in pain. I attempted to hobble along. I wasn't going to make it. But just when I couldn't go any further, my friend Shruti ran by.
"Roshni, I thought you'd be at the finishing line by now."
Shruti held my hand and cheered me along. With Shruti's help, I completed the distance and walked across the finish line. Next time, I was determined to run across. I joined the runner's club of Colgate-Palmolive India Ltd and met a running coach.
First, I trained to complete a half marathon. Next came full marathons. Then came ultra-distances of 50km plus. I ran internationally. As a woman from India, without prior training, I received special acknowledgement and media mention.
My Break-up Became a Breakthrough
My break-up had turned into a breakthrough. Running gave me a purpose, and I wanted to share my renewed spirit with others. I was inspired to start my foundation - Run with Roshni. The more media attention I received, the more I thought of my Gorkha community. Many young people were getting into drugs. Many were committing suicide. They were having challenges with their identity.
I decided to return to my home village in Pedong, practice law, and continue Run with Roshni from there.
Inspiring a New Generation of Runners
Through Run with Roshni, we support runners from our community to participate in marathons all across India. I remember the first time we ran as a team, proud in our white shirts and with the slogan, "We are the Gorkhas, proud to be Indian." A dream come true.
Now our whole team gets media attention, and we spread awareness about our community. Individual kids are having their own breakthroughs too. Like one boy, Ramesh Tamang. He started winning marathons. With each win, he saved the prize money. Race by race, he collected enough money to support his own education. With our foundation's assistance, he graduated and is now pursuing his Masters.
Through Run with Roshni, these kids learn that they can hope for something better even though they face struggles and hardship. Training for a marathon is a powerful teacher. I tell them my story. I show them how breakdowns - any kind of breakdown – if they are open, will lead to a breakthrough. You'll discover that in your life too.
---
About the Author - Roshni Rai
Roshni Rai, the founder of Run with Roshni, is a Gorkha girl from a village known as Pedong in the District of Kalimpong, West Bengal.
Roshni Rai is an advocate, an ultra-marathon runner, a motivational speaker and the Author of "From the Mountain to the Ocean".
She is a Goodwill Ambassador of the Everest marathon for India. Roshni ran the Comrades Marathon of 89km in South Africa in 2012, which she had dedicated as a tribute to all the Gorkha martyrs, who sacrificed their lives for Mother India and also for the cause of Gorkhaland. The longest distance run by Roshni is Bangalore Ultra Marathon 100km in November 2015.