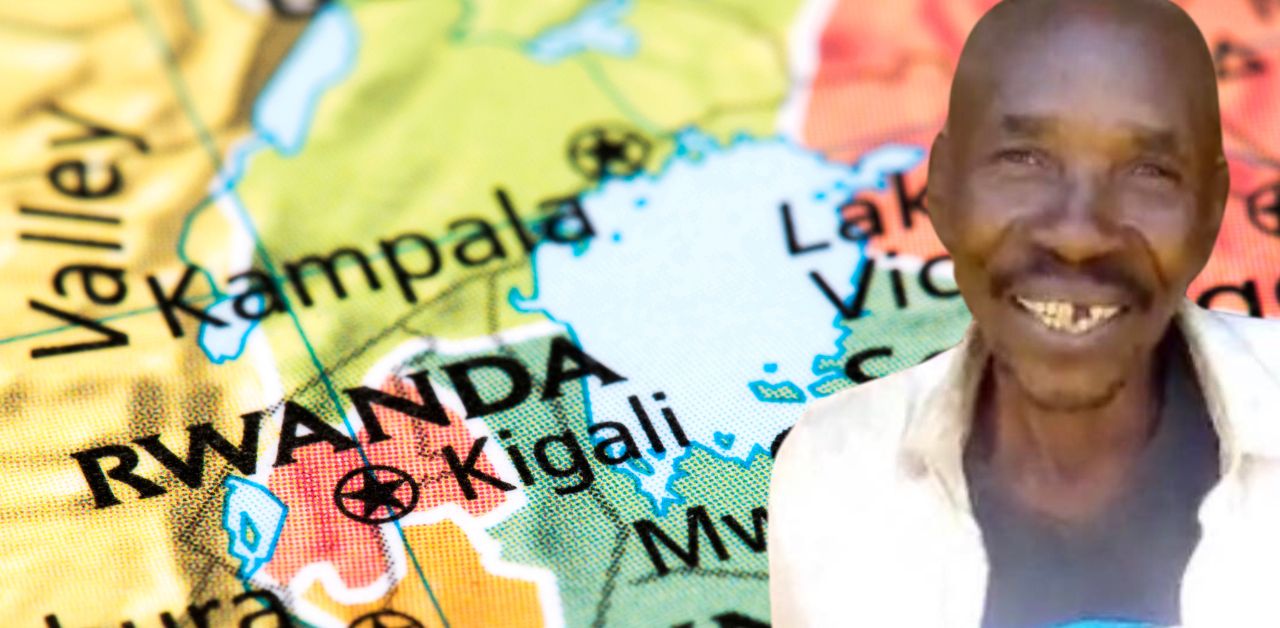 Step into the extraordinary journey of Miburo Tomath, a Rwandan genocide survivor. Witness his incredible transformation from unimaginable loss to mindful healing. This story reminds us that even in our darkest moments, the power of positive thoughts, forgiveness and the love of God can lead us to find happiness and healing.
My name is Miburo Tomath. Sixty-two years ago, I was born into the Hutu tribe in Kisamvu Nyakibanda, the Republic of Rwanda. I was the firstborn and the only boy among nine girls.

I grew up with my grandparents in a life filled with peace and happiness. We would gather to enjoy meals of cassava, sweet potatoes, beans, bananas, and milk. We played games like banana fiber football, dulo, and golf, and I cherished those moments of laughter and heartfelt fun.
Every day, I assisted my grandfather with his supporting stick as we tended to our cattle, cows, sheep, goats, rabbits, and chickens alongside the elders. My grandfather, a respected leader of our tribe, valued unity, and community. He often spoke of our shared identity as God's children, emphasizing the importance of maintaining peace and loving one another. He imparted wisdom about securing our possessions, advising us not to sell our land, cows, or goats. He believed that our domestic animals would provide us with milk to drink and serve as a dowry when we married.

In 1985, I married and lived very happily with my wife for nine years. We had five beautiful daughters together. Our world was filled with goodness until 1994 when everything changed.
Peace and Joy Overtaken by Darkness
Segregation and racial tensions erupted between the Tutsi and Hutu tribes, leading to violence and genocide. Armed men unleashed terror, seeking a change in leadership. Bloodshed and screams engulfed our once peaceful homeland, turning it into a nightmare. My beloved wife and three daughters were brutally taken from me. Two of my daughters managed to hide beneath a bed, their hearts pounding, as we were forced to flee for our lives in the dead of night.

Amid the chaos, my other daughters were lost in the crowds, disappearing from my sight. The anguish of that moment left an ache in my heart, and grief overwhelmed me, making it hard to breathe. Many nights, I cried, asking every person I encountered, "Have you seen my daughters?"
I embarked on long journeys through dense forests, hungry, exhausted, and disheartened. My first refuge was in Tanzania, where I stayed for eleven years, with my ultimate goal being to find sanctuary and a new life in Uganda. I had a small amount of money that helped me cover transportation costs. Finally, when I reached Nakivale Refugee Camp in Uganda, I felt fortunate to have found a place of refuge.
I have resided in Nakivale Refugee Settlement for fifteen years now, where I met my wife, Ayishakiye Chantile. Together, we have been blessed with five children, but we continue to live with limited access to food, healthcare, clothing, and other basic necessities.
Amid the chaos, my other daughters were lost in the crowds, disappearing from my sight.


Rediscovering Peace & Joy Through Mindful Healing
Upon arrival at the refugee camp, I couldn't escape the memories of my past, the losses I had suffered, and the horrors I had witnessed. I battled depression and turned to alcohol and tobacco.
Thankfully, I was introduced to a Healing Circle within the camp known as Healing Health Healing Hearts. I learned that finding peace, joy, and wisdom is not bound by time or external circumstances but rather by our thoughts. I have found hope and happiness even in the midst of adversity by changing my mindset.
Our trainer and head counselor, Philips, guided me to trust in God's wisdom. I pray and become present and focus on the strengths I have that have brought me here. I reflect on the love, forgiveness, respect, and care I still possess. I have come to see the mind as a computer; whatever we input determines what we receive. It hasn't always been easy, but by embracing these positive thoughts, my heart has gradually filled with positivity.
While many aspects of life require financial resources, the happiness that comes from loving God is priceless. I hold onto the belief that there is always a path to a new life, and I refuse to pity myself. I am alive and committed to my family and sharing with the Nakivale Refugee community.
Please, to those who read my story, understand that our thoughts, whether negative or positive, have the power to shape our feelings. I see war and genocide as manifestations of ugliness, while the love of God is the embodiment of beauty.
It is our thoughts that dictate our perception of life and through mindful healing, I have found the capacity to experience joy, regardless of my circumstances. I hope you do too.
---
Miburo Tomath was born in the Republic of Rwanda, where he experienced a childhood filled with joy, peace, and simplicity as the firstborn boy among nine sisters. Tragedy struck during the Rwandan genocide in 1994, leading to the loss of his wife and daughters.
Miburo's story took a remarkable turn as he found hope and healing through the Healing Health Healing Hearts program at Nakivale Refugee Settlement in Uganda. His journey emphasises the power of transforming one's thoughts and embracing joy even in the face of adversity.
Please connect with Miburo Tomath by leaving a comment below, or reaching out to Healing Health Healing Hearts, Nakivale refugee camp Uganda here.
READ ANOTHER STORY | Determined to fulfill her life-long dream to shine in the spotlight, Mara quits her job and runs away with the circus, where she learns the ultimate lesson in vulnerability