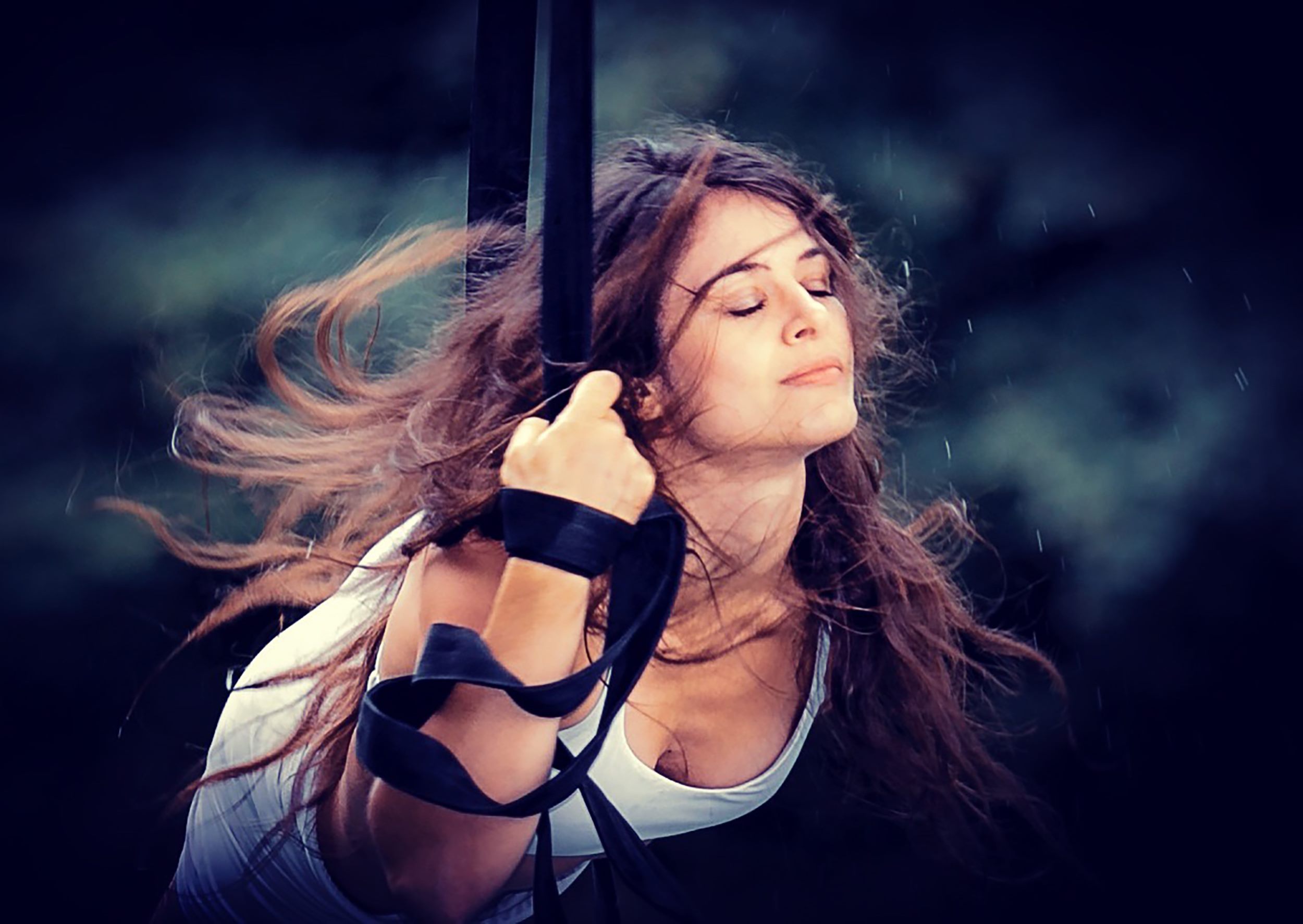 Determined to fulfill her life-long dream to shine in the spotlight, Mara quits her job and runs away with the circus, where she learns the ultimate lesson in vulnerability
Secretly I always wanted to be on stage and shine in the spotlight.
When I was twenty-six years old, I quit my security job in Switzerland, to run away with the circus. I fell in love with a wire-walker named Chris Pettersen.
Sitting in his caravan, parked right next to the red and yellow circus big top, we made our romantic plans. I would transform into a circus artist and we would tour the world as a duo with a ladder act.
One year later we were living in the artist apartment provided to us by the Varieté in Germany where we performed our ladder act.

Though we had succeeded in our dream, I longed to perform a discipline that would fulfill my heart's desire … to create the solo act of my dreams.
It was eleven in the morning. I sat in bed under my warm blanket browsing Cirque du Soleil videos. None of the performances had especially stood out to me until …

I saw a woman flying in the air. She wore a turquoise costume with oriental accents that added a light, playful energy to the stage and her performance.

She held a thick black strap with one hand that pulled her high in the air. Her hair and her legs twirled through the air. She was flying free like the wind.
I was awestruck. I wanted to fly like the woman in the turquoise dress.
The next day, I showed the video to all my artist colleges. Every person pretty much said the same thing, "This circus discipline is called aerial straps and it's the hardest discipline the circus has to offer. You need to start really young, from childhood to do this!"

Given I had no background in gymnastics training, my desire to learn this aerial strap circus discipline seemed impossible to achieve. But I decided I didn't care what they said. I had to experience this for myself.

So, I took Chris's old slackline and sewed some straps together. Then I sneaked outside when no one was watching and secretly hung the straps from a tree.

I didn't want anybody to see me try out the discipline and fail. And I was embarrassed about the fact that I thought I could be as awesome as the woman in the turquoise dress.

I stood under the tree, took a breath and wrapped the strap around my wrists. I turned my body upside down and fiddled to find a position for my legs. As I tried to hold my body in place, I felt immense pressure on my lower back.
If I continued like this, I knew I would harm my body, so I gave up. I hid the straps away, and forgot about my dream while I continued with the ladder act.
... I was embarrassed about the fact that I thought I could be as awesome as the woman in the turquoise dress.
A group of performers were busy preparing for the evening show, when I overheard one of the artists say, 'I will practise straps before the show'.
The flying woman in the turquoise dress flashed to mind. I called out, 'I want to train straps too! Can I join?"
Charlotte de la Bretèque did not just practise the straps with me, she trained me in all the exercises to build the strength required to learn aerial straps. I feel blessed Charlotte came into my life and opened the door to the solo act of my dreams!
After a year, Charlotte moved back to her home in France. I continued training by myself but it was hard work. Charlotte had helped me with every pull-up or inversion. She had lifted me, supported my body weight and guided my body movements in the right direction.
The inner battles began as I fought to get over my weaker self. For every single exercise I gathered up concentration, I breathed in at the right moment and focused all my strength into my feet. That was just to get them halfway up the strap! It took me three weeks to master just one straight leg inversion!

To master my art, I had to go beyond my physical limits. My body needed to adapt to the extreme conditions required to perform the ariel straps. I pushed myself so hard that after every training I was in pain with a stiff neck.

I kept telling myself, "I will get there. I will learn this. I will fly on stage like the girl in the turquoise dress."
Perfecting My Art By Becoming Vulnerable
Each day I would practise my routine. One day after practice, Nikolas Stocker, a Clown and Director who had been watching me train approached me.

"Mara, you do awesome stuff," he said. "But when you perform you are not grounded; you have very hard energy and your smile is a bit fake!"

I knew he was right, but I didn't know how to overcome my hard energy and be completely free during my performance.

"Mara, you need to do grounding exercises before each performance, connect to the earth, connect with your audience and allow yourself to be vulnerable on stage. "

From then on, I practiced grounding exercises every day on stage. During opening scenes, I stood still for five minutes facing the audience. The intro music started to play, the lights faded in, I'd tune into the rhythm of the music as I grew roots that held me firm to the center of the earth.

I'd look at the audience, telling myself over and over again that it is okay to be vulnerable. I focused on keeping my energy soft and transparent. They could see me, they could feel me, they could judge me, but it didn't matter what they thought of me. It was liberating.
I was grateful that Nikolas took the time and effort to show me a way to become a better performing artist. His help was essential to my future success!
My Chance In The Circus Spotlight
The following winter, three years after I'd seen the girl in the turquoise dress fly, I got the chance to world premiere my Spellbound strap act for a sold-out circus tent.

My night in the spotlight had arrived. The director boomed through the speakers, "The next artist is very nervous. She has trained hard and will now present Spellbound, her new strap act for the very first time, so please give her a warm welcome!"
I was so nervous it was overwhelming. My heart was jumping, my hands clumsy, it was difficult to breath through my nose and my feet felt disconnected!
The curtain opened. The drumming beat of my soundtrack began. The spotlight was on me. The audience was in a great mood. The air sparkled.
I took my first steps onto the stage and then let go.
My nervousness transformed into expressive energy! With every move, a reaction from the audience. I became more secure, more confident.
My hands had a firm grip on the black strap, I was in the air. I trusted my body, to be the strong wings carrying me. I fly!
Energy passed back and forth between the audience and me, and it culminated into a roaring applause!

I had mastered my hero's journey ...

I went into the dark forest - faced my fear,
slayed the dragon - defeated my demons,
saved the virgin - found my purpose in life and
got my initiation in the form of this roaring applause!

This glorious moment will always stay with me.
I am proud of myself for having the determination to stubbornly walk toward my dreams. It is not so much about talent - it is about having a vision, practice and the stamina to endure all the different stages of the journey.
Having created my own solo act has given my the courage to believe in my own creative ability. Now I know that I can create something beautiful and precious at any time. I learned that creativity is an effortless unlimited source that can be accessed at anytime by anybody.
The doors into the world of artistic expression are open to anybody at any age. It's never too late to become who you've been inspired to become.
I believe there is an artist inside everyone. I want to encourage you to allow yourself to open-up, be vulnerable and unleash your artistic nature.
It is possible to fly!
---
One-on-One Sessions with Mara

Do you want to feel like Wonder Woman?
A 10 min-a-day adjusted workout to your body's abilities will leave you stronger, encouraged and most of all amazed at the things your body is capable of! Find out more:
https://marazimmerli.com
Mara is touring with her partner Chris. They offer show act's for event's, variety and circus. Find out more: http://www.marachris.com
READ ANOTHER STORY | Some people say Charlotte should never have been born, but she had different ideas. An inspiring story for anyone who has ever asked 'why was I born?'