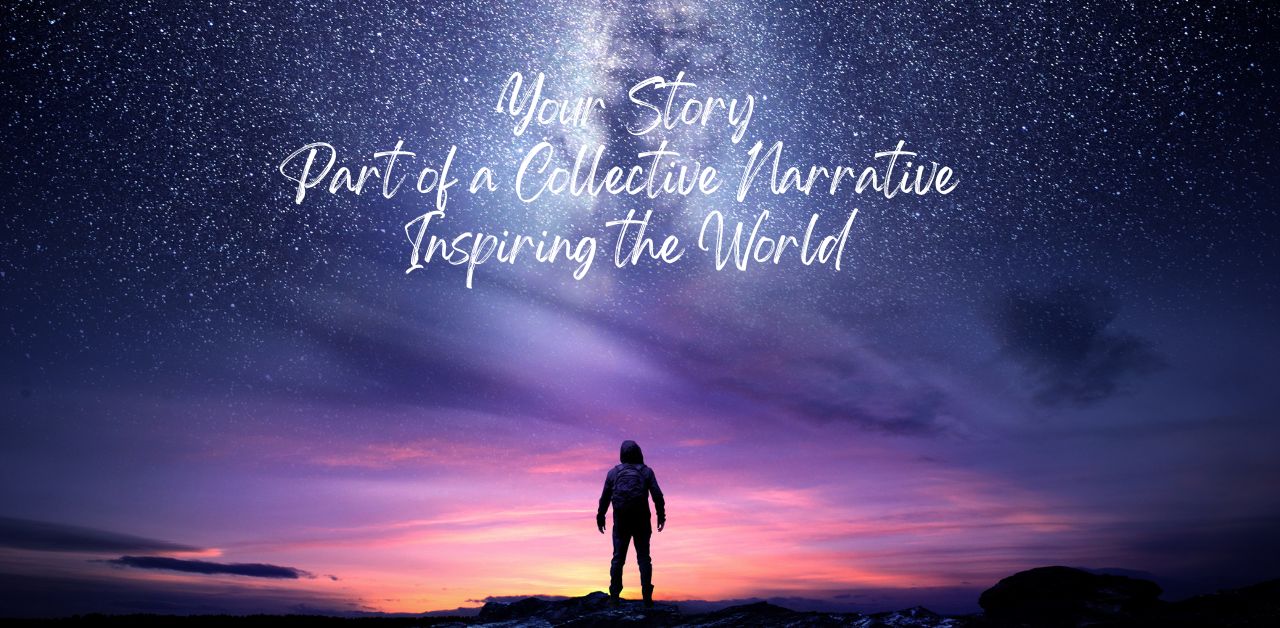 Discover the profound impact of sharing your inspirational story. Learn where and how to bring your unique experiences to a global audience, and see how your personal journey can inspire, connect, and empower others. Your story has the power to make a difference – let it be heard.
You matter more than you might realise. Your presence on this planet has shifted the energy in the universe in its own unique way. From the moment you answered the call to life, your unique journey began, alongside billions of others each living out their one-of-a-kind narratives in this world. Your thoughts, along with theirs, collectively weave the individual storylines that make up this epic saga we call life.
And just like every epic movie wouldn't feel incomplete without a character or a scene, so too the world's history remains incomplete without your chapter. The challenges you've overcome, the dreams you've chased, and the joys you've found are not isolated experiences. They are part of a collective journey, a grand tale of humanity.
You are the hero of your story, and your unique narrative holds wisdom from your experience that can shed light on dark paths, guiding and inspiring others. It's not just about you; it's about the role your story plays in the larger narrative of humanity, helping others find their way, learn, and grow.
That's why your story is important. That's why we want you to share your inspirational story.
I am so happy to be a part of this mission you have started, it is so amazing and touching to countless people out there.
It is inspiring to read my story again to be reminded of what's important in life. I love reading the stories of others and your magazine brings a lot of hope and inspiration during a time of uncertainty and unrest across the world.
Honestly I didn't expect this amount of responses and how my story inspired different people in different places was touching, I felt deeply grateful for having this chance to live such an experience. It is a fact that we are all connected. We all feel pain from the same circumstances and we all seek a normal peaceful life.
Where Can You Share Your Story?
Ready to share your story with the world? Daily Inspired Life is an international platform inviting individuals from every corner of the globe to contribute their true, inspiring stories. More than just a space for sharing, we share these narratives as guides, illuminating paths to a better future and a more beautiful life for everyone within the community.
If you believe your story has the power to inspire and uplift, we welcome you to join Daily Inspired Life. We envision this platform as a thriving, caring, and diverse community that not only connects readers and storytellers but also celebrates the richness of individual experiences.
Your story should be a genuine, personal account of a significant incident, event, time period, or moment in your life.
It should convey a message of inspiration, love, hope, positivity, and courage.
The goal is for readers to feel a positive impact on themselves and the world around them after reading your story.
Your narrative should spread positivity and contribute to a greater understanding across different cultures and backgrounds. Share your unique perspective on the world.
Inspire people to live their best lives and see the best in others, fostering a sense of connection to the greater world and promoting unity and positivity within humanity.
We especially welcome stories from people of color, indigenous peoples, individuals from diverse backgrounds, non-English speakers, and women. Your diverse voices enrich the collective story of Daily Inspired Life.


It is an honor for me that so many people appreciated my story. These words made my day and these are the most precious gifts to me.
Wow, I got to understand more about myself. I learned include, I am confident, focused, determined and ready to change the story of many people. In my heart I felt celebrated and getting somewhere with what am doing. When I received phone calls from all over the world people congratulating me, I feel so excited. Greatest lesson learnt is never to give up in life.
I cried. My work has caused an impact on peoples' life TO THINK DIFFERENT, THINK BETTER
How To Write an Inspirational Story About Yourself?
Access our free 9 Step Story Plan with prompts to guide you through the storytelling process. For a more guided experience, join our next Write your Inspiring Story Workshop, which takes you step-by-step from drafting an outline to crafting and submitting your story for publication.
I have been getting such good feedback from the story and video and I'm so grateful to you for sharing it! So fun and amazing!
I was helped in everything with my story - otherwise I was telling so many stories :). The biggest lesson was that my story is interesting and people want to listen to me. In fact everybody was congratulating me.
Incredible coaching and help. Writing my story reminded me that "I can do hard things" and there is always, always hope. . It was pretty amazing to see where I was before and where I am now.
How Can You Post or Submit Your Inspiring Story?
Eager to share your journey and inspire others? Click here to find out how to submit your story on Daily Inspired Life