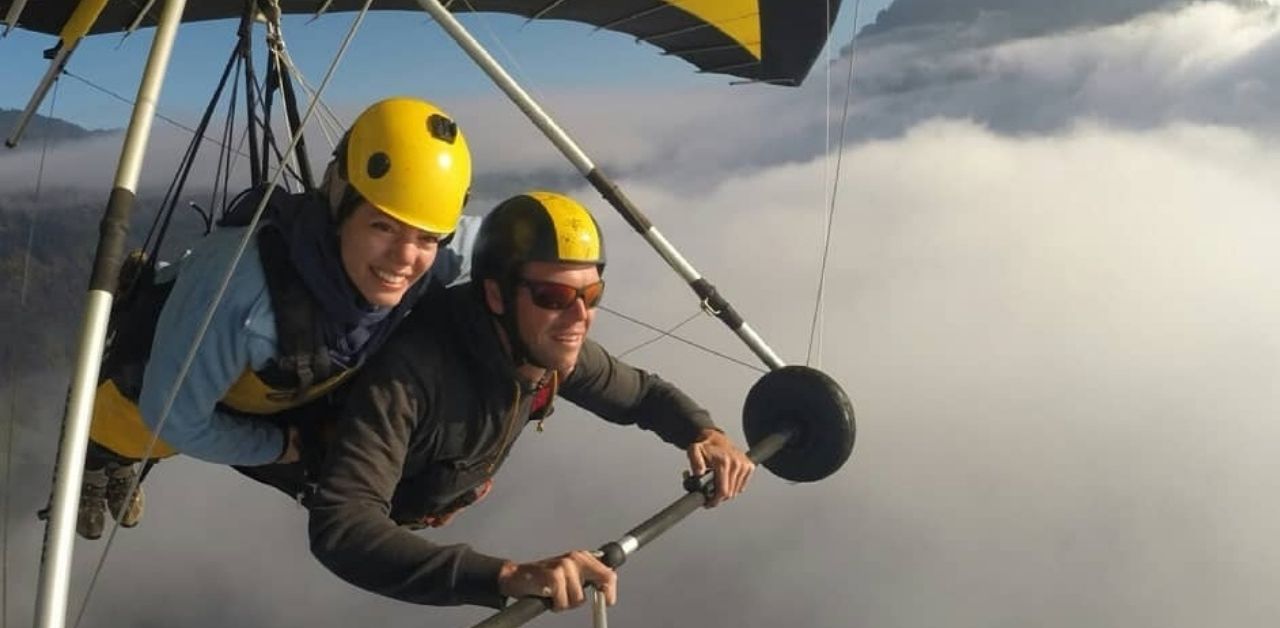 Born a third generation refugee from Palestine, Missa faces restrictions on rights and freedoms many take for granted. This is her story of achieving what some call "an impossible dream." Find out how she did it ...
In the Palms Hostel, the receptionist asked me to pay 250CHF for hang gliding. My immediate response was, "Are you kidding? This is ridiculous!"
He smiled at me gently, "Believe me, you will never forget what you are about to experience. You are going to set your soul for ultimate freedom."
I headed with the team and two other participants to the top of a mountain in Interlaken. I had a high adrenalin rush but surprisingly wasn't afraid. Paul, the instructor, looked into my eyes and said, "We will run regardless of what happens. Never stop, just keep running."
I closed my eyes and heard my mother whispering kindly into my ear, "Fly". All the stories my father used to tell me about his childhood in Al Neirab Camp in Aleppo flashed before my eyes. Within a few seconds, I was flying above the clouds. The sun sent shining rays onto the earth to merge with the city beneath me into a majestically beautiful canvas. It felt like there were no borders, and all the restrictions that were made to take our rights away were falling apart. The feeling of the wind hitting my face was a reminder to be grateful for simply being alive.


"I was flying above the clouds. The sun sent shining rays onto the earth to merge with the city beneath me into a majestically beautiful canvas. It felt like there were no borders, and all the restrictions that were made to take our rights away were falling apart."
Third Generation Refugee
I am from the third generation of refugees. My father and my grandfather became refugees after the Zionist occupation of my hometown, Haifa. My father used to tell me stories about the camp. Some of his stories were funny. Many others were sad, like how they shared the little food they had, so no one slept hungry. Or how they used to study under the light of a candle in front of the single-room house that ten family members managed to fit in. I enjoyed his stories and pictured the details of his childhood. It wasn't until my late twenties that I truly grasped the moral of these stories and what it meant to live as a refugee with a passport stating this fact.
From the age of thirteen, I dreamed of traveling the world. Some say it's an "impossible dream" because it's not easy for a person with refugee documentation to travel. The law forbids you to own a car, register a house under your name, register a company, or own shares in a company. I have no doubt that I have the right to travel, own a car, a house, and have my own business registered under my name. These rights were simply taken due to many political agreements that I have never understood, and I know by heart that doors cannot be locked for long.
Refuse to Surrender
The word "impossible" isn't in my dictionary.
Through ten years of facing rejections, I've danced under the aurora lights in Abisko, hiked in the Himalayas, slept on the grass in the Alps, and swam in the Maldivian beaches. I witnessed the magnificent beauty created by God in many spots in this world.
When my travel applications are rejected, I apply again. When I don't hear back, I keep calling. I will not give up. Like when I applied with my friends to the Indian embassy. My friends received their visas within three days. Three months after my application and many calls, I still had no answer. I called again. The employee hung up in my face. The next day, I received an email stating that my visa was accepted.
I still remember my rejected application to the Egyptian embassy. The moment I exited their doors, I exploded in tears because they made the decision without asking me a single question. I applied again and again. I will keep applying until I see the pyramids and walk on the banks of the Nile.


More Than a Refugee
Once you flee your country because of wars and injustice, you are labeled as a refugee, and the world starts treating you as such. Many people will tell you to give up and accept what you have. Don't! From a refugee who suffered a lot to get the acquired rights of any normal citizen, I am telling you out loud to never give up on your dreams. The secret is to have faith in your story in this life. When one country shuts the doors in your face, remember you still have the rest of the world.
A friend once told me, "Every time you achieve a dream you will talk and walk differently." I didn't get it at that time, but after many years, I understood what he meant. With every dream I achieved, I became more confident and more optimistic about the future because I am not only a refugee. I am a story of beauty, love, kindness, and curiosity.
I am a refugee and beyond.
---
About the Author - Missa Zahran
Missa Zahran is a determined Palestinian financial consultant, an explorer for this world.
She lives in Amman (Jordan)
---
READ ANOTHER STORY |
From Skipping School to PhD | A Village Boy's Remarkable Journey
Inspirational story about an ordinary village boy from India, who grew up on a cashew farm. His parents were illiterate, he'd skip school, and there was little hope for his future ...

Until one day something unimaginable happened (almost a miracle), that changed his whole life around. He ended up with a PhD and his research on cashew farming and agriculture receives global recognition.