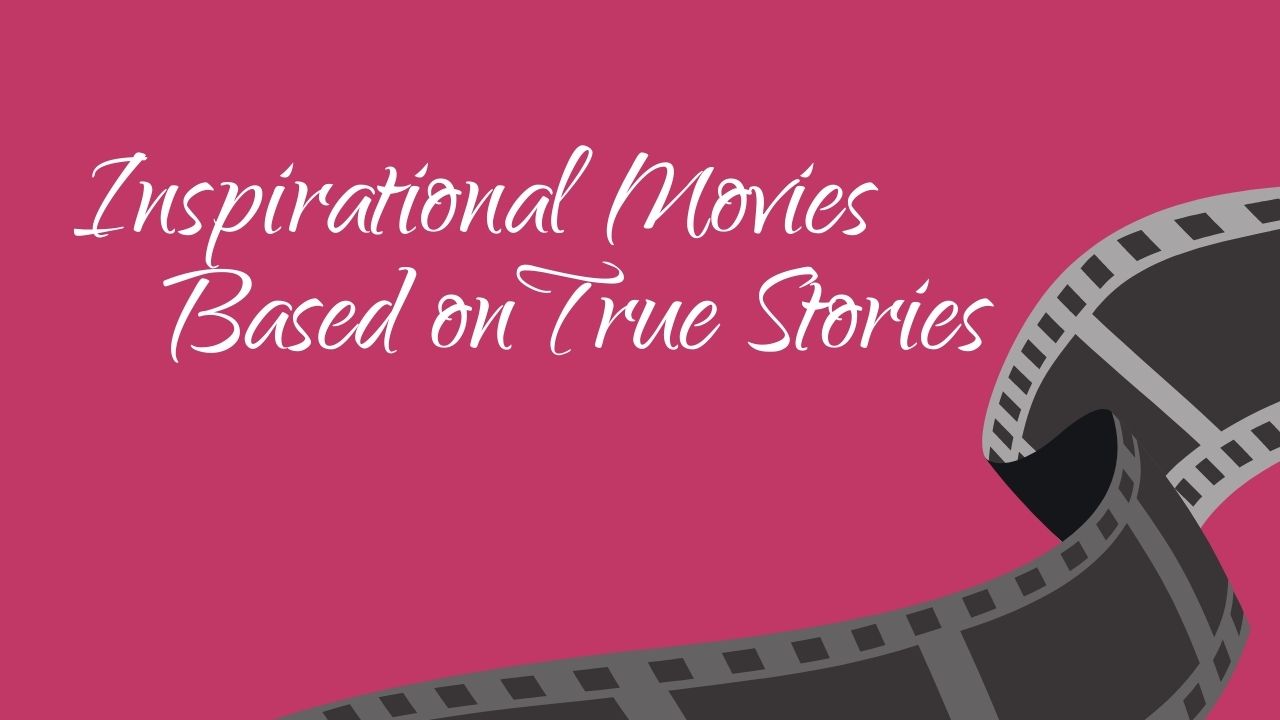 Inspirational Movies Based On True Stories
INSPIRING MOVIE #12
The biographical film about Richard Williams, the father of tennis star siblings Serena and Venus Williams who served as their coach from a very early age.
Here's 5 powerful lessons from this film. Would love to know yours ...
Saying "no" to opportunities (even those that appear lucrative) that don't align with our values and purpose, leaves space to say "yes" to the right opportunities when they arise.
Drop the ego. With humble confidence continue to ask for the help you need. If you receive a no, try a different door, just keep on knocking. Persist until you receive what you need to achieve your goals.


Parents who provide an environment for their child's natural genius to flourish raise winners. When parents are protectors, guides, cheerleaders, and champions for their children, they allow natural talents to grow and blossom.

We win when we have others who champion us in life - someone to lift us on the days we fall. Someone to believe in us when circumstances are set for us to fail. We too can become the champion for another.


There's power in a plan - but you've got to believe. No matter our circumstances, we can transform the story of our life and the story of our family.
INSPIRING MOVIE #11
The true story of Mohamedou Ould Slahi and his fight for freedom after being detained and imprisoned for decades, without charge by the U.S. Government.
Here's some of the power lessons from this film. Would love to know yours ...
Legislative, judicial, and administrative systems do not deserve our trust without question. What is reported by leadership through media channels is only one story. As people we must continue to question what governments and leadership are doing to people on our behalf.


When we feel fear or anger rise up within us about a cultural, political or religious issue, get curious. Question the source of the story/ies that may have led to these feelings. Do I have the whole story? What bias am I approaching the story with? Is there another side to the story? Is there still another story to be told to give me a more rounded view?


We need more women sitting at boardroom tables. We need more diversity and representation in government. We need more compassion and empathy in policy making. We need a different kind of leadership - people who can see beyond their own personal gain.

If Mohamedou Ould Slahi didn't write and share his story, the world wouldn't know about what happened in Guantanamo Bay. Sharing stories is a pathway to greater empathy and understanding around our globe.


It is possible for the human spirit to rise above oppression and adversity. We can turn anger into forgiveness, we can turn fear into love.
INSPIRING MOVIE #10
The Upside is a comedic film based on the true story of quadriplegic millionaire Philippe Pozzo di Borgo and his unlikely friendship with a paroled convict, Abdel Sellouwho whom he hires to take care of him.
Here's some of the more serious take-aways from the film…
A person's past does not have to define their future. People make mistakes – in relationships, in work and other life choices - but we can choose to start over from today. We can choose to re-write our story.


It doesn't matter how wealthy we are, we need good relationships, loving support, creative expression and laughter to make our life complete.


Two people from totally different backgrounds can develop a deep and enriching relationship. Trust, honesty and accepting the weaknesses of one another strengthens our bond.


Gain a greater understanding of the challenges and frustrations faced by people living with disability, as well as the beauty of life they experience just as those without disability.

We all have gifts we can use to help someone else in need. For some it might be money, for others it's time, for others it's loving support. One act of generosity or service can change someone's entire life for the better. Never underestimate the power we have to change someone's life.
INSPIRING MOVIE #9
Selma is a movie based on the true story of the 1965 voting rights campaign in Selma, Alabama. In the face of violent racist attacks, Martin Luther King Jr. leads a protest that culminates in a historic march from Selma to Montgomery. This event played a crucial role in the passage of the 1965 Voting Rights Act, a monumental moment in civil rights history.

Apart from the brilliant story, acting and cinematography, here are some key take-aways from the film ...
Great change will not be achieved alone. By joining hands and walking together as one tribe, we can effect necessary change as a strong collective... even against strong and powerful adversaries.


It is possible to achieve necessary social change through peaceful protest and non-violent action.


We get to choose how we personally respond to injustice. There are political agendas at play, and how we see a situation may only be part of the story. Listen to the people actually living the story. Let those personally affected tell their stories. Look at a situation from different perspectives, rather than simply accepting propaganda from commercially and politically driven agendas.
Those not directly affected by a social issue play an important part in bringing about change by showing support and solidarity for those campaigning a cause. We do not stand by and watch our fellow humans suffer, we stand together as one, strong for what is right for all.


We are making progress. We see how far we have come and are inspired to continue expanding our awareness and consciousness of what greater change needs to happen now and in the future.
INSPIRING MOVIE #8
This inspiring movie tells the story of Michael Oher, an American football offensive lineman who overcame an impoverished upbringing to play in the National Football League (NFL) with the help of his adoptive parents Sean and Leigh Anne Tuohy.
Here are some of the beautiful life lessons you'll take away from this movie.
It only takes one person, in one moment of time to present an opportunity that could change the headline of your life. Be open to that opportunity and stay open to you being the person who provides that opportunity to someone else.


Don't allow the expectations and opinion of others to stop you from doing what you dream of doing with your life. You are the author of your own story - don't give anyone else the authority to write your script.


Step-by-step keep going after your dreams. Work through the challenges. Don't give up. With commitment, tenacity and the right support system you can achieve what you once thought impossible.


In an era where racial and social conflicts are headlined across global media channels, The Blind Side offers a different narrative - one where people of different ages, race and socio-economic backgrounds support each other as one loving family.


If you've been born into or found yourself in difficult circumstances - your experience does not have to define you. We each have the power to change our story. The story of our childhood doesn't have to be the story of our life. With a willingness to change, the right guidance and a support system you can re-write the story of your life.
INSPIRING MOVIE #7
At a time when it was Australian government policy to train aboriginal children as domestic workers and integrate them into white society, young Molly Craig decides to lead her little sister and cousin in a daring escape from their internment camp.
The film follows the Aboriginal girls as they walk for nine weeks along 1,500 miles (2,400 km) of the Australian rabbit-proof fence to return to their community at Jigalong, while being pursued by white law enforcement authorities and an Aboriginal tracker.
Here is some of what you'll learn from this film ...
The history lessons taught to you in school will likely be incomplete, presenting you with only one perspective of the story. It's up to us as individuals to educate ourselves as to the true history of our nations.


The First Australians, Aboriginal people have showed incredible tenacity and fortitude as a people. They have survived great hardship, forced child removal and assimilation. They are a people who show great respect for their culture and traditions. We should honour their heritage and listen to their stories.


We are responsible for how we treat other human beings. People should not defer responsibility to authorities to make decisions on their behalf. The Australian Government has since apologized for the grief, suffering and loss inflicted on the Aboriginal people. They got it wrong. Governments get it wrong.


Many other brilliant life lessons about not giving up, trusting your instincts and helping others when they need you.
INSPIRING MOVIE #6
The film is based on the autobiographical book Long Walk to Freedom by anti-apartheid revolutionary and former South African President Nelson Mandela. Here are some of my take-aways from this film ...
There are people who lost their lives fighting for freedom they themselves were never able to experience. If we are a beneficially of their sacrifice, then let us work to appreciate and preserve the freedom those before us fought for.


We may look for support and approval from our parents, closest friends and family, but they may never see the world as we do. They may never understand or agree with our life choices.


There are times when big actions make for slow change, but big change will come if we keep taking action.


Let's learn from the lessons of our past. Equal rights for all humans. Together we are strong.

"No one is born hating another person because of the color of his skin, or his background, or his religion. People must learn to hate, and if they can learn to hate, they can be taught to love, for love comes more naturally to the human heart than its opposite."

― Nelson Mandela, Long Walk to Freedom
INSPIRING MOVIE #5
The King's Speech is based on the true story of King George VI's quest to find his voice. The King and his unconventional speech therapist become unlikely friends as they work together to conquer the King's stammer - a condition he's struggled with since childhood.
Here are few lessons you'll take away from this movie ...


No class of society is immune to personal struggle. We never know what someone is dealing with behind closed doors - even if they appear to have everything.


Stay open to new ways of handling problems in your life. If one method hasn't been effective, keep trying, seek help to find a way that works for you.


It's not always the person with the most letters after their name, or the person with the highest qualifications that can achieve the best results.


Passion for what you do, natural talent and a genuine love for the people you help is just as important as official qualifications.


When it comes to overcoming our fears, it helps to have a mentor to guide us through the difficult times.
INSPIRING MOVIE #4
The inspiring true story of three black women who worked at NASA as mathematicians during the space race.
These incredible women were instrumental in one of history's greatest operations - the launch of astronaut John Glenn into orbit.
Here are few of the life lesson highlights ...
For too long black women who have made significant contributions to advancement have been kept out of our history books. Films like Hidden Figures brings their stories out into the open, so these women can be honored as they should be.


When we work together, raise our voices together, any movement forward is a move forward for all.
In Katherine Johnson's own words, "Go see 'Hidden Figures,' and take a young person! It will give a more positive outlook of what is possible if you work hard, do your best and are prepared."


We need a balance of masculine and feminine energies when it comes to governance and decision making. Would we have the problems we see in the world today, if that balance had been honored, and more women invited to leadership and decision making tables?


As you move forward toward your dreams and start rising up, there will be some people (even those closest to you) that may become 'threshold guardians' to your success. Remember, there is more than one way to achieve our goals and there will be a way. Don't give up.
INSPIRING MOVIE #3
Million Dollar Arm is based on the true story of a struggling sports agent who comes up with an 'impossible idea' ... to find two promising cricket players in India, and turn them into star baseball players, via a reality TV show.
This is an inspiring film the whole family can enjoy together. Here are some take-aways ...
There's always a way. When things don't seem to be working out, when your plans aren't coming to fruition, when doors close, then look for new opportunities. Walking a different path, doesn't mean you quit walking.


Even if someone says, "This can't be done", or "That's impossible", or "That won't work" ... doesn't make it true. Sometimes the so-called crazy ideas and impossible dreams work out the best.


We are all influenced by our backgrounds ... cultural, religious, socio-economic, childhood etc. Remember this especially when dealing with someone who responds to a situation differently to us. Doing so helps promote peaceful and rewarding relationships with others.


Stay hopeful - circumstances can change. One person coming into your life, at the right time, with the right opportunity, can change everything... and there will be times where we can be that person for someone else.
INSPIRING MOVIE #2
Born with an eye condition that eventually leads to his blindness, Andrea Bocelli pursues his ambition and becomes a famous singer, songwriter. Whether you're a fan of Bocelli or not, this movie teaches so much about overcoming obstacles and going after your dreams ...
You may be born into circumstances that seem incompatible with your dreams. But the challenges you must overcome will be the very thing that makes you strong enough to reach them.


Not everybody will believe in your dreams, but there will be those who show up for you. They will give you the motivation, strength and encouragement to keep going - a friend, an uncle, a mentor. Someone will show up for you, be open to them when they do.
Not all experts will give you the right advice. Even if you experience rejection by so-called "experts", keep pursuing doing what you love.

When we see a "successful" artist, remember there is always a story behind their success. They have experienced many disappointments along the way. After every bout of depression, every fall, every fight they have got up and continued on the path toward their dream.
INSPIRING MOVIE #1
The film Green Book is inspired by the story of a true friendship that transcended race, class, and the 1962 Mason-Dixon line. The film takes you on a comedic (yet meaningful) tour of the Deep South with African American classical and jazz pianist Don Shirley and Italian American bouncer Frank "Tony Lip" Vallelonga who served as Shirley's driver and bodyguard.
You'll experience a whole range of emotions, and learn powerful life lessons watching this film ...
Two people from completely different backgrounds - culture, education and socio-economic, can become life long friends by accepting each other's stories, learning understanding and showing mutual respect for each other.


When we are open to share in each other's experiences we can learn empathy. We can see life from the perspective of another person. When we do that, we recognize the the powerful force empathy can be in bringing people together.


It is possible to change. We can go from having strong prejudice and judgements, to accepting others, learning from their viewpoints to the point of mutual respect and admiration.


Try not to judge someone by outward appearances. We have all been through "stuff". We all have a story to tell. When we share our stories, show vulnerability, and approach life with a desire to connect rather than condemn, we do our part of make the world a more loving, compassionate place.
WANT MORE INSPRING MOVIES BASED ON TRUE STORIES? |
15 Inspiring Movies Based on True Stories