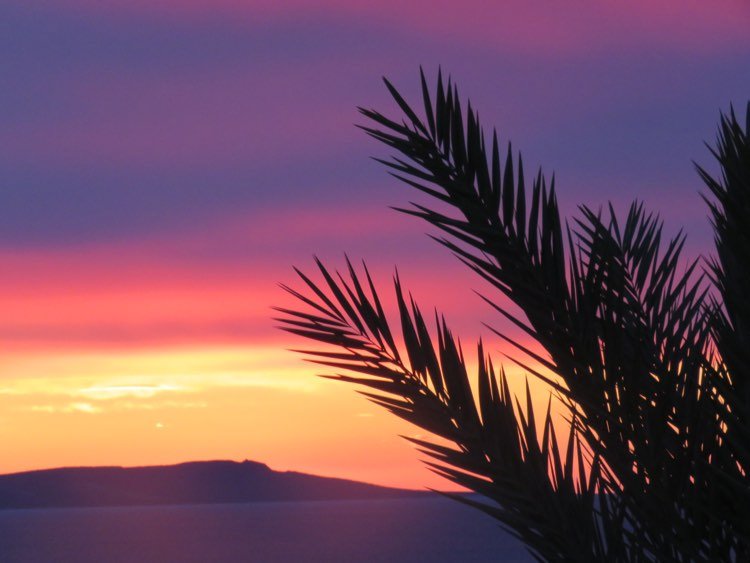 I threaded my fingers through John's and glanced across the waters. We were taking our early evening walk along the shoreline. The sun had just set over the Mediterranean Sea, smudging the sky sherbet orange and candy pink. Across the bay, villages along the coastline had begun to turn on their lights, twinkling up the mountainside.
I had long dreamed of living in a place where the mountains met the sea. I looked across the waters. Here the Akamas mountains tumbled into the sea, and waves washed upon the rocks. Could my dream possibly come true?
As we walked, I turned to John, "I could live here John."
Within three years, we'd set up a base in Cyprus.
Here in Cyprus, I have found a strong sense of community and connection. It's a place to take time in nature, to reflect and ponder in the quiet and still...
Everything I had imagined, I'd written down when I'd completed an exercise describing my ideal environment some years prior.
Where the mountain meets the sea, Cyprus.
In what imaginary environment would your best self emerge?
In what imaginary environment would your best self emerge? That very question was one of the questions that helped me to be crystal clear about what I really wanted from my day-to-day life - what my ideal life would look like. (Thank you Barbara Sher for the question).

This question is important to consider because, often, our lives are shaped by the circumstances society has thrown at us. We can go through life without ever thinking of what we really want outside of the imposed ideals and expectations of others. In many cases, we've adapted our environment to suit others too.
I asked my friends the question, and here were a few of the answers that came back:
So now, let's have some fun...
No rules - just have fun and get creative in your imagination …
In one or two paragraphs, tell us in what imaginary environment would your best self emerge?
Take time to answer the question thoughtfully. In your environment, what do you see, taste, smell, feel, and hear? How do you want to feel? And what do you need in order to feel that way? What do you experience? What inspires you? What and who motivates you? What brings you calm?
When you think about your ideal environment, don't just think in terms of places - think about people, resources, and support you'd want available to you also.
When you let your imagination run free, you'll uncover your deeper desires. You'll get a better idea of what you'd like your environment to be and also what's not currently working for you.
Spend a few minutes now reflecting on the question. It's powerful – look where doing it led me, yet I never dreamed I'd live in a paradisaical place like this.